HALI's History of Textiles
Words and Images by HALI Publications Ltd.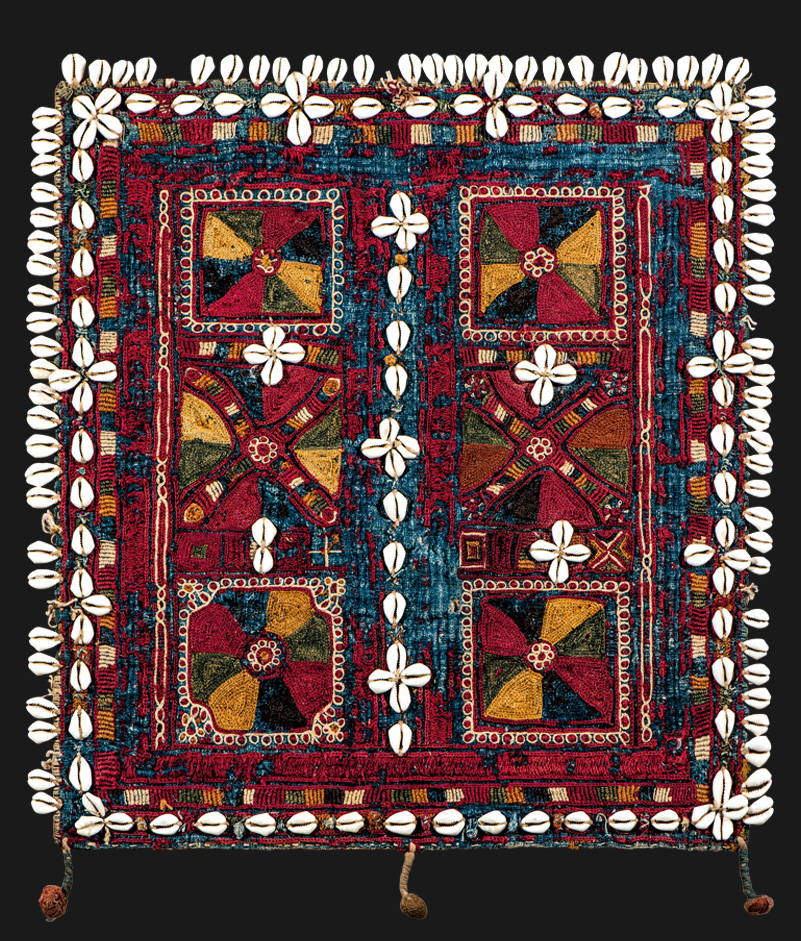 Textiles woven by nomadic communities often hold a particular appeal. Vivid colors, rich symbolism and a utilitarian purpose combine to render them both highly aesthetic and ethnographically interesting.
The Indian subcontinent is not as synonymous with nomads as, for example, Iran or Anatolia, yet there is a little-known but fascinating tradition of embroidery belonging to the Banjara communities, which still survives and enjoys a revival of interest.
These evocative textiles have been extensively studied by Tim McLaughlin and Charlotte Kwon, who contributed a fascinating article on Banjara to HALI 187. Their book, Textiles of the Banjara: Cloth and Culture of a Wandering Tribe (2016), is the first study devoted to the traditional clothing and embroidery of the Banjara, illuminating their history and investigating links with the European Roma. It remains the authoritative reference work on Banjara.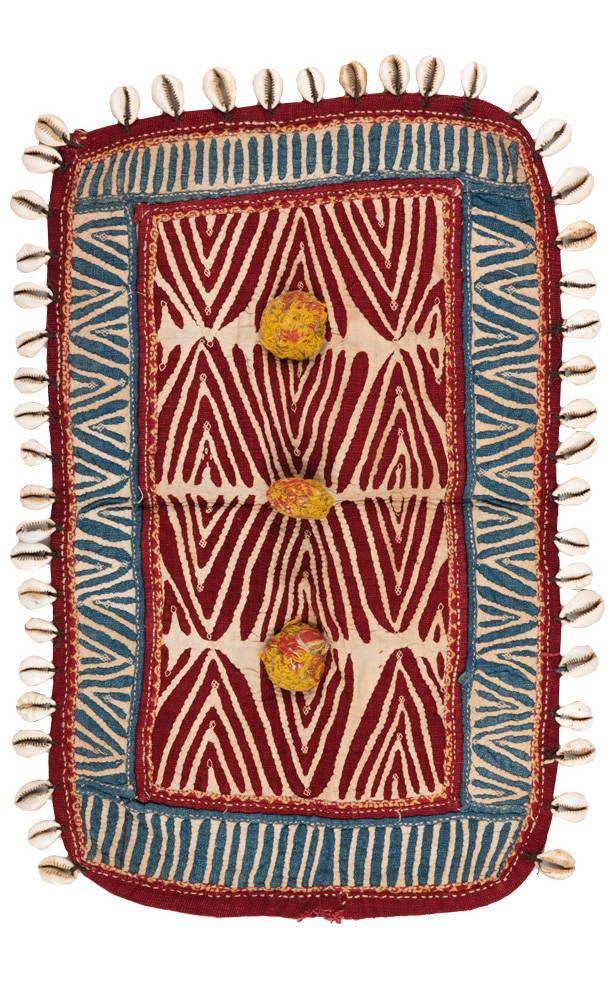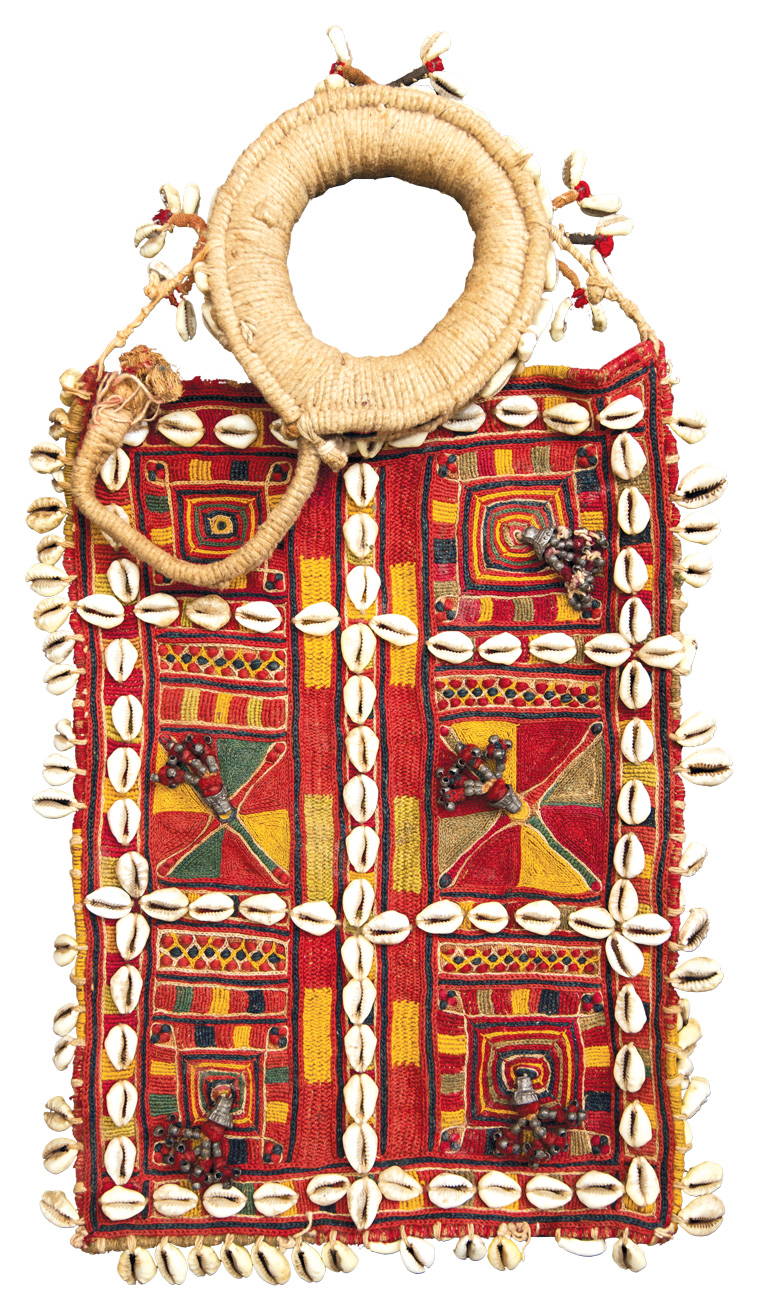 Known by many names and scattered across the continent, the Banjara participate in all of India's major religions, united only by a common language (Ghorboli) – and their textile tradition. On account of a nomadic history, Banjara textiles have attributions from all over India. The appliqué chevrons and triangles of this strikingly abstract example from the Karun Thakar collection (above, left) attribute it to Khandesh, in north-central India.
The cowrie shells which form the fringe symbolised wealth and were for a long time used as currency in India. This textile is a pulia, a decorative textile worn by a woman while carrying a water-pot on her head, which would hang down from the pot to cover the back of her neck. It represented an opportunity for a woman to show off her embroidery skills and sense of style.
As pulia are highly collectible – about the size of an A4 page – they became popular amongst tourists with an eye for textiles. Often the head ring (gala) which is placed beneath the jar of water or grain to help balance it is removed from the textile, but in this example (above, right) it has been retained.
This pulia shows the preference of the Banjara for geometric designs based around squares. Nested squares are surrounded by a series of borders worked in different stitches and the entire piece is often trimmed and bisected by lines of cowries. Most bags would have been used to carry household items whilst wandering, with more elaborate versions reserved for marriage rites.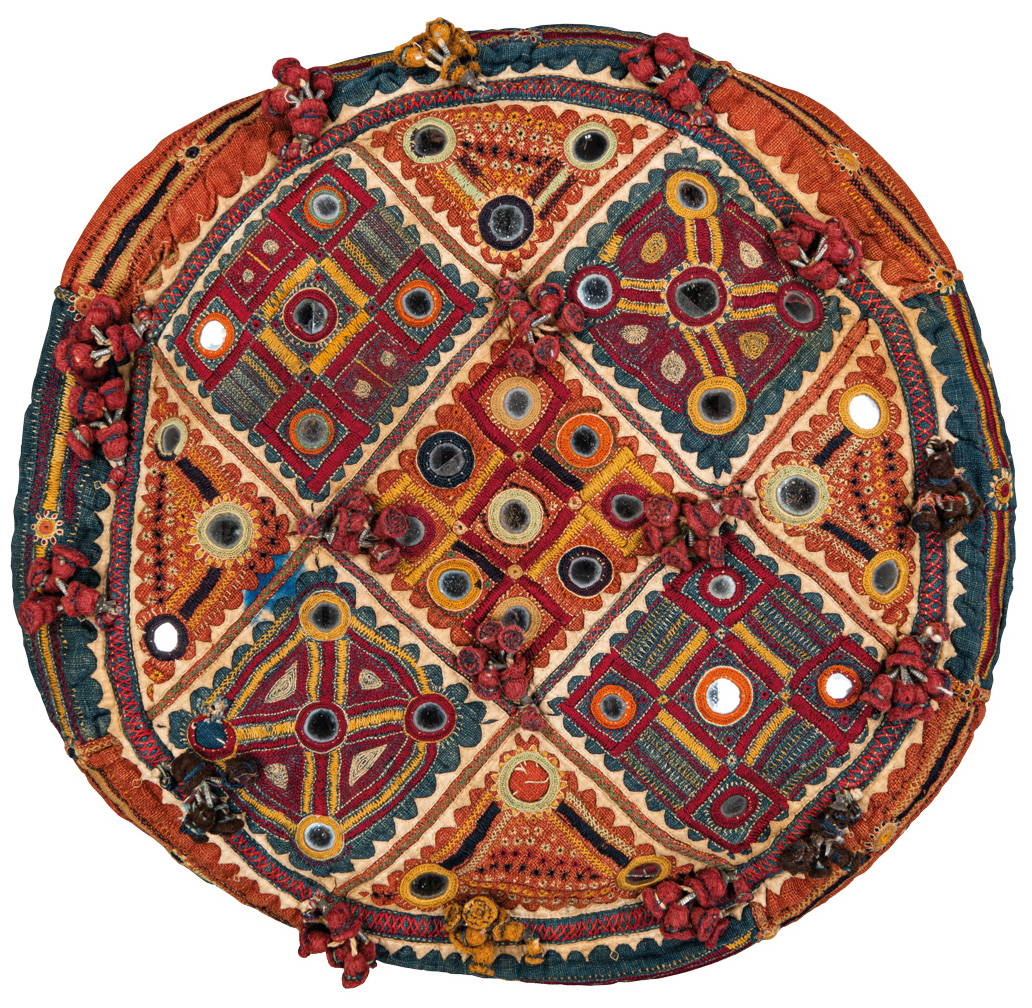 Mirrors, beads and coins were also popular additions to the cotton and wool textiles, creating a shimmering, multi-textural surface. This cover of hanging container (above) is unusual in that it is circular.  The embroidered decoration is in a traditional squared grid design adapted to fit the circular shape, with internal squares and circular mirrors. In some sections, mirrors fill every internal square, while in others they are in a 'quincunx' pattern – one in each corner and a fifth in the center – a favourite Banjara design, which is also used as a women's tattoo.
The Banjara reached the height of their power in the latter part of Mughal rule. Using caravans of pack oxen, they controlled inland trade routes, offering long-distance heavy cartage for hire to carry grain and cotton from the interior in exchange for salt from the coast. They were also merchant traders, and their caravans of oxen allegedly took days to pass a single point.
Banjara clans also worked alongside India's armies, with a fabled patent forgiving them even murder, so long as the supply trains kept up with the soldiers. This itinerant way of life is reflected in their textiles, which are robustly woven and strengthened as well as beautified by the embroidery stitches used.


This sturdy belt or animal trapping (above, first image) is backed by bold geometric designs. The red and yellow chevrons and squares of this piece are typical of Banjara work from Karnataka in South India. Much less typical is the fact that the embroidery on this piece uses silk thread rather than cotton, implying that it may have been made as a special gift or commission. It is backed with block-printed cotton (above, second image).
Their independence and martial role ultimately placed the Banjara under intense colonial pressure, leading many to change their way of life, dealing in oxen or moving to urban centres. Today, Banjara participate in almost all occupations, including highly educated professions such as academics, doctors and lawyers. Many less affluent Banjara still live an itinerant life, following agricultural work, construction, and road building. Especially in Telangana and Karnataka, Banjara women are a colourful presence, easily identified by their distinctive textiles.

For anyone with an interest in embroidery, the variety of stitches used by the Banjara make for fascinating study. Each textile can incorporate a multitude of stitches, many showing the influence of the tribal communities of north-western India. These four embroidered lengths (above and below) include between them chain-stitch, raised satin stitch and Romanian stitch, just a few of the embroidery techniques mastered by Banjara women. The warm tonalities of the red and yellow dyes harmonise, contrasting with the stark geometric rhythm of the embroidery.

Textiles which are intended for use naturally become worn, but amongst the Banjara cloth was kept in use for as long as possible and often repurposed. This embroidered bag (below) was made by folding together the corners of an exceptionally finely stitched mat.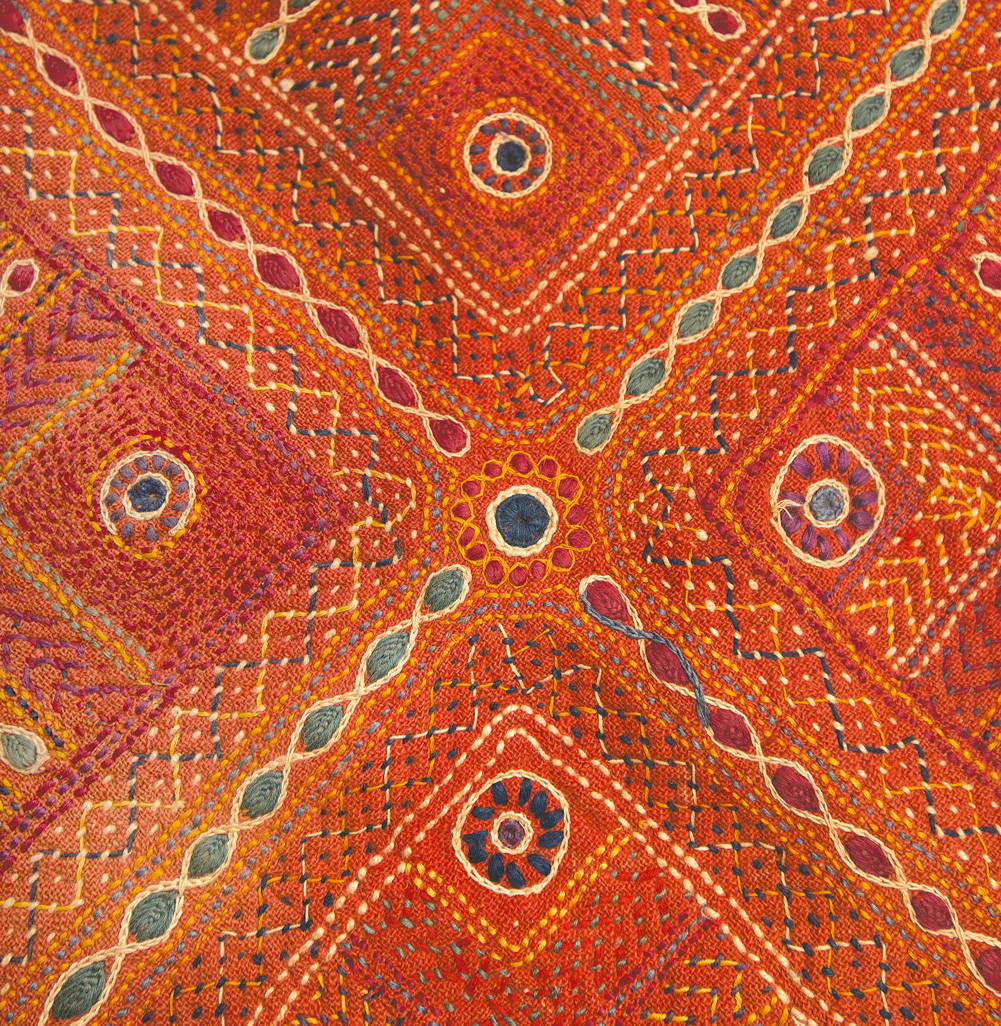 The playful confidence of Banjara geometry governs the decoration of this embroidered length (below). Each compartment makes sense as an individual unit and yet the whole length has a unified visual effect; with each pattern setting off the next. Central points, such as the centre of a 'windmill' design, or the intersections of a diamond lattice, are picked out with embroidery or sequins.
Quilting is yet another technique found in Banjara textiles. In this square mat (below) we can see the square geometry, which forms the basis of almost all their textile designs. Rich turquoise and bright orange are set off by saffron yellow embroidered lattices, exemplifying the Banjara sensibility for combining bright colors in a way that is both harmonious and bold.
These extraordinary textiles were woven within a specific tribal context; their shells connoting affluence and the skilful stitching implying a woman's marriageability and taste. As travellers began to collect them in the later 20th century, their significance, and market, changed. Embroidery of varying quality continues to be sold in tourist centres, but this does little to maintain skills or traditional techniques, and because the Banjara are romantically known as 'Indian Gypsies', online sellers use the name liberally to sell almost anything.
However, efforts are being made to transition authentic Banjara embroidery from folk craft to an item of trade. As tribal groups accept the inevitable influences of modernity, it is hoped that high-quality contemporary stitchwork will bring recognition and serve to strengthen pride in traditional Banjara culture as well interest in their illustrious past.
Explore More
Discover striking photography and thoughtful prose from the world's most atmospheric interiors #worldofcabana