Words by Fabrizia Caracciolo
Images by Ottavia Casagrande, Guido Taroni
and Antonio Monfreda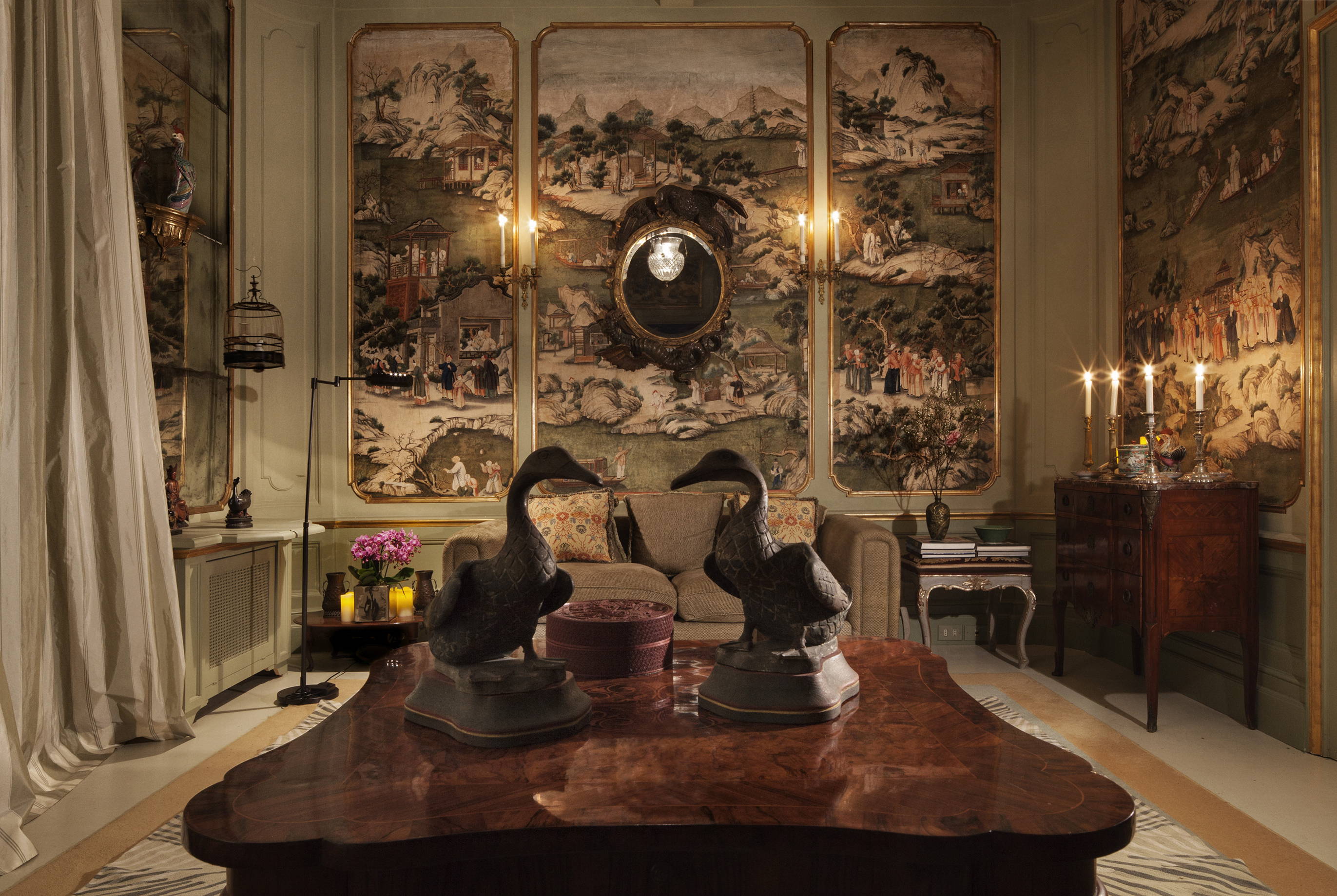 Words by Fabrizia Caracciolo
Images by Ottavia Casagrande, Guido Taroni
and Antonio Monfreda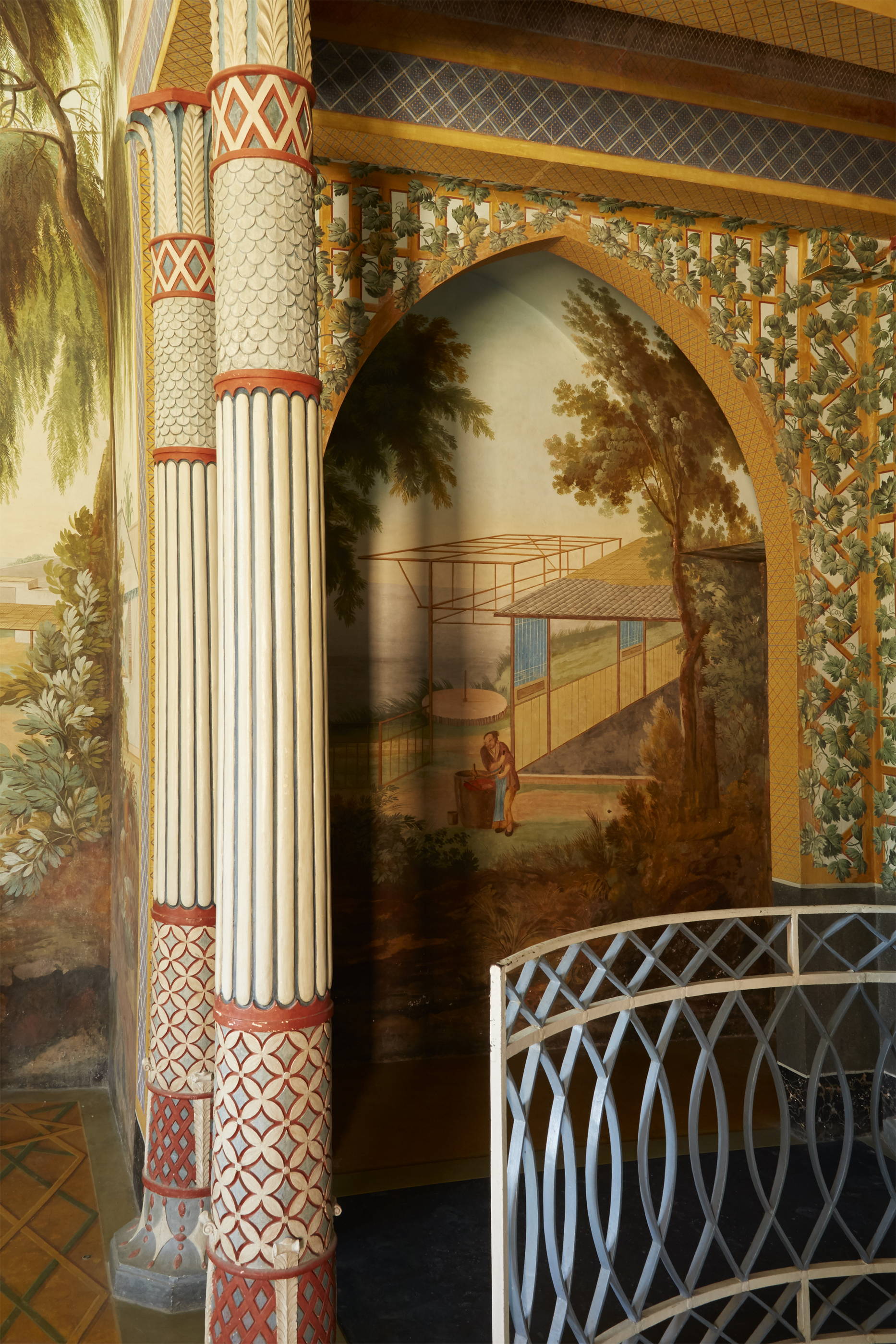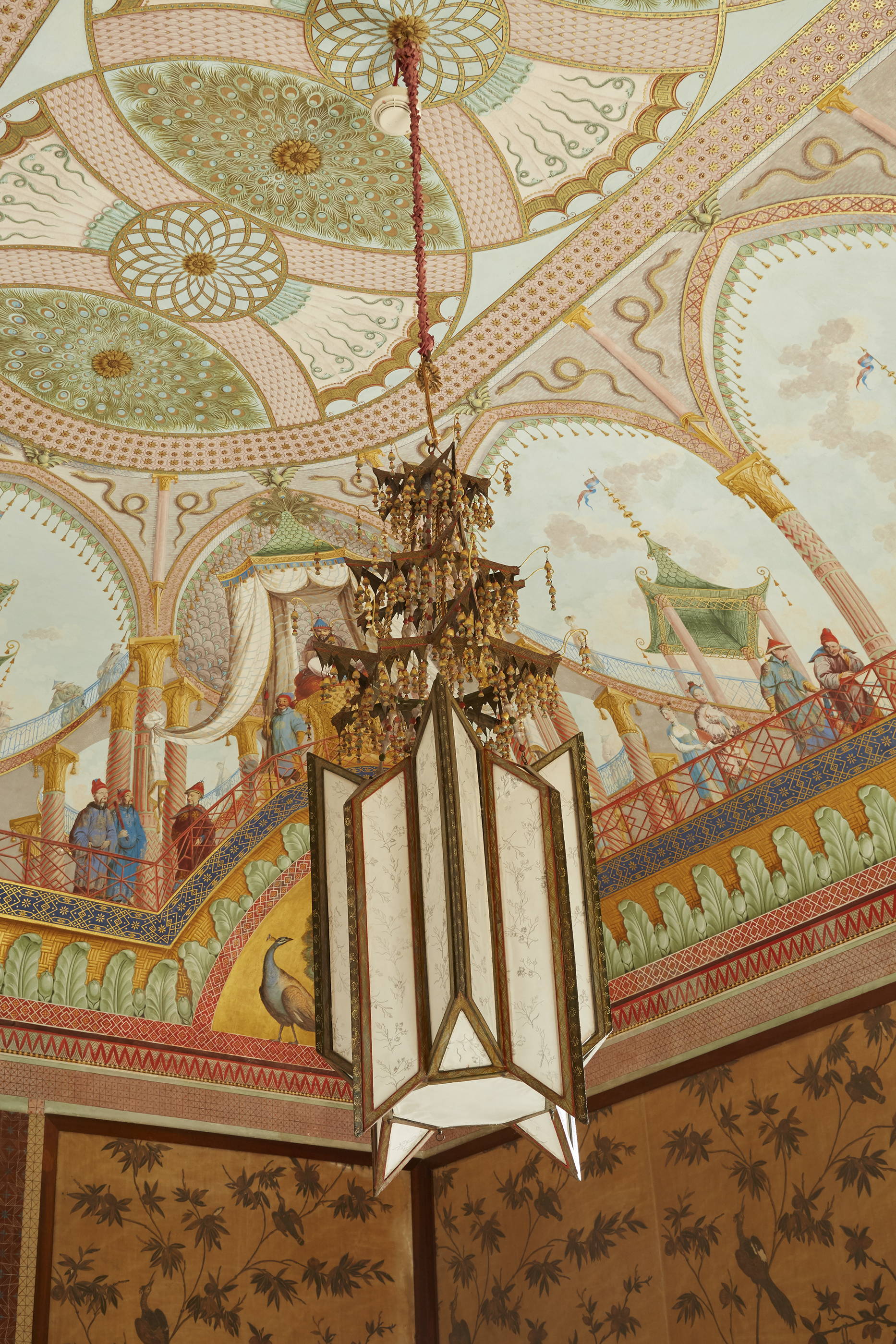 Fabrizia Caracciolo explores the story of chinoiserie and how the tastemakers of Europe fell in love with impersonating a style that seemed to come from the other side of the world. From palaces in Paris to parks in Potsdam, impersonating East Asia was a dramatic aesthetic statement that chimed with the theatricality of rococo.
The term chinoiserie comes from chinois, the French word for Chinese, and designates a style inspired by the art and design of China, Japan and other East Asian artistic traditions. The popularity of chinoiserie originated in the 17th century in tandem with Europe's flourishing trade in East Asia, when Dutch traders returned home with Chinese mother of pearl, lacquer, porcelain and silks. The style did not directly come from Asia but was instead a European interpretation and Orientalist reproduction of Asian culture and decorative arts.
Europeans had long been intrigued by what they viewed as "exotic" Asian cultures. As few had traveled to Asia, they knew little about the region. While this led to more than a few misinterpretations and misunderstandings, Asian art and culture nevertheless was held in high regard. Wanting to imitate these styles, Europeans began producing their own takes on East Asian artefacts, which paired well with the lavishly embellished rococo designs in vogue at the time. Like that of the rococo style, chinoiserie incorporates asymmetry, scrolling forms, and elements of fantasy.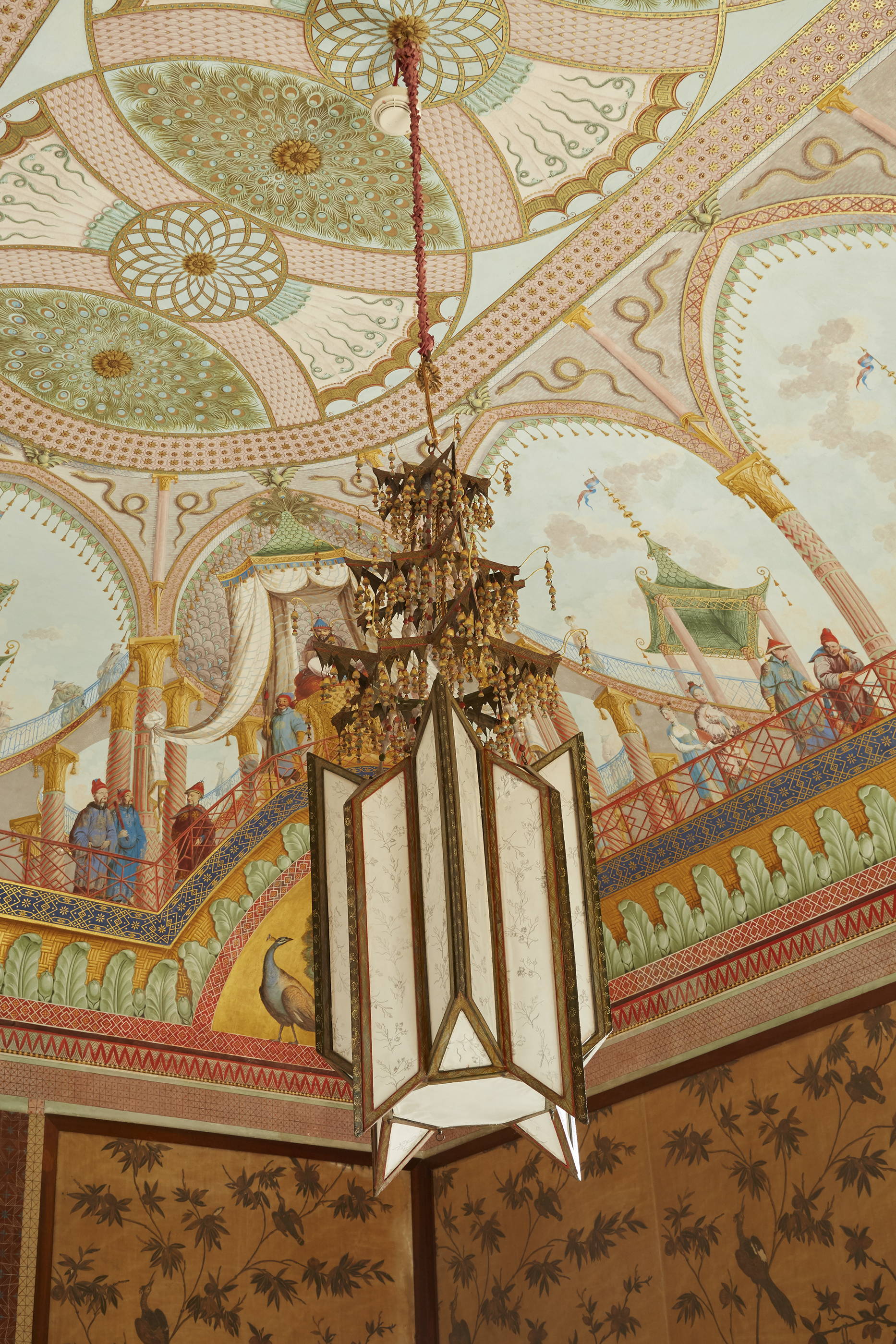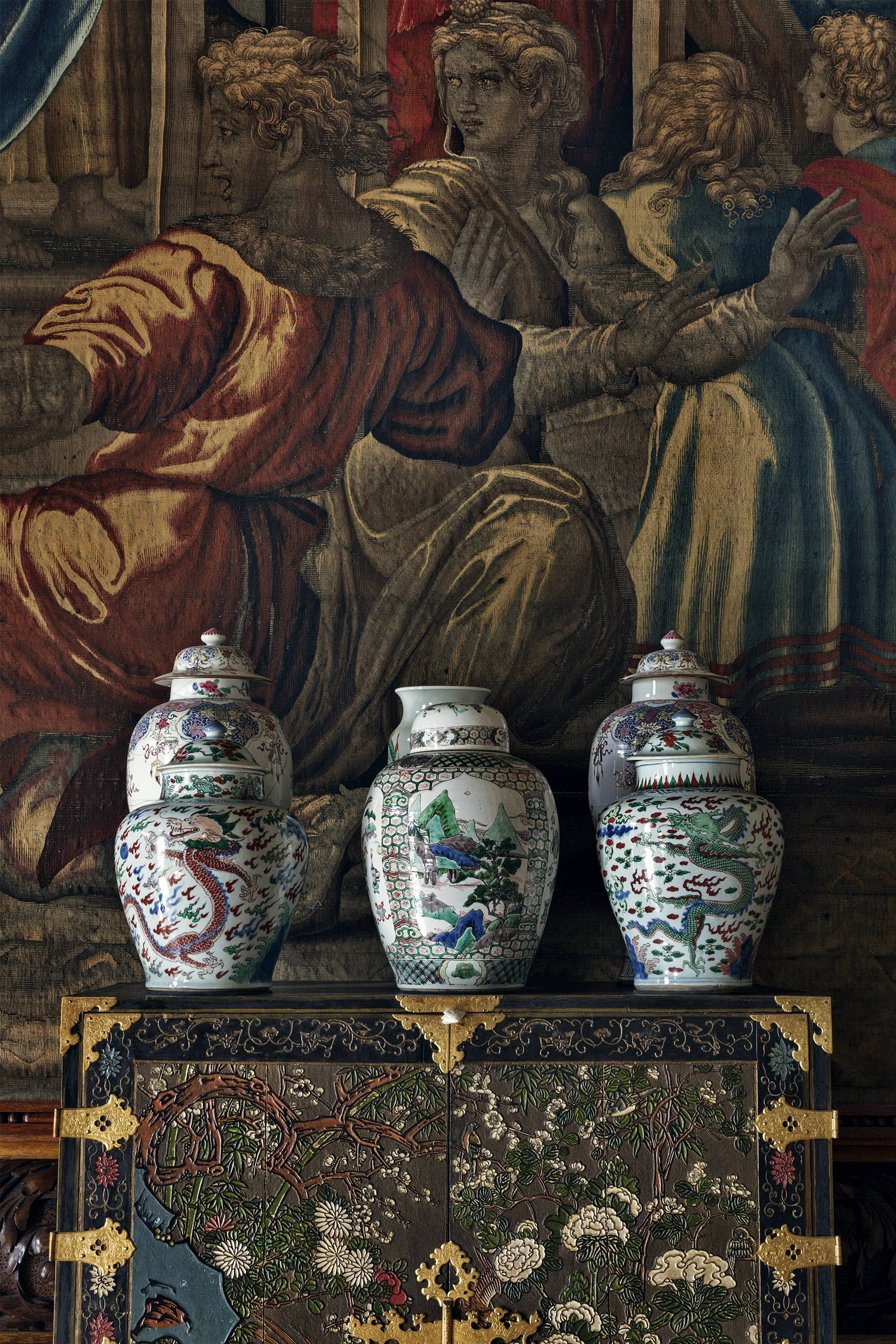 Monarchs and aristocrats were especially fond of chinoiserie, and it made appearances in palaces such as those of Louis XV of France and King George IV of England. The earliest appearance of a chinoiserie interior was in the Trianon de Porcelaine, built for Louis XIV at Versailles in 1670, designed by architect Louis Le Vau. Other magnificent examples of chinoiserie in 18th-century European architecture are: The Chinese House garden pavilion in Potsdam, Germany's Sanssouci Park, built by Frederick the Great; William Chambers' Great Pagoda at Kew Gardens, completed in 1762 as gift for the garden's founder Princess Augusta; and the Palazzina Cinese, a former royal residence of the House of Bourbon-Two Sicilies in the park of La Favorita in Palermo. Rococo French artists were also known to incorporate Chinese themes in their oil paintings, for example Francois Boucher's Le jardin chinois"(1742).
The aesthetic became highly popular among the nobility and elite, and it was rare to find a house without such exuberantly styled Chinoiserie rooms, with their blue and white porcelains and "exotic" wallpapers. East Asian motifs were often copied and inserted into traditional French toile de Jouy, as seen at Palazzo Grosso in Piedmont.
In 1775, French painter and designer Jean Pillement published A New Book of Chinese Ornaments, which provided fanciful images of Chinese figures, pavilions, floral scenes, and other patterns, which were adapted for all kinds of decorative items including textiles, ceramics, wallpaper and furniture. Europe's fascination with the "Far East" was the catalyst which sparked an unbridled creativity in 17th- and 18th-century decorative arts, and its enduring charm continues to inspire today.

Covers by Clarence House for Fabricut, November 2020.
This issue is the ideal armchair traveller's companion for the modern day. With current restrictions in travel, escape into the world of Cabana from the comfort of your own home and immerse yourself in the extensive portfolios on Venice and Hyderabad. Centuries of styles blend magically in Venice, captured by Antonio Monfreda, and through the lens of Markus Luscombe-Whyte, Hyderabad radiates the charm of a bygone era. Other stories include the Murlo Estate in the Umbrian countryside by Guido Taroni, Villa Imperiale of Pesaro by Ashley Hicks, and one of Tangier's most beautiful houses captured by Miguel Flores-Vianna, amongst others.
Issue 14 is now sold out! Get your Annual Subscription 2021 now to reserve your copies of Issue 15 & 16.