Words and images by Ashley Hicks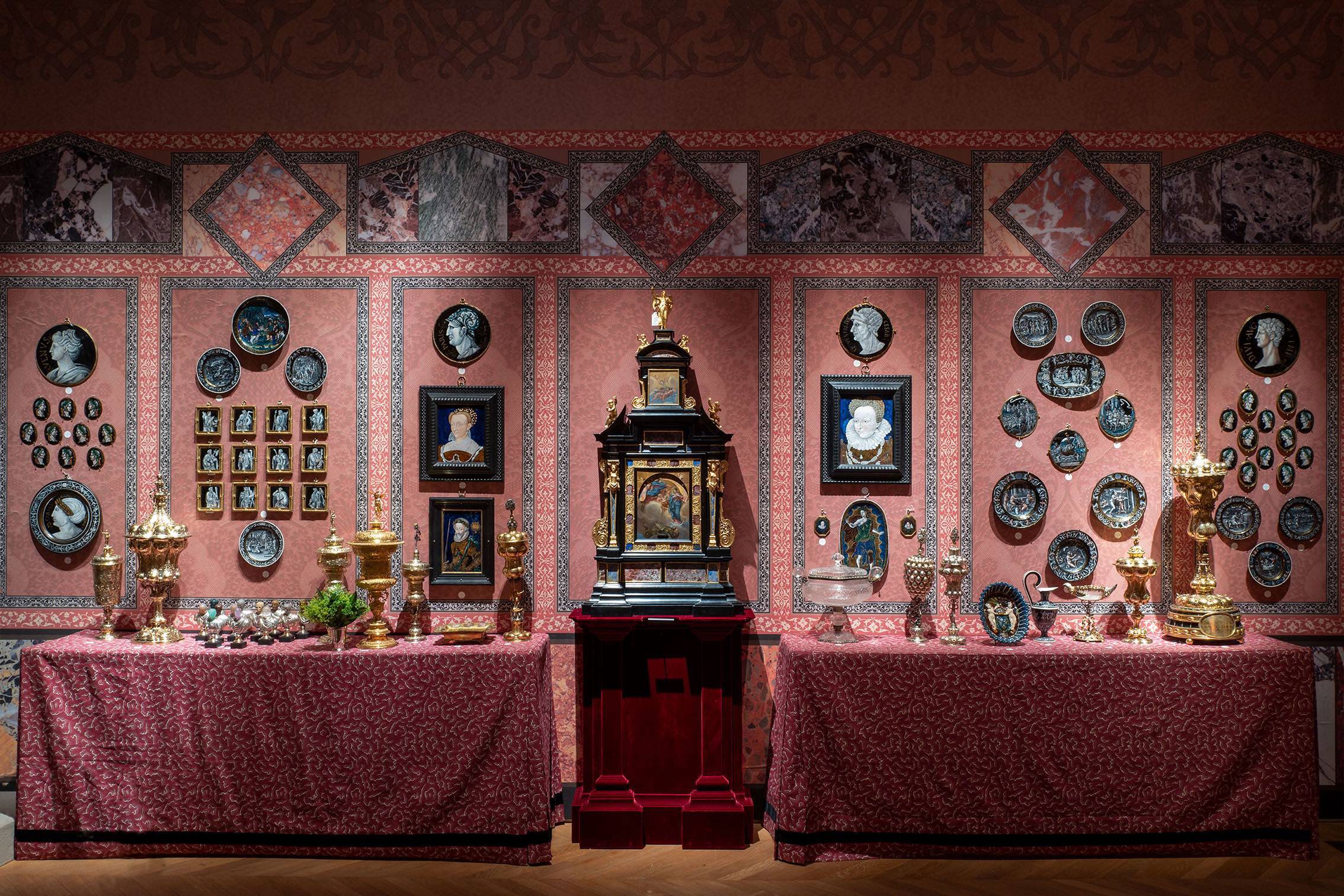 As Sotheby's Paris prepares for the October 2022 sale of Hôtel Lambert's exceptional art, objects and furniture, Ashley Hicks shares his experience of creating the atmospheric set for the Hôtel's Kunstkammer collection - and explains why it proved to be one of the great thrills of his life. 
When Mario Tavella, head of Sotheby's Paris, called to ask if I would create an ambiance for their Hôtel Lambert sale, I was excited; when he explained it was for the 'Kunstkammer' collection of decorative objects and enamels, I could hardly contain myself. The collection had come from a 1976 room by the renowned Italian decorator, Renzo Mongiardino, for Marie-Helène de Rothschild, pictures of which have always fascinated me, with its Limoges enamels framed by panels of faux marble and leather decorated with Renaissance motifs. To make my own version of this, even if it would last only ten days, was a dream come true.
The famous mansion of Hôtel Lambert, built in 1640 by Versailles architect Louis Le Vau at the tip of Ile Saint-Louis, has formed a glamorous backdrop to every stage of Parisian society life since then. The 1969 Bal Oriental given by Alexis Baron de Redé was a high point. Since 2007 the house had belonged to the family of Sheikh Hamad bin Abdullah Al Thani who restored it lavishly, Alberto Pinto directing the design. This preserved Mongiardino's room, for which a new collection of enamels was bought by the Sheikh, who is now selling it, together with the other contents of the house, to benefit his museum at the beautifully restored Hôtel de la Marine.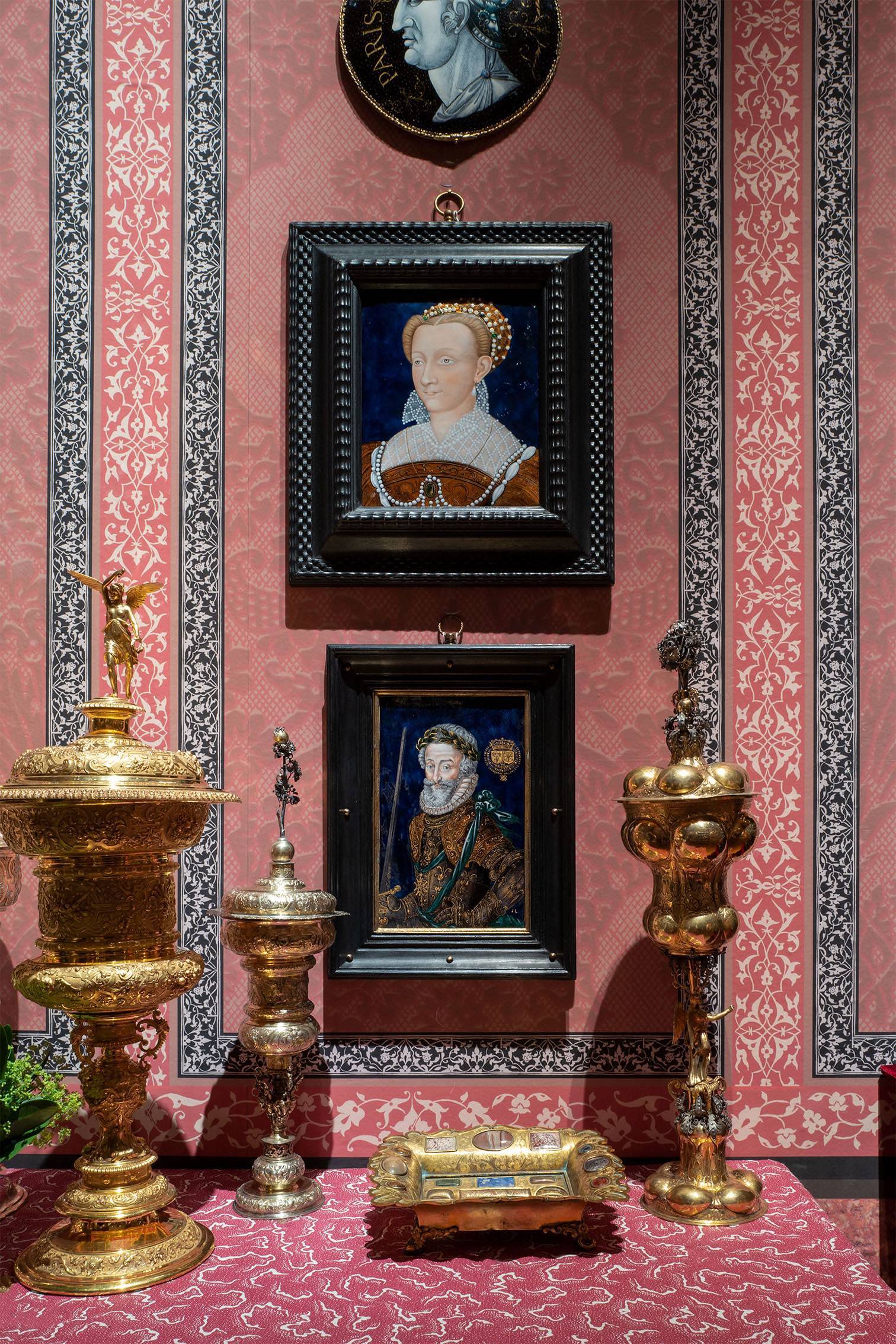 "The real fun began as porters wheeled in trolley after trolley groaning with treasure until the room looked like the cave in Aladdin."
Mongiardino's room boasted elaborate craftsmanship, worked on for years, obviously not an option for the quick dash of room-setting asked of me. I could not make a moulded, gilded frieze or employ a faux marble painter of the skill he had used. What I could do was to suggest the atmosphere of the old room, using simple means and taking advantage of our digital world. I scaled images of all the enamels and arranged them into panels, with lot numbers to guide the Sotheby's staff in placing them. I then collected border designs of a similar date to the enamels (1550s) and took images of different marbles from a French book in my library.
I laid out the walls with panels of a Renaissance-inspired textile design of mine, framed by the borders, with rhomboids and tent-forms of marble framed by more borders, and a dado below of yet more marble. Above, instead of the gilded frieze, I added another of the old designs scaled very big, rendered as if in mosaic. All of this was printed onto velvet wallpaper. I designed four very simple, open cabinets with shelves wrapped in red velvet, topped with oval plaques that I faux-painted, alternating porphyry and lapis, brought to Paris in my hand luggage and glued on myself as a tribute to the original room.
The real fun began as porters wheeled in trolley after trolley groaning with treasure until the room looked like the cave in Aladdin. Like an overexcited child given free rein in a toyshop, I lined up confections of turned ivory on one shelf, silver gilt galleons on another, massing rock crystal vessels here and Palissy ceramics there. My favourite pastime is to wander museums looking at these things; to find myself arranging them in a room I had created was one of the great thrills of my life. 
Sotheby's Paris' Hôtel Lambert sale runs this week, until 17 October, 2022. The Live Auction for Volume II, the 'Kunstkammer collection', starts on 12 October, 2pm CEST. 
Explore More
Discover striking photography and thoughtful prose from the world's most atmospheric interiors #worldofcabana