Words by Hamish Roy
Images from
Daniel Schaefer
and
Mr & Mrs Smith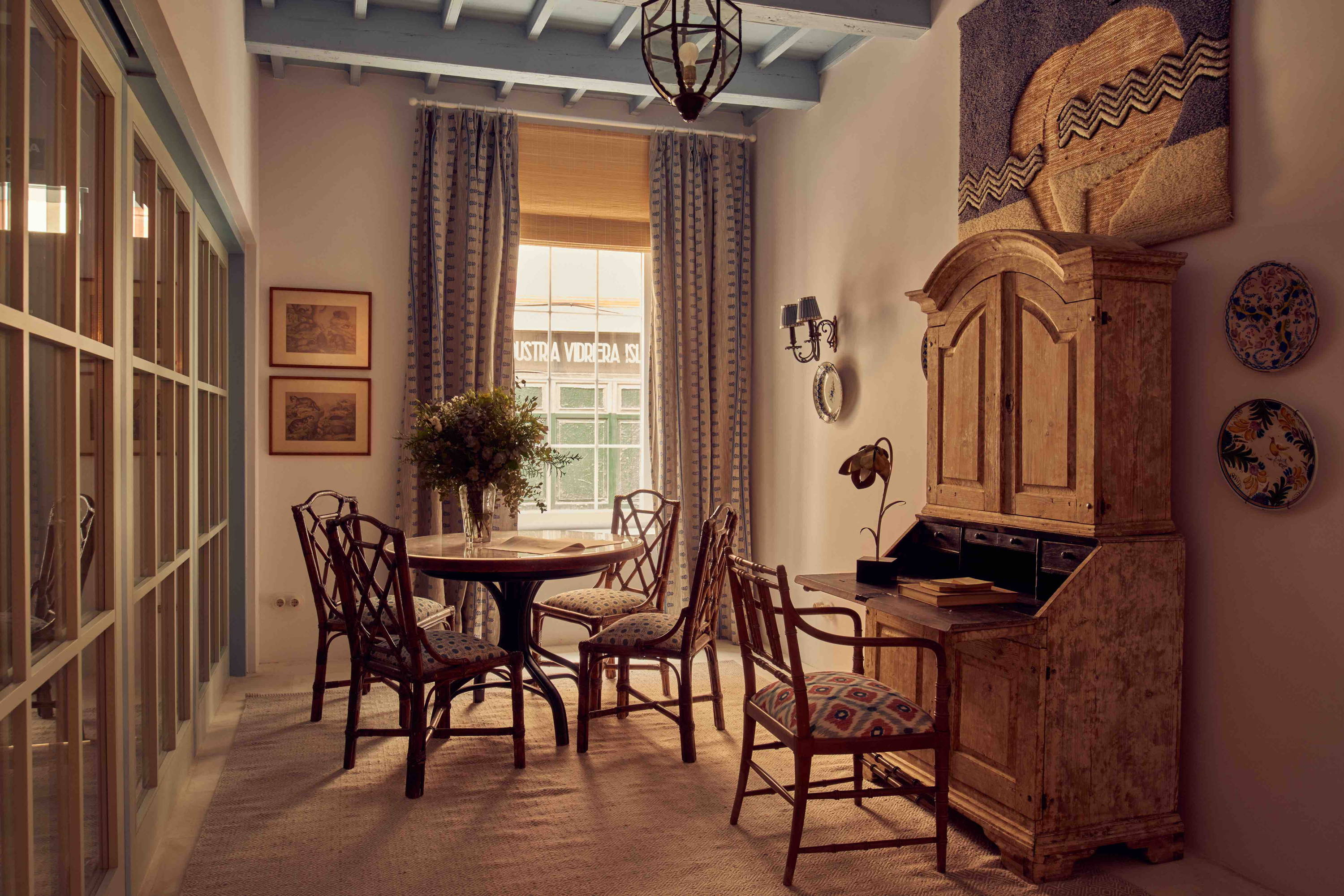 Travelling, and travelling well, is integral to the Cabana mood. As Cabana readers will undoubtedly agree, every great adventure should begin with an inspirational base from which to explore your new surroundings. Few understand this better than the experts at Mr & Mrs Smith, so, for this series, we have partnered to curate our ultimate hotel guide. We'll provide an intimate insight into hotels - of all shapes and sizes - that truly embody the spirit of Cabana. This month, we're in Menorca, Spain, delving into the story of Cristine Bedfor...
The best hoteliers are often gifted storytellers. They create their own miniature world, choosing where to sew truths and where to spin yarns for the sake of the experience. This sleight of hand is used to sublime effect at Cristine Bedfor, a sublime 21-room hotel split between three 19th-century houses in Menorca's capital, Mahón.
Here's the concept: the hotel has something of a matriarch, the cosmopolitan Cristine, a born hostess with a fondness for French flea markets and English B&Bs. Her circle of friends is enviable: a troupe of local talents who congregate on her exquisite upholstery and terracotta terrace.
But these are all red herrings. Cristine doesn't actually exist. She is, in fact, a protagonist, standing in for the hotel's real owner, Cristina Lozano. Is Cristine possessor of the life Cristina wished to live? Or a narrative trick conjured to entice travel journalists and jet-setters? In search of answers, we turn to the real Cristina…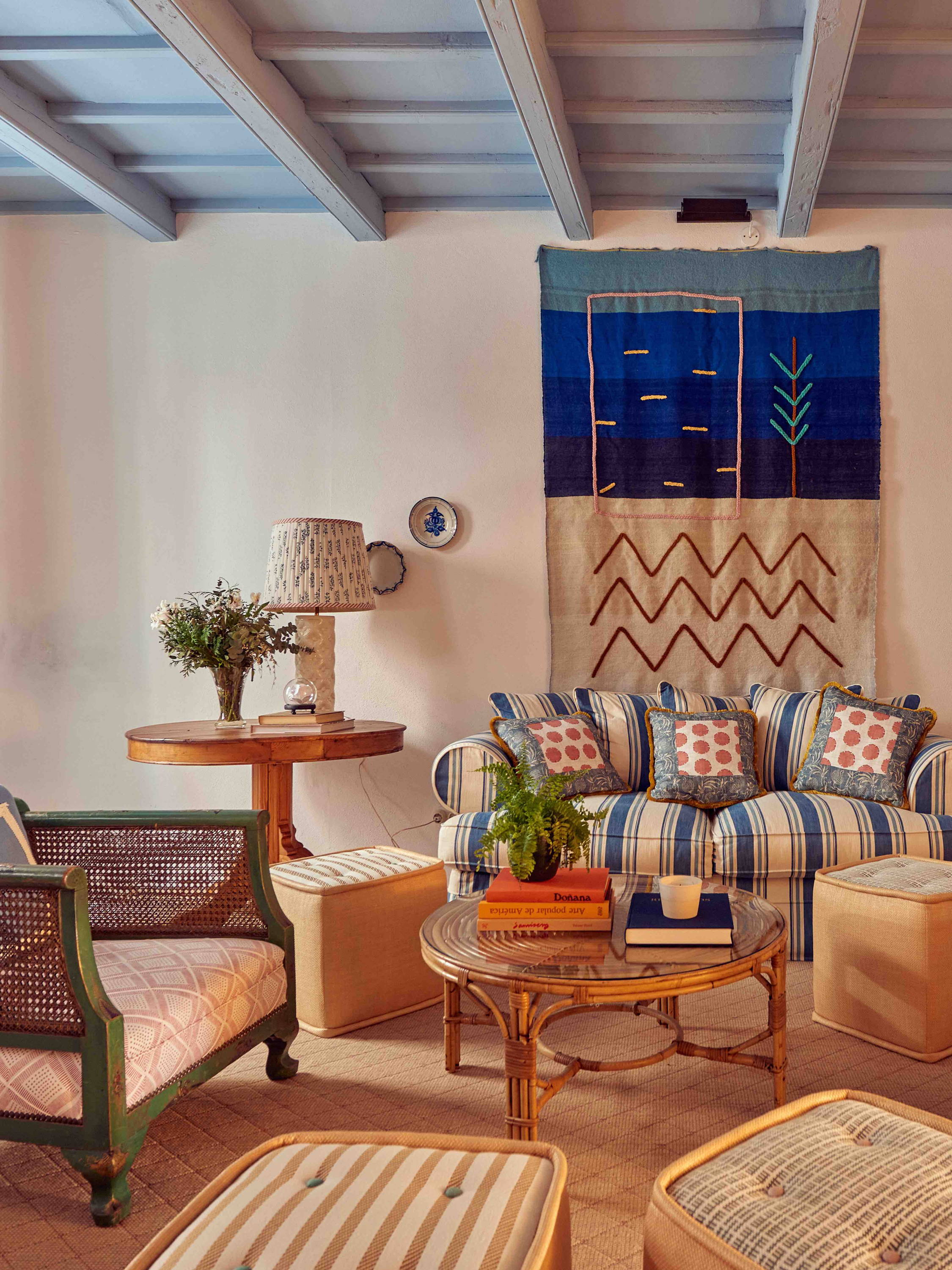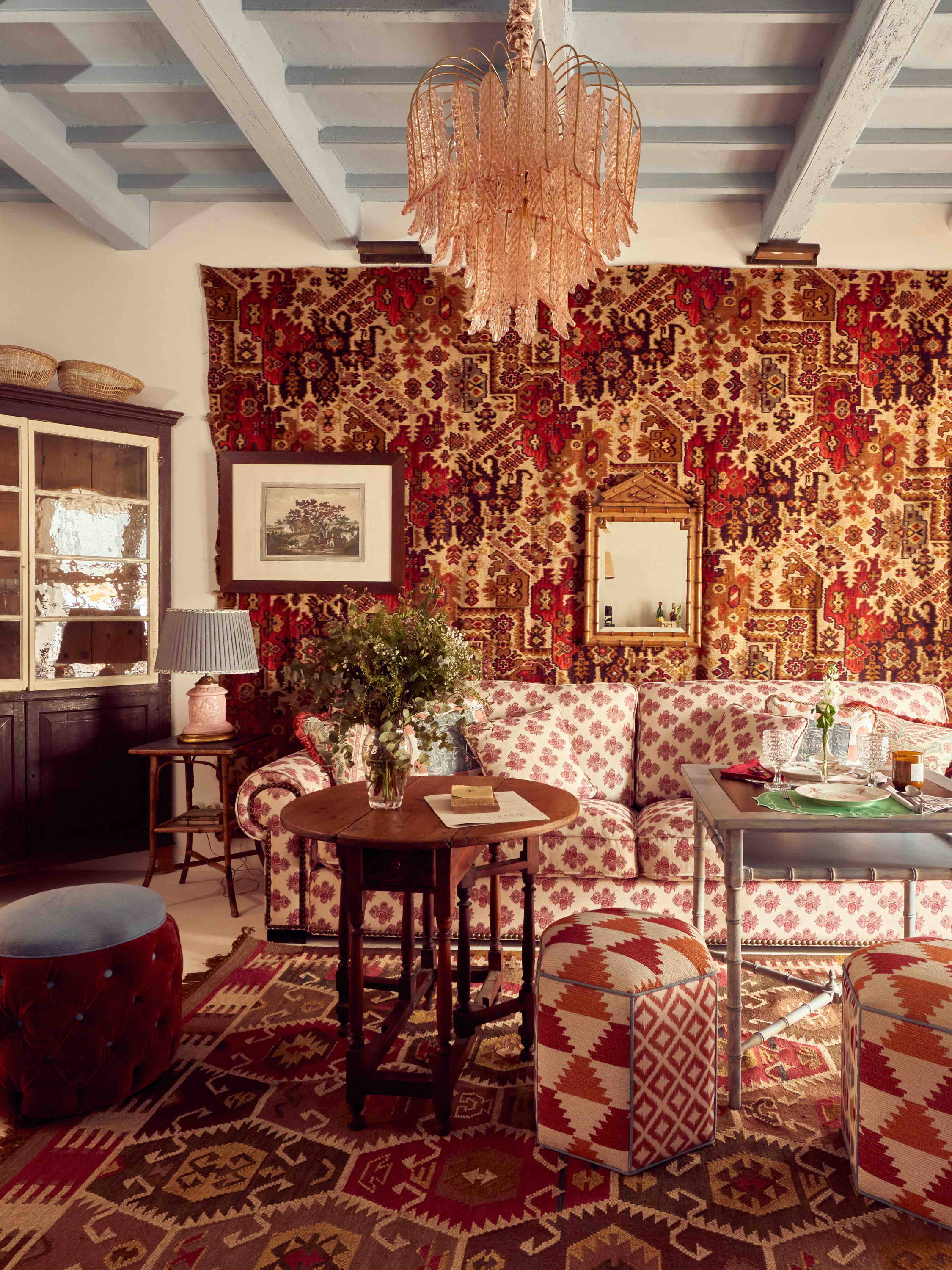 "We're like a family here and we want guests to feel like they're part of it."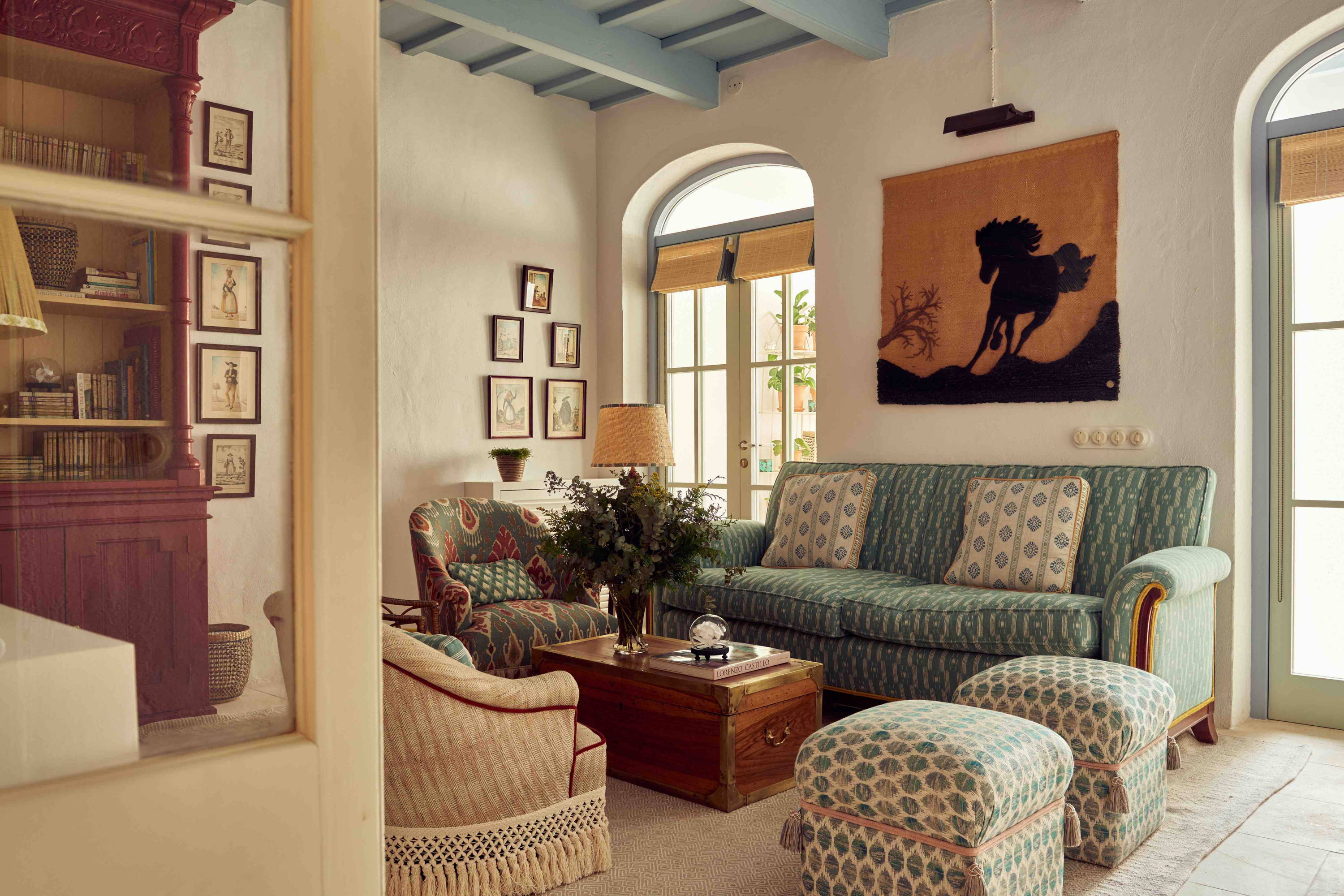 A Bilbao native, Cristina was once a journalist before she turned hotelier. A veteran storyteller, then. But why begin this new chapter in Menorca? "There's a quietness and inherent sustainability to life here," she says. "The island is slowly waking up, but it hasn't changed much. Luxury has – people are looking for small, peaceful places with fine details. Guests often ask about the embroidered napkins in our restaurant; that's the level of detail I always wanted." The napkins are bespoke, by the way, made by an artisan in Bilbao.
Like her alter ego, Cristina is a habitual traveller who delights in roving from place to place, collecting as she goes. "In France, I'll drive 30 kilometres just to find the guy who makes the best bread!" Her knack for striking gold at markets and antique stores is no joke, however. The rooms are layered with finds that stage a vivid performance of Menorca's history: Moorish, Turkish, English and French heritage. A carpet flecked with saffron conjures up an Arabian spice market; a set of cane chairs might have belonged to a naval officer with a taste for the Far East.
That it all hangs together so well is no mere chance. The mastermind behind the delicate choreography is Madrid-based interior designer Lorenzo Castillo. The pair go way back; their first project together was her own house in Bilbao. "If Lorenzo didn't know me as well as he does, it wouldn't have worked", she explains. "He works magic with fabrics and is very generous with me; he'll find a place for my strangest purchases. So, when I bought things, I only ever thought about it as if I were buying for my own house."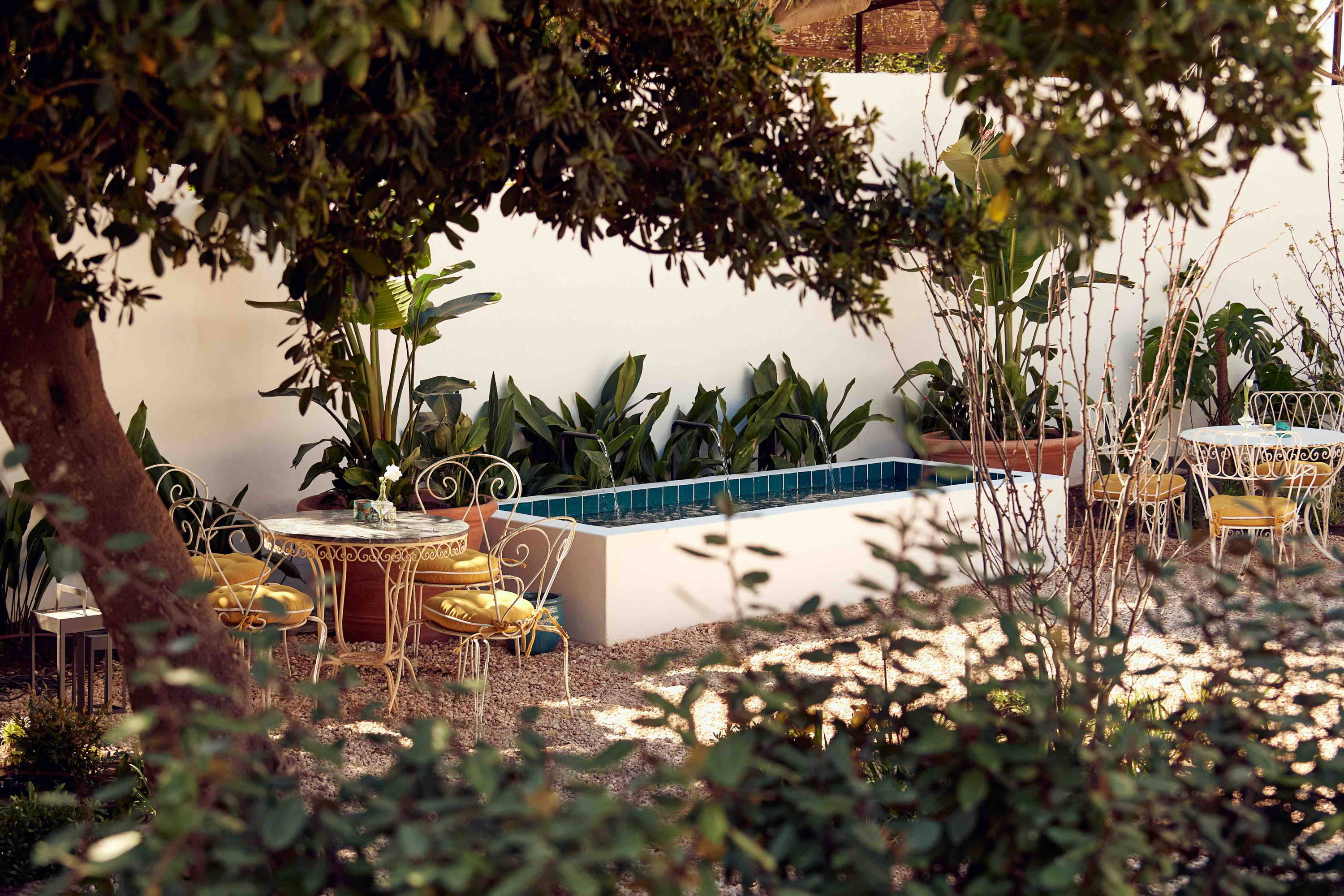 It shows; this is a far cry from the chalky minimalism found elsewhere in the Balearics. Every space brings another flourish of expression, with arresting fabrics and tactile objects that practically sing of the island's manifold soul. Take the entrance, more parlour than lobby, with its hand-painted ceramics, writing bureau and table embellished with maritime charts. The reception desk? Notably absent. "That creates too much distance, too much formality", Cristina says. "We're like a family here and we want guests to feel like they're part of it."
Cristina has also built relationships with Menorca's painters, ceramicists, writers, chefs and winemakers, turning the hotel into a salon where guests and locals can share in their talents. "You can have a story, but there has to be honesty, too," she elaborates. "Locals are often protective; you have to talk to people, sit down with them, do things for one another. That's the only way to truly become part of the community. It's the hardest thing to do but also the most rewarding."
In the end, the creation of Cristine remains something of an enigma; she certainly adds mystique. But the person on the other side of the mirror is even more compelling. With Cristina, the story is not one of escapism but fostering community. Because it's not just guests who are treated like family at Cristine Bedfor, but all of Menorca.
Explore More
Discover striking photography and thoughtful prose from the world's most atmospheric interiors #worldofcabana