Words by Ella Windsor
Images from Emma Lewis, N13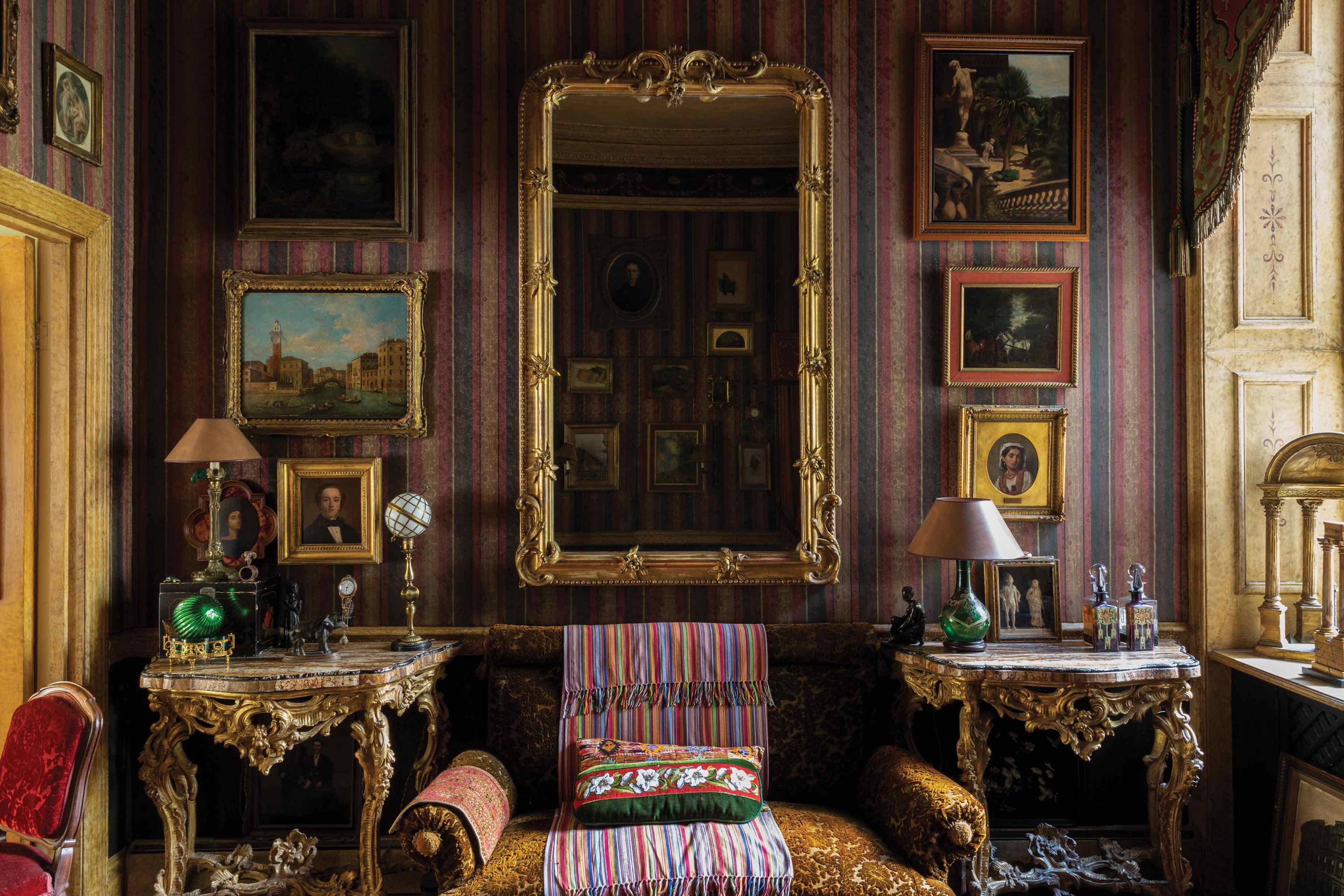 Swiss decorator Christophe Gollut's sublime Kensington flat is at once expertly curated and delightfully haphazard, mixing English details with Swiss antiques, writes Ella Windsor.
Swiss interior decorator Christophe Gollut bought his Kensington flat in four days in 1988. "I saw it on Thursday and bought it on Tuesday," he says. "It was screaming what I wanted." Well before they reach his front door, visitors are coaxed in by Christophe's whimsical style: he has dressed the building's main entrance and passageway.
Past a French log box, green Indian window and bust of Phoenician-Arab Emperor Caracalla guarding a landing, one approaches Christophe's personal sanctum - all four-meters-high of it, filled with natural light and confectionary color, and whose centerpiece is the 6.5-square-meter drawing room. This warm mint space, with its pale palomino floor, is filled with treasures, from antique inlaid tables to a restored polychrome bust: "She was smashed in 40 pieces and repaired when the lady [painting] above fell on top of her."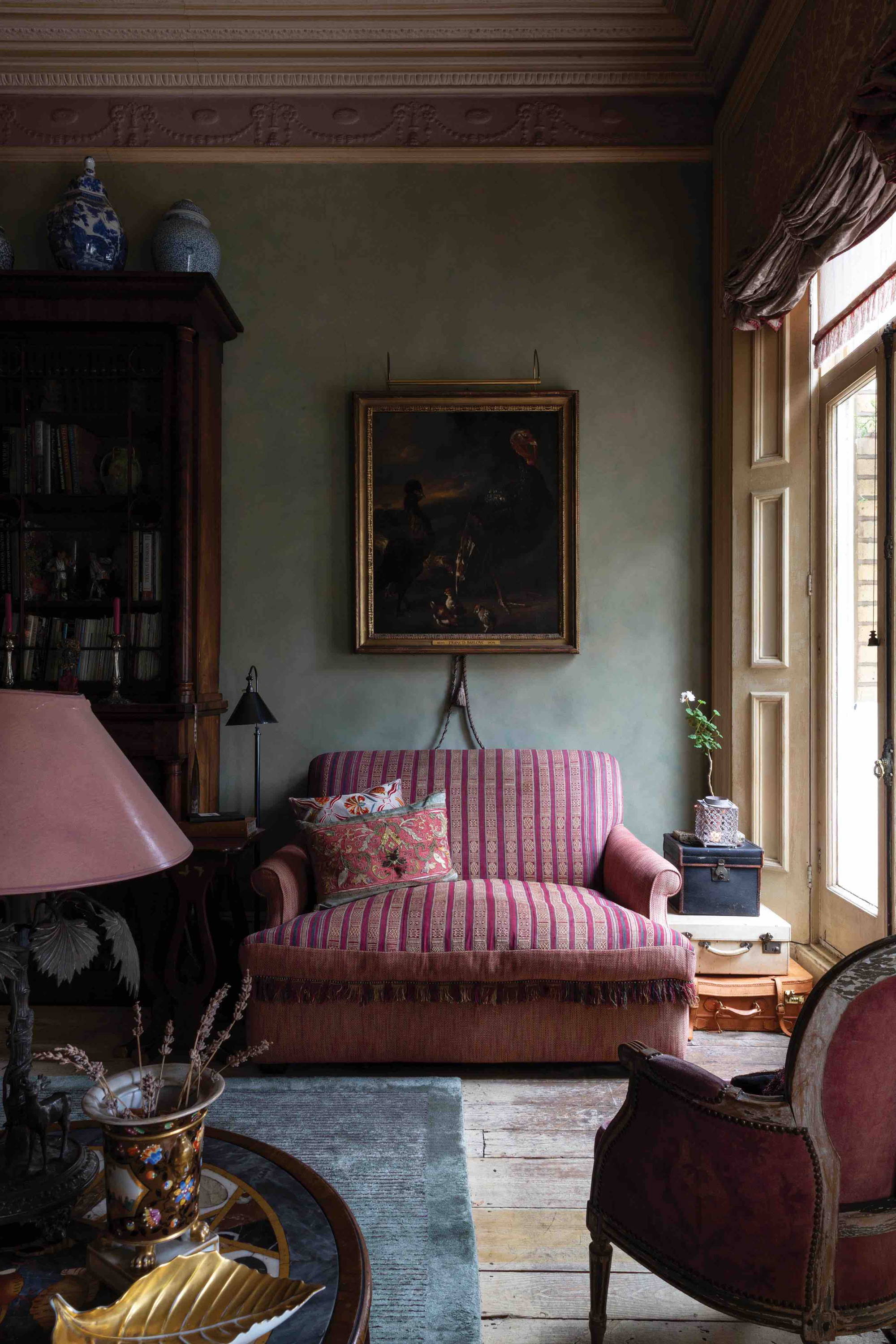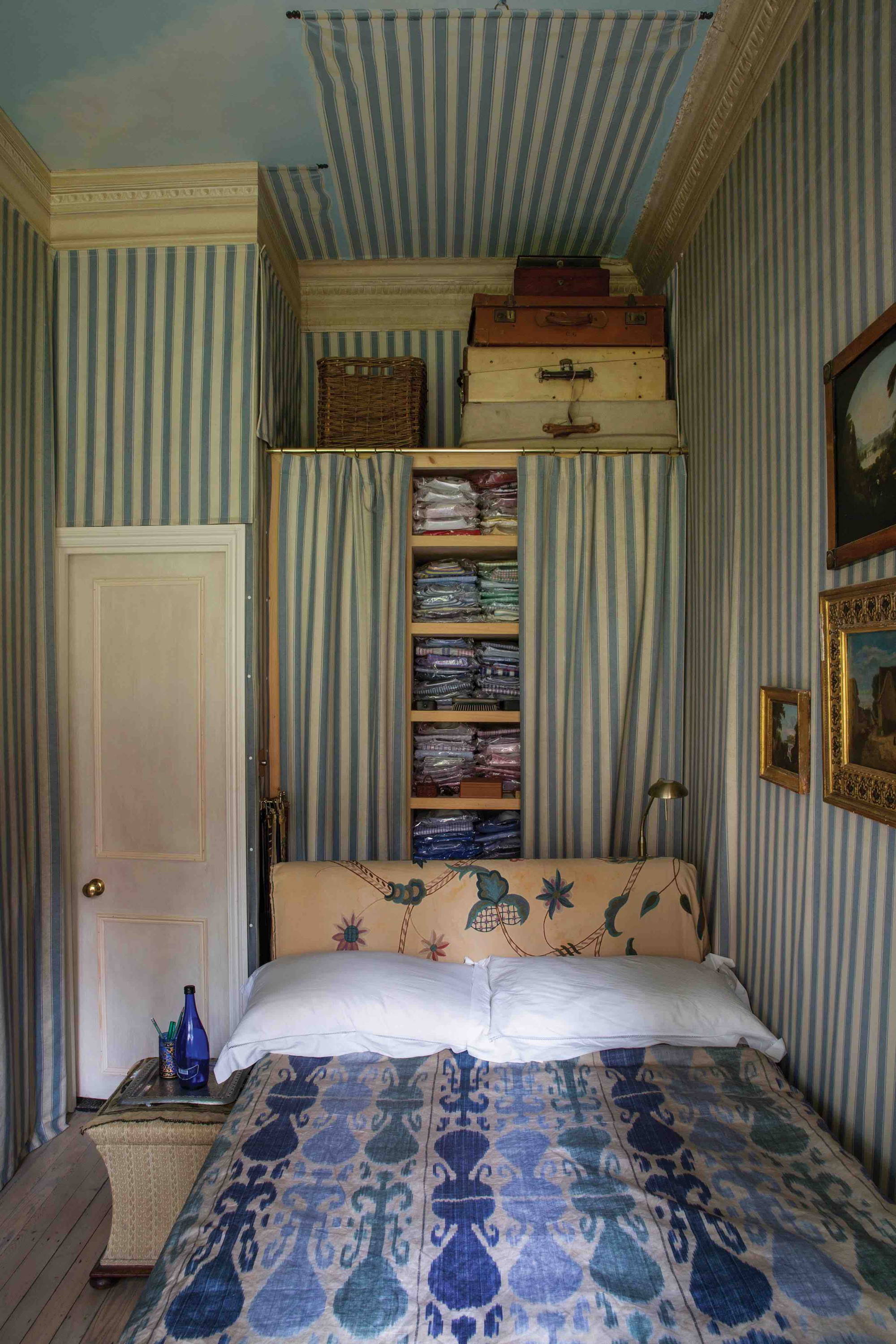 While a French 18th-century theme and cherry hues are subtly evident throughout, there are also Swiss influences, including a "seriously oversized" chest of drawers, English details in a nod to the location, and a number of surprises from Christophe's international travels. Completed by a handsome fireplace and well-nestled seating, the effect is at once expertly curated and haphazard. Gardens are visible through a pretty outside terrace and generous bay windows, adorned with romantic, Gainsborough-ish silk curtains.
Yet this large drawing room, "good alone or with 25 people," was not always so. "Originally it was four rooms—we chucked it all down in one minute,"Christophe characteristically recalls of the first demolition work 30 years ago. Next came the creation of two door areas, one replacing the original lift shaft, and each topped with handmade mirror panels painted in delicate singerie by the "incredibly talented" William Grantham.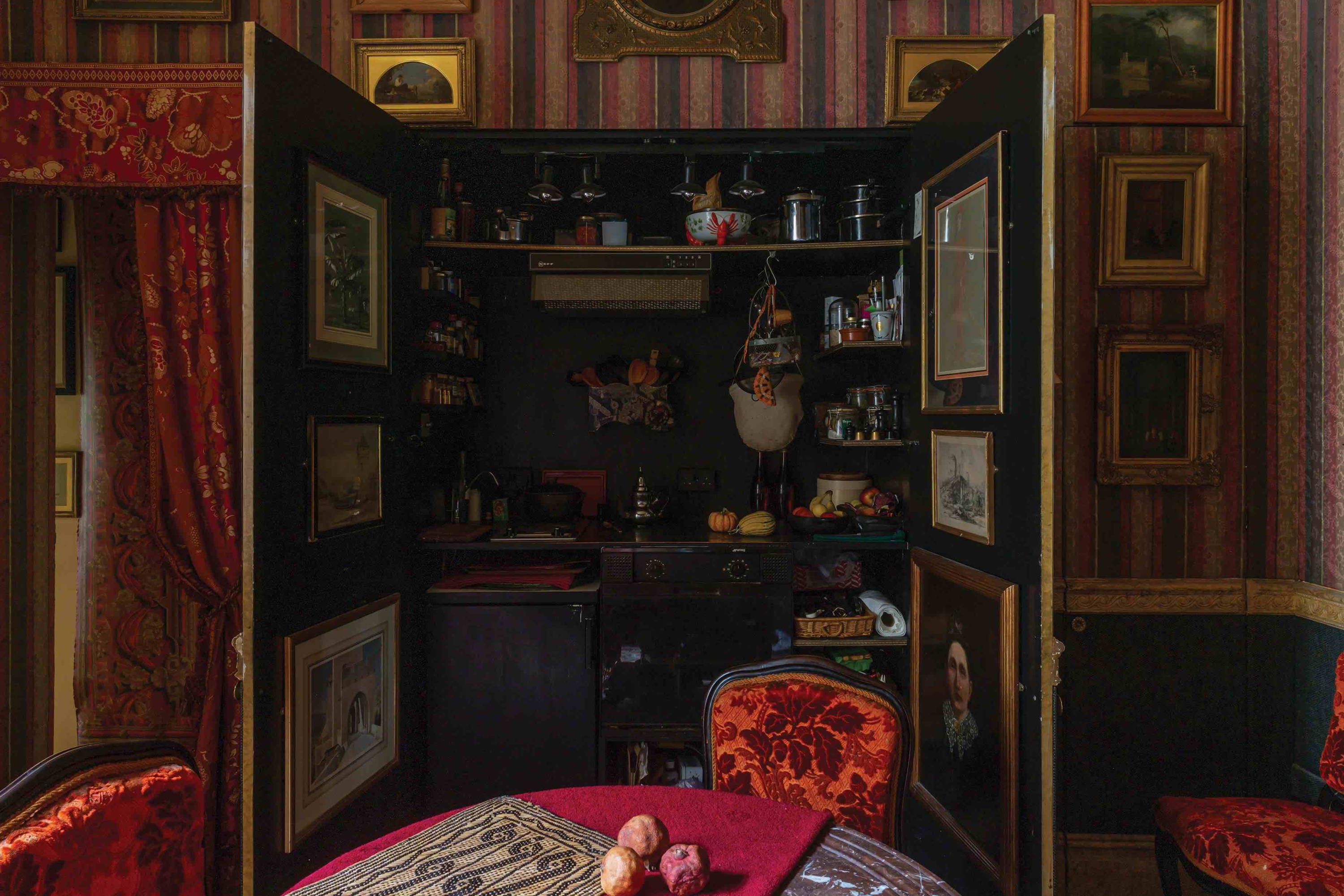 Elsewhere, a dark and sultry bedroom was swiftly transformed into a discreet dining room with dark striped damask fabric on the walls, a nicotine-colored ceiling and fake maple woodwork. Beneath its c.1880 pelmet from a Mayfair gentleman's club, illustrated with mandolins and a globe, a large window frames two small roller blinds in 19th-century French lace ("I didn't have enough material!"). On the window sill sits an armadillo and Christophe's architectural collection, including "an ecclesiastical thing worth £1.20, which I love."
More of Christophe's beloved creatures abound, from an iron camel doorstop to a German elephant clock and a Dali-esque plastic red lobster ("very genuinely antique") on the table. "I only noticed recently that everything I buy is an animal!" Christophe remarks. A vast mirror cornered by a bronze lacquered dragon dominates a wall. "That belonged to my grandparents, who had very fine taste. Amazing. No idea how it arrived in the Swiss Alps. We've owned it since 1880. The provenance is unknown, even by Sotheby's."
To free up space, a novel location was found for the new kitchen. There appears to be none, until Christophe pulls two handles in a wall to reveal a black interior with a tiny fridge, oven, hob, decorative red pumpkins, gold pots of tooth picks, pink peppercorns and spices. "The idea came - BOOM! - to put the kitchen in the cupboard."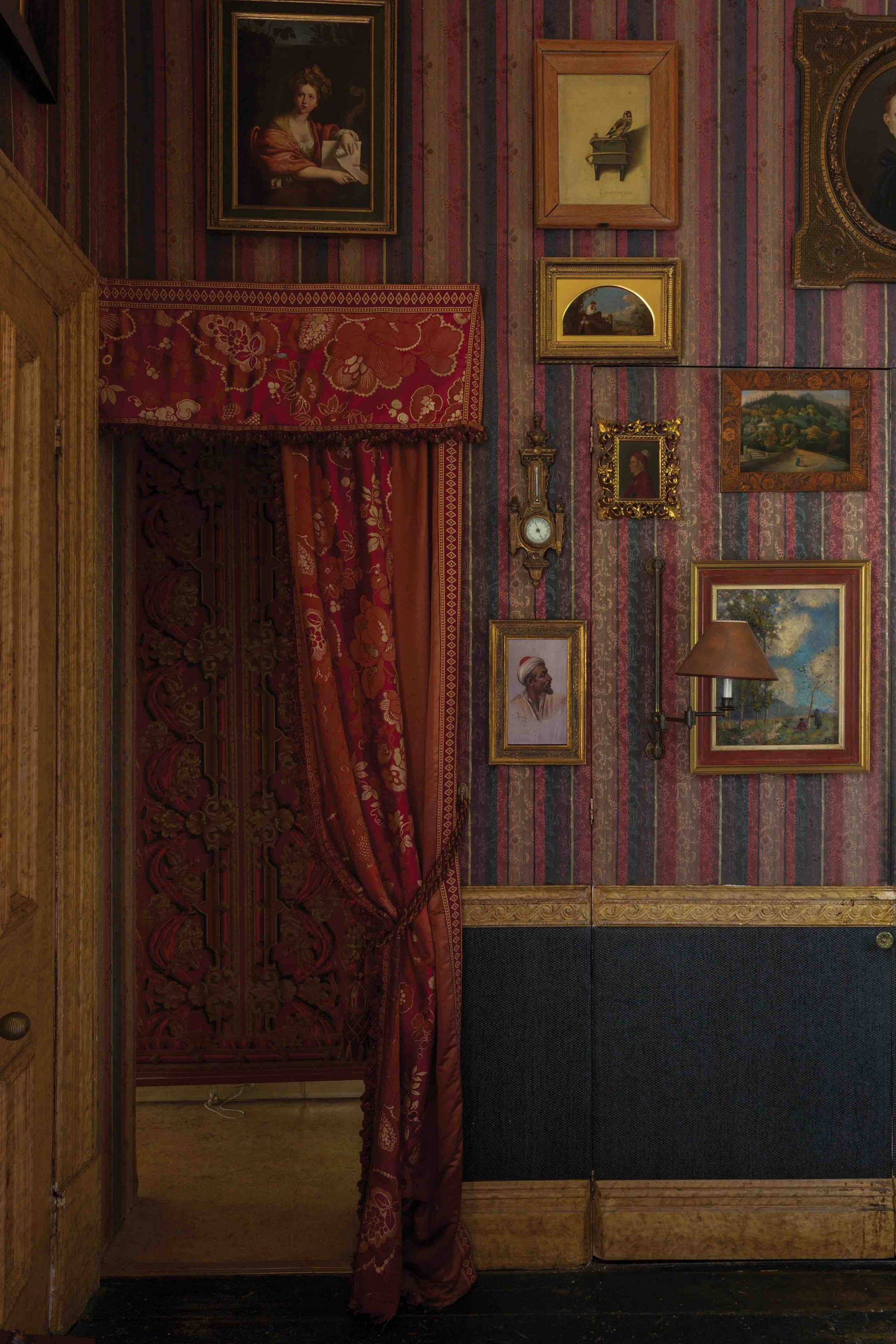 Paintings line the insides of the doors - "This one I call the maid, with her nose in the oven..." An old, wine-red silk damask curtain leads on to a pale mustard bathroom whose walls of tiny Lebanese tiles "had to replace Ernesto Signorelli's [original] beautiful paintwork of mosaic marble," which had been gradually ruined by water from the shower, whose corner shelf now displays miniature colonnades.
The results of demolition work swing into view: a once large bedroom at the back of the flat, which Christophe split into two. The guest room flaunts a Louis XV desk topped with a "bar" in an open mahogany box. "[The bar] must be for very strong spirits, because the glasses are seriously small," he laughs. Christophe's room, meanwhile, its walls draped in striped fabric, exudes a calm punctuated only by a stack of old suitcases - "One was my mother's, to go to boarding school during WWI" - and a tall wooden cabinet filing a pair of his shoes in each drawer.
A longer version of this article, Disordered to Perfection, first appeared in Cabana Issue 13.
Explore More
Discover striking photography and thoughtful prose from the world's most atmospheric interiors #worldofcabana