Words by Sara Pierdonà
Images from
Gianluca Bellomo, Gero Soldini
and
Alessandra Ianniello
"Painting was the language that most belonged to me": Italian artist, Elena Carozzi, speaks to Sara Pierdonà about her creative upbringing, collaborating with Studio Peregalli, the interiors she loves most and her secret ambition...
There is something very coherent and spontaneous between the bucolic life artist Elena Carozzi leads in Sarzana (a town between Liguria and Tuscany founded by the ancient Romans), her background (as a collaborator at Studio Peregalli), her artworks (steeped in references to nature), and her house (a casa colonica populated with animals).
In her studio, Elena surrounds herself with flowers, set out to dry, books on the great masters, remnants of embroidered fabric, and small bottles of pigments, in meticulous order. In this context, magic happens, typically in three forms: paintings (often delicate still lifes), large-scale tapestries and hand-painted, printed wallpapers.
Elena has a secret: her new ambition is...to become a minimalist! "But with the work I do with wallpapers it's impossible," she admits with a self-deprecating smile. It is with sketching that her work is more pared back. "The sketches are the work where I can stay simpler, almost essential," she says. "It's a great trick: if I go into too much detail at the sketch stage, if I 'reveal too much', I end up running out of inspiration to make the actual work!"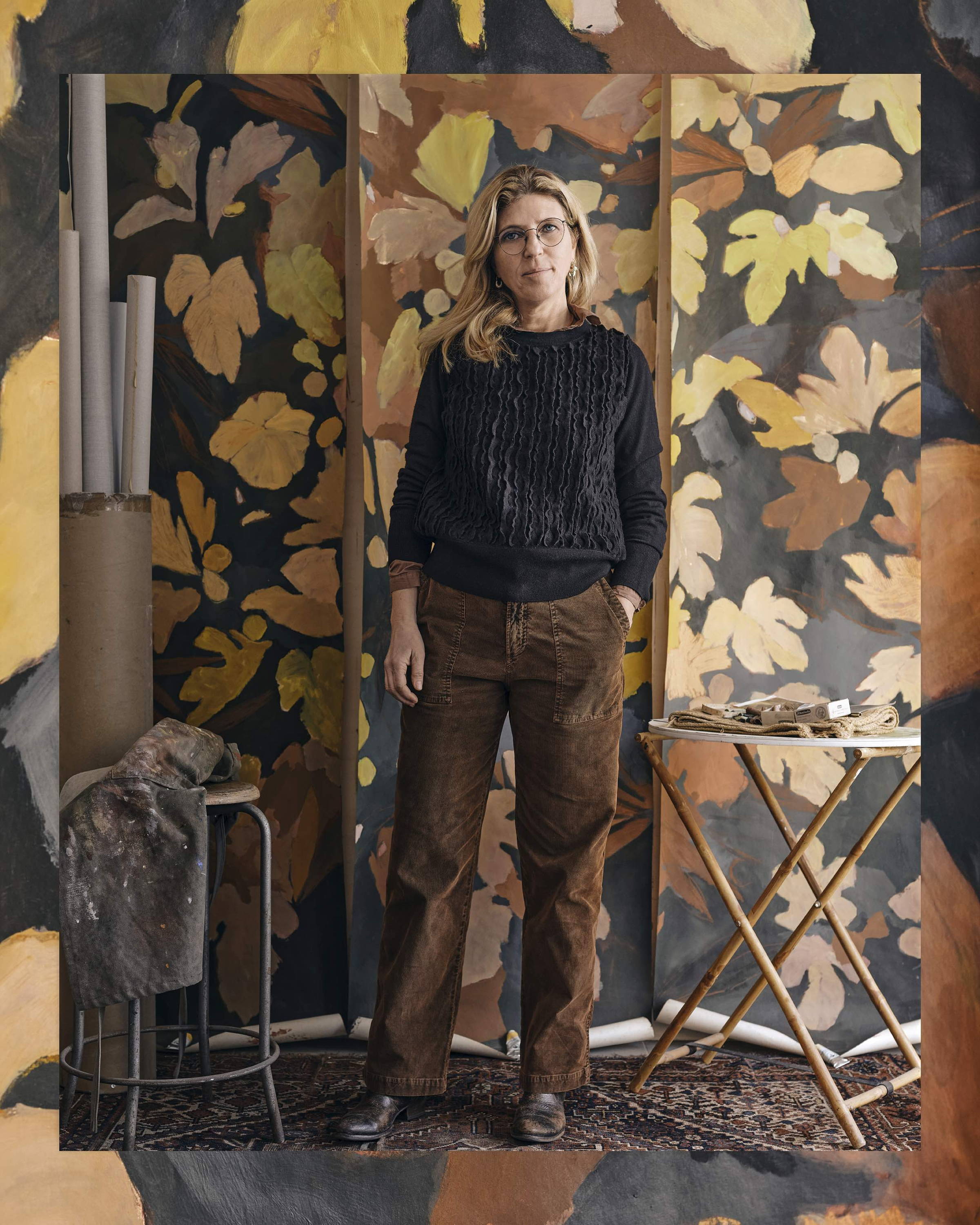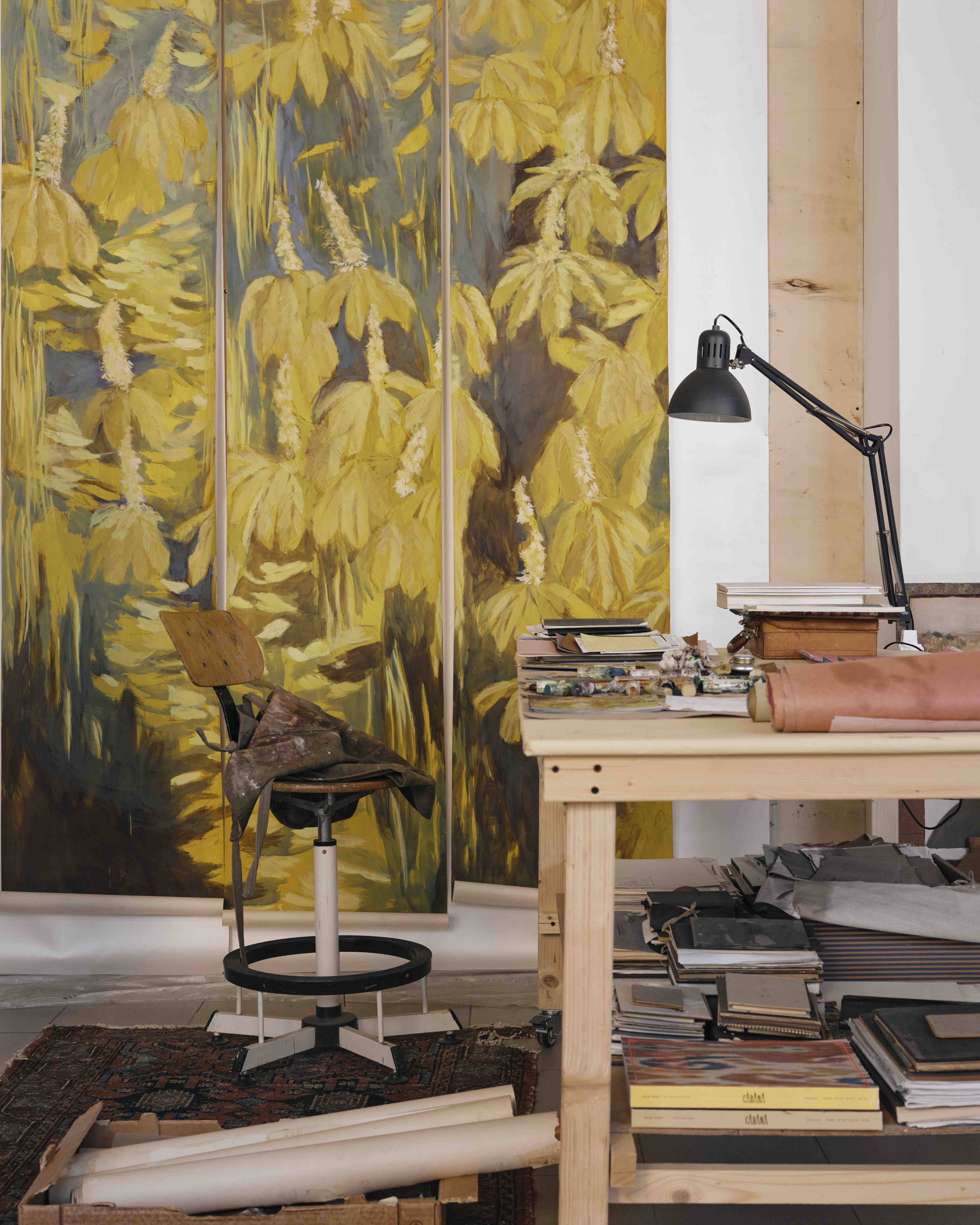 Hailing from a creative family - her grandfather, the artist Gian Carozzi, was among the founders of the 1950s Manifesto Spazialista, along with Lucio Fontana - Elena possessed artistic aptitude from a young age, but experimented with various practices before realizing that, "painting was the language that most belonged to me". "I actually think that you don't choose to become an artist, but you recognize it at some point," she reflects. "The choice is in deciding whether to indulge that talent."
Alongside painting, Elena continues to experiment with different media. She recently created a collection of digitally printed wallpapers - "they capture the uniqueness of the prototype, without losing chromatic relations, and are more practical!" - and is currently working more with ceramics: "it's a world to be discovered". 
Where does your creative inspiration come from?
A collection of disparate cues that somehow fuse together...it can be the fragment of an old fabric and the memory of a painting that struck me. Very often inspiration comes while walking in nature. Then I capture what I see with my camera. At first it was a gesture I experienced in a conflicting way: I feared it was a practice not for purists, invalidating the teaching I received from my grandfather (who was always sketching en plain air and who, in Paris, had become accustomed to studying from life). Slowly, I realized tapestries and wallpapers, by virtue of their vastness, can break the limits derived from photography, because I am obliged to add things that remain excluded from the photo, out of the frame.
Can you tell me about your relationship with your grandfather, did this shape your art?
My grandfather...was a strict, righteous man. He devoted his whole life to pictorial research, and from him I learnt the ethics of commitment, of dedication. He introduced me to those who became my "putative fathers" - Édouard Vuillard, Bonnard, Matisse. Together we made a two-handed work, and in that crucial month I learnt through observation and imitation how to use the color palette, how to set up a composition.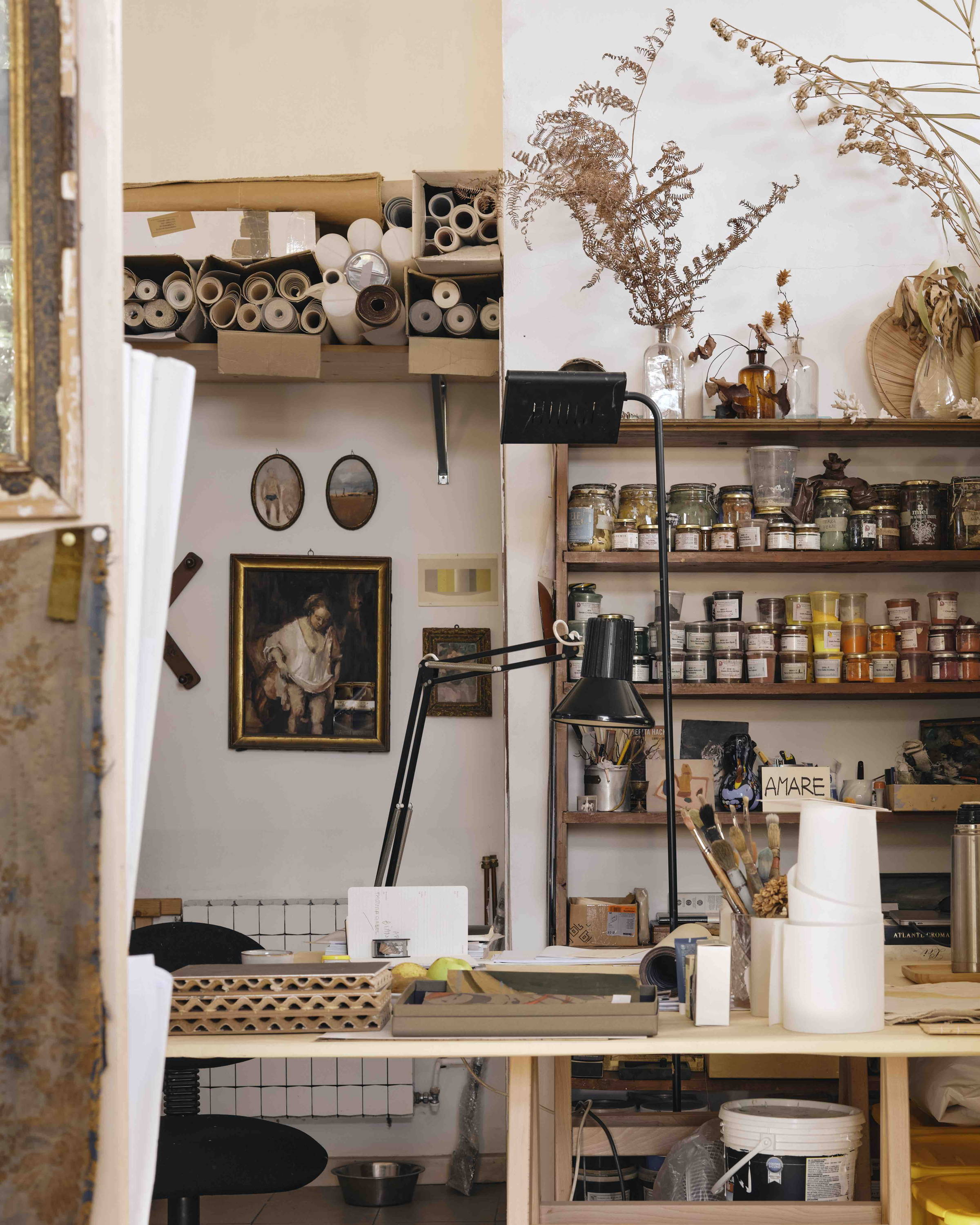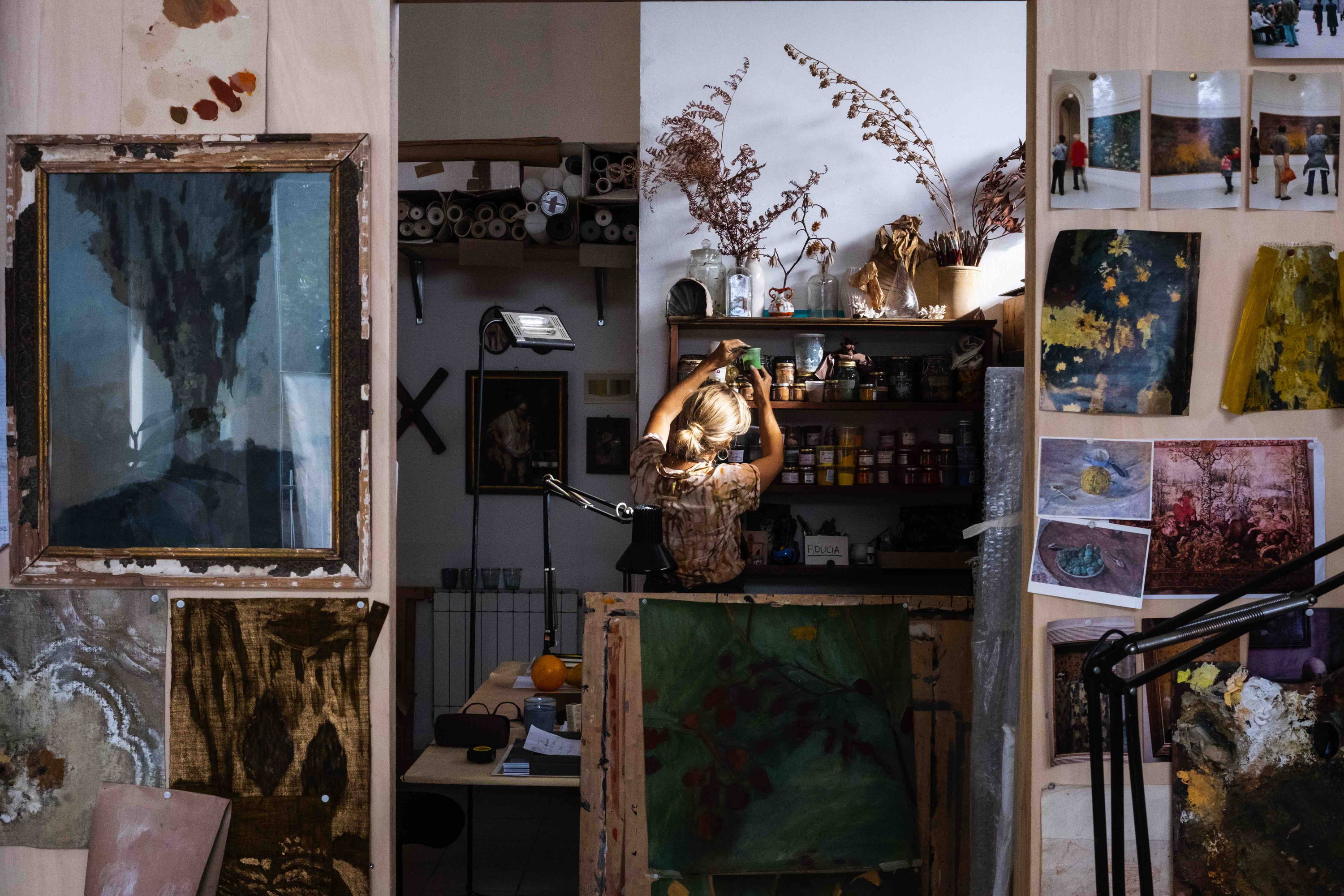 You have previously collaborated with Studio Peregalli. What did you learn from this collaboration?
This experience was equally important for my education. I learnt to see beauty and pay attention to detail. Above all, I learnt to understand the meaning of paintings in space, inside a room. That's what I find, and love, in the intimate interior paintings of Vuillard and Bonnard. One easy trick I inherited from the

Mongiardino

school: layering. Overlaying paintings with patterned wallpapers: perhaps for other contemporary artists would be a taboo; but I find that together they converse and empower each other.
And how has your sensibility and art changed over time?
Experience and gaining confidence gave me freedom. My Milanese education had placed me in the field of interior design. My grandfather had taught me the ideology of art for art's sake. I kept these two languages separate for a long time, until I wanted to attempt a kind of fusion, and thus painted wallpapers were born.
Can you tell me about the first wallpaper you designed?
I had started with a damask, which was quite geometric, but I wanted to "pulverize" it. The idea was not to describe it perfectly, but to use it as a pretext for juxtaposing patches of color. With wallpapers, I realized that I like contrast: if the support is an elegant material, such as satin, I tend to "smear" it and play with it like a child dirtying a wall; if the support is textural and almost crude, for example canvas, I opt for a more formal pattern.
What about tapestries: what was the first one, and how did this come about?
It was a combination of desires: to paint the woods around the house almost life-size and to portray the Ouessant dwarf sheep - which I had for a time, along with geese and chickens - which are very ornamental and seemed like the perfect companions. The inspiration for the raw linen canvases painted with pigments came from a large grass juice from the 18th century that my family had at home. The use of this technique is also a break from more chemical and troublesome ones, such as oil and its thinners.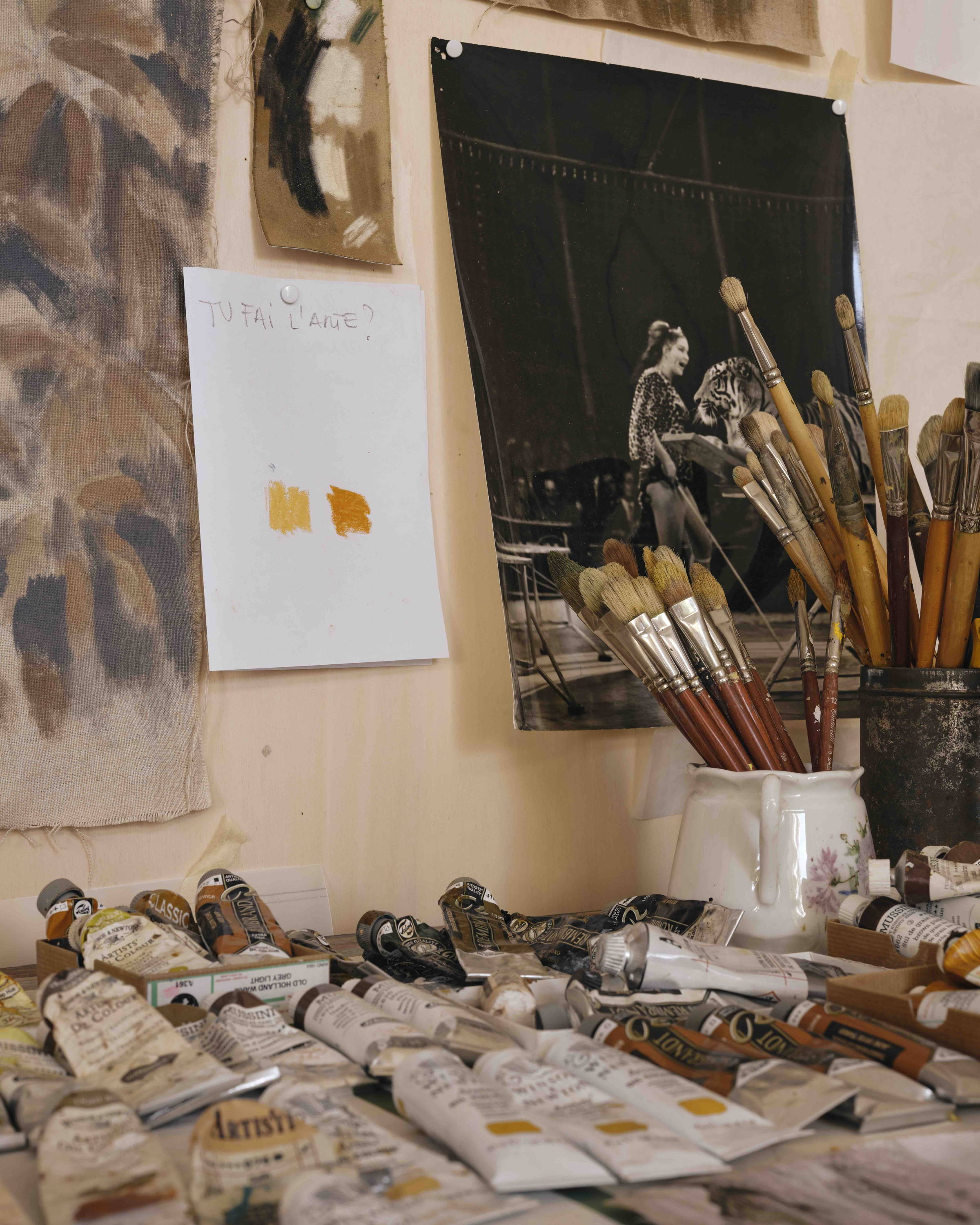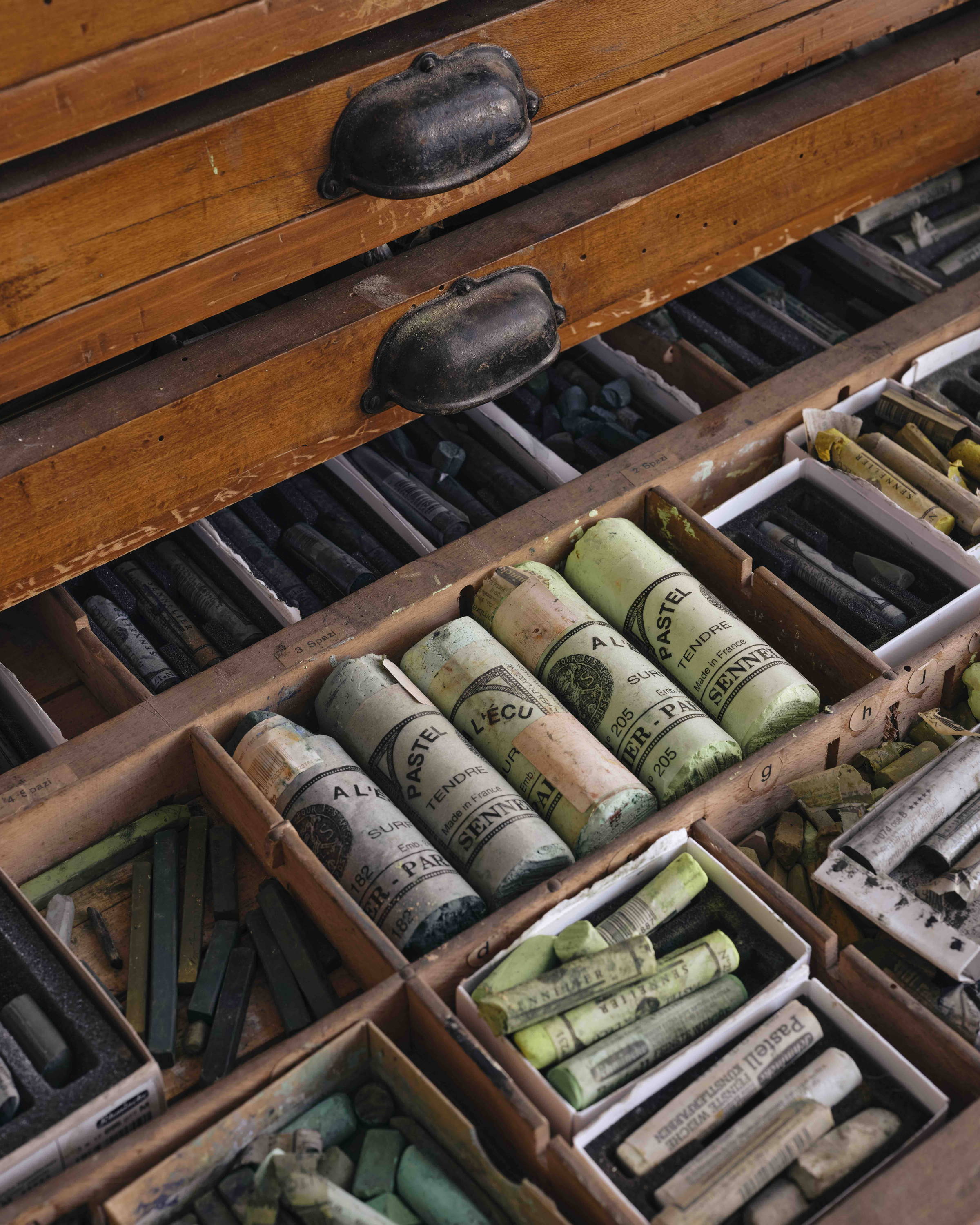 I've heard you talk about your 'recipe notebook'; can you explain what this is?
Another lesson learnt in the

Mongiardino

school, never settle for the paint you buy, the tube of color already made. Always create your own shade. Mix colors until you reach the exact, ideal tone. And after finding it, I make a note here, in my "recipe notebook," of the composition. Otherwise, it would be impossible to replicate each wallpaper.
Your atelier is a beautiful, inspirational space, how does this impact your work?
I have changed many studios. After a move, it's like being faced with a blank sheet of paper. Over time, I've figured out what are the basic things to facilitate the creative process: open books with reference images; slips of paper with my color studies; and scattered around dried branches and leaves, collected during my walks in the woods. It takes organization so that I don't waste time looking for working tools. The ideal studio? Large but minimalist, with natural light coming from above.
You've curated a remarkable library, just a few feet from where you paint...
I have a kind of fetish for exhibition catalogs. This one by Bonnard, for example: it came from his exhibition that the Beyeler Foundation curated in 2012...It's been open on my desk for months, maybe years now. It's an inexhaustible source of inspiration. Another thing I love is that early works often appear in the catalogs. It's interesting to see what certain artists produced before they were distorted by commissioned works. And, also, it is relaxing to see the attempts they made before they got to a certain level....
Is there an exhibition you'd recommend?
I'm afraid I won't make it in time to go, but I find the Vuitton foundation brilliant to present Claude Monet and Joan Mitchell together.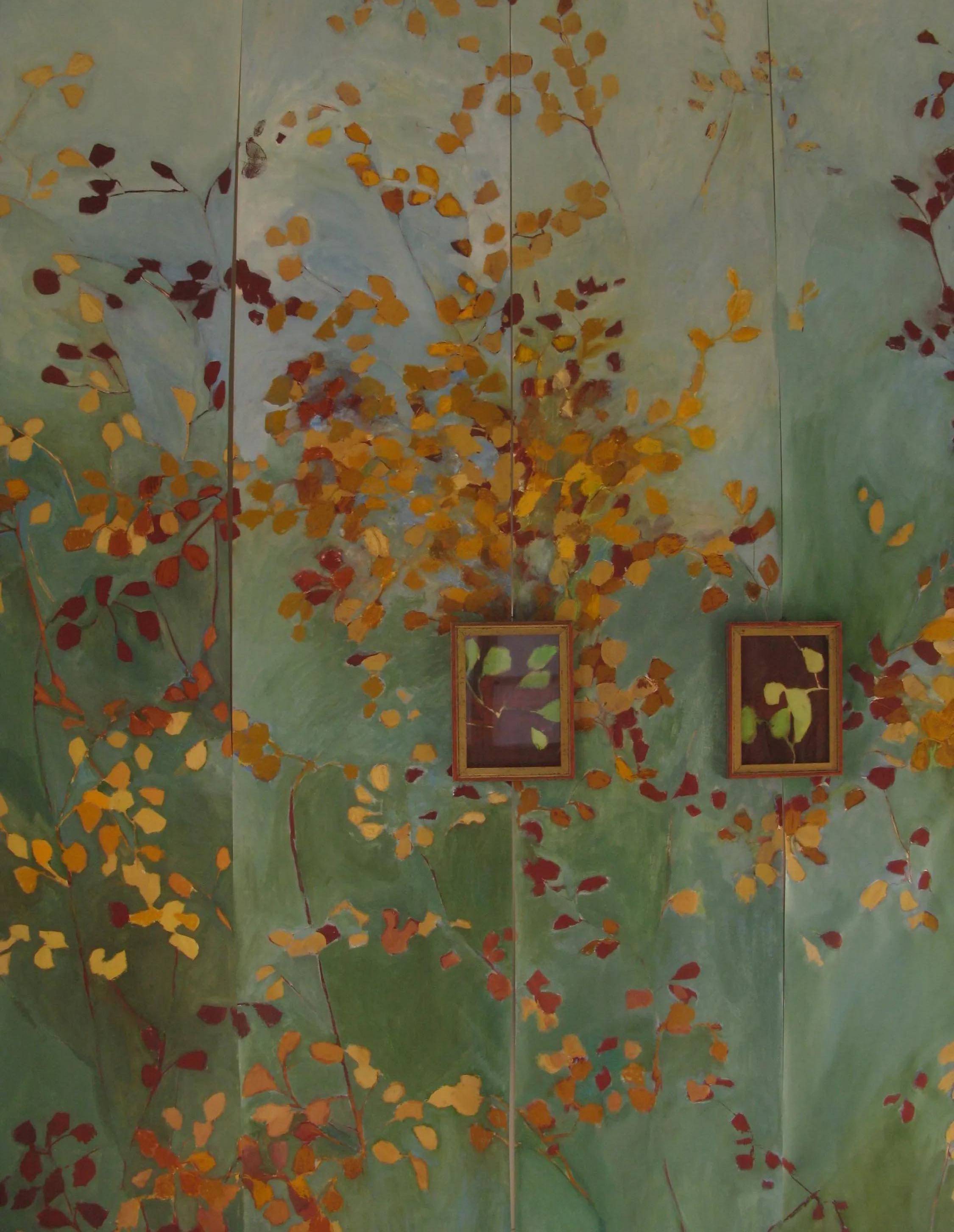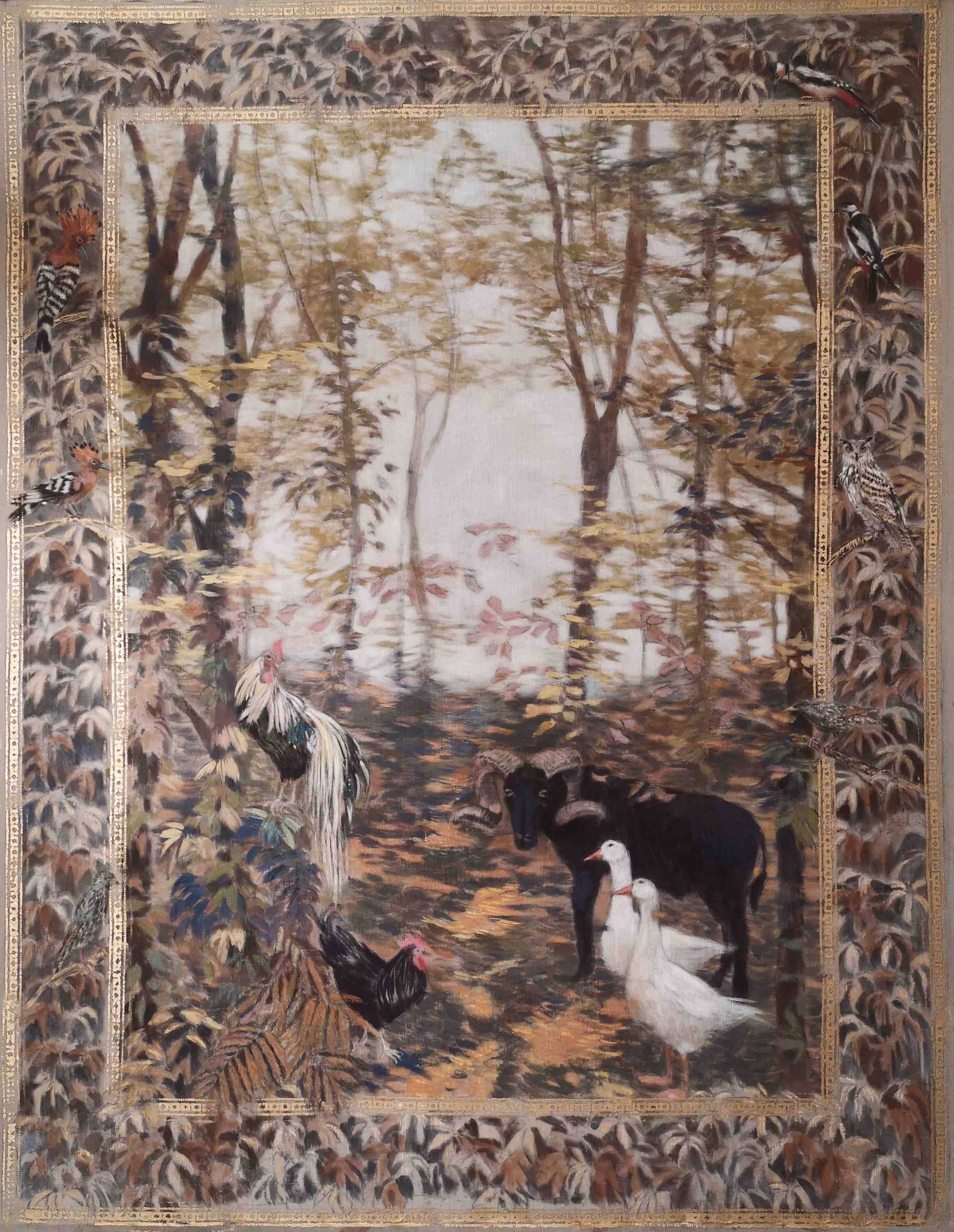 I'm intrigued to know what your house is like...
Barer than you would expect. I focused on having the right colors, for example I wanted the floor to be Aretine cotto at all costs, because it's pinker. Then I found out how easily it gets dirty, and I ended up covering it with carpets. For the rest: works by my artist friends, paintings by my grandfather, a few antiques I inherited (on my father's side of the family were all antique dealers)...
What view do you see from your windows?
I decided to build the house after falling in love with the landscape. I glimpse a slice of the sea, to the southwest, across a crossroads of hills covered with holm oaks, olive trees and maritime pines. It is a landscape constantly transformed by the passage of clouds, and their alternation with the sun. It often makes me think of the aerial perspective of Leonardo's landscapes.
And finally, if you could give your 10-year-old self one piece of advice, what would it be
Have patience, observe more, take a pause.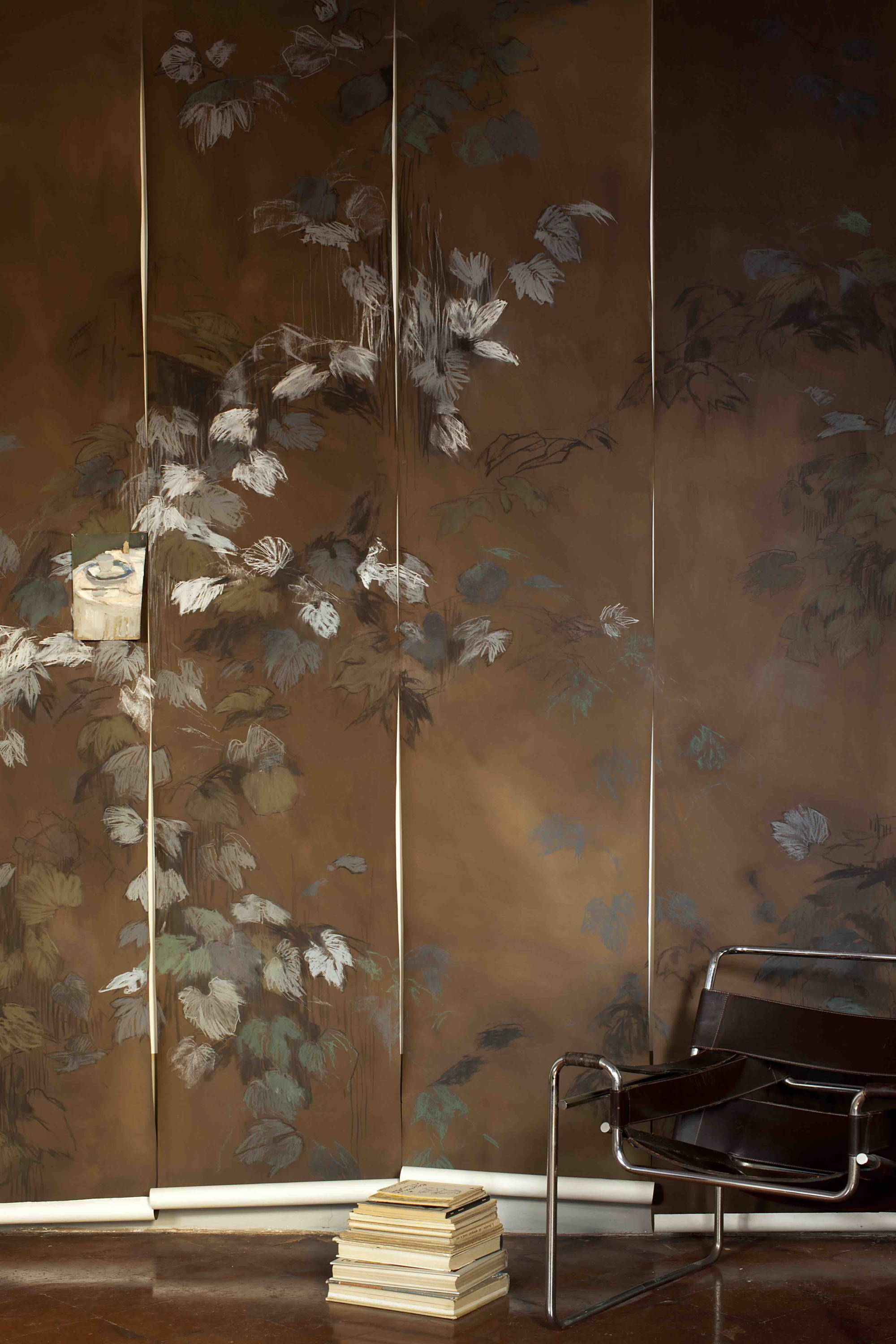 Explore More
Discover striking photography and thoughtful prose from the world's most atmospheric interiors #worldofcabana