Interview by Camilla Frances
Images from
Michael Jennison
and
The New Craftsmen
British artist Emma Witter transforms discarded shells, bones and found objects into covetable works of art. Some of her pieces are currently on show in London at The New Craftsmen's Claylarks exhibition, a collection by 15 makers whose pieces have all been inspired by the shards of pottery and small objects they foraged during a muddy expedition on the banks of the River Thames. Emma talks to Cabana about finding inspiration in unusual places, making art from bone matter and what it's really like to be an independent craftsperson today.
Your works for the Claylarks exhibition are quite other-worldly, featuring beautiful oyster shells. Can you describe your inspiration and how you made them?
'Claylarks' has been a dream project for me as it fed directly into my interests in London history and the ephemeral. I was particularly drawn to the vast amount of oyster shells that are washed up on the Thames shore. It's interesting that over time, oysters have fluctuated between extremities of perceived value. Once very much a poor man's food, they are now signifiers of wealth. And yet the shells, with their beautiful iridescent interiors, the material that generates expensive, sought-after pearls - are tossed into the bin. Historically, the waste bin would have been the Thames itself. Huge amounts of bones and shells from the Tudor palace banquets for example, would have been thrown straight into the river every day.

I loved the idea of using material from historic feasts to create objects to set the scene for future feasts. I created a set of Elizabethan-inspired chandeliers crafted from found materials and bound using precious metal. I wrapped my framework in copper wire - a nod to the chunks of twisted copper wire ropes also strewn on the shore. I formed clusters of oyster shell flowers and copper electro-formed the exteriors, whilst varnishing the delicate interiors to exaggerate the contrast of texture. I fired more oyster shells in a kiln and reduced them to a fine powder. This powder I mixed with crystal resin and cast into enlarged pearlescent spheres. These works are moody, tactile and generous in their material, all things a Tudor grand feast should be.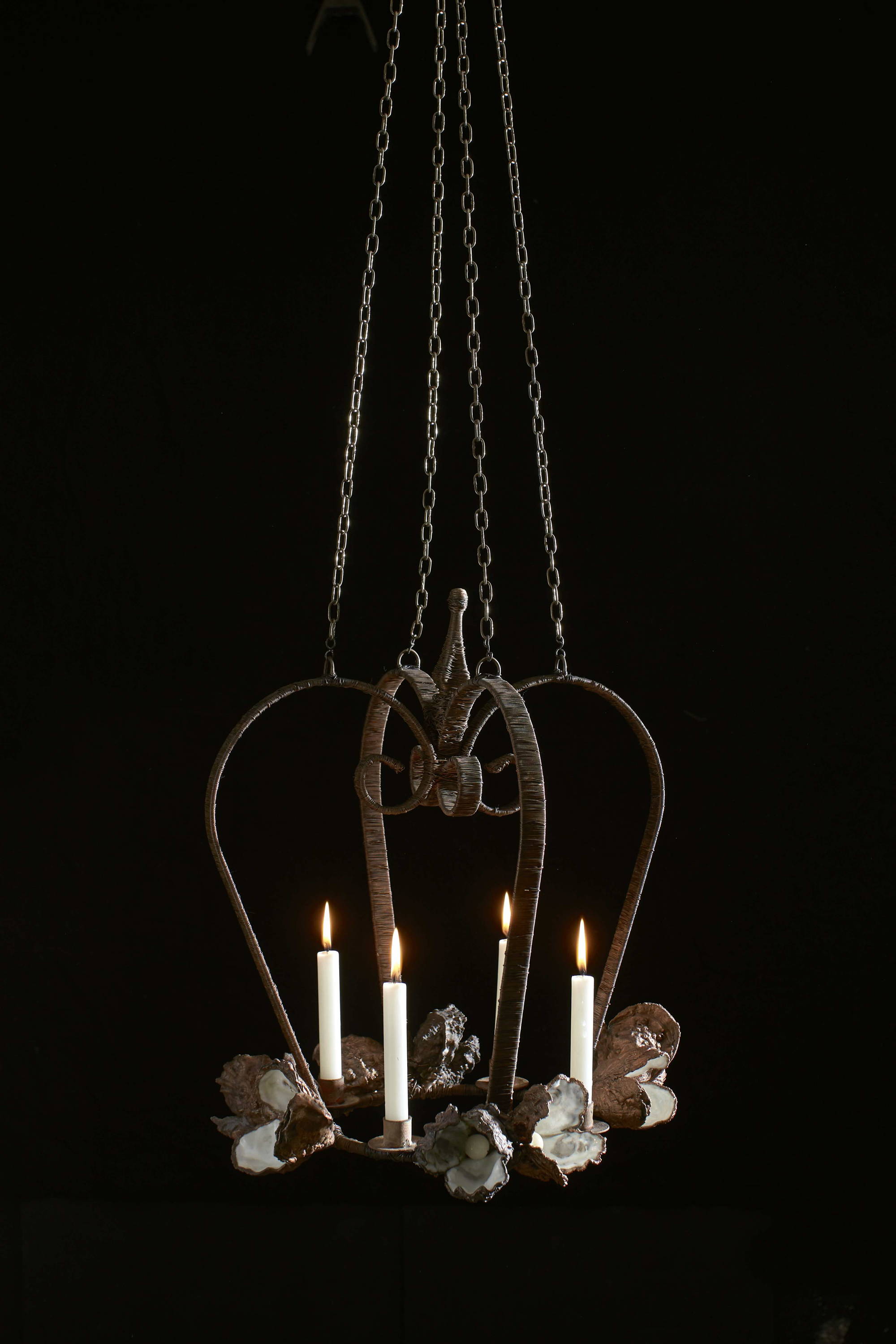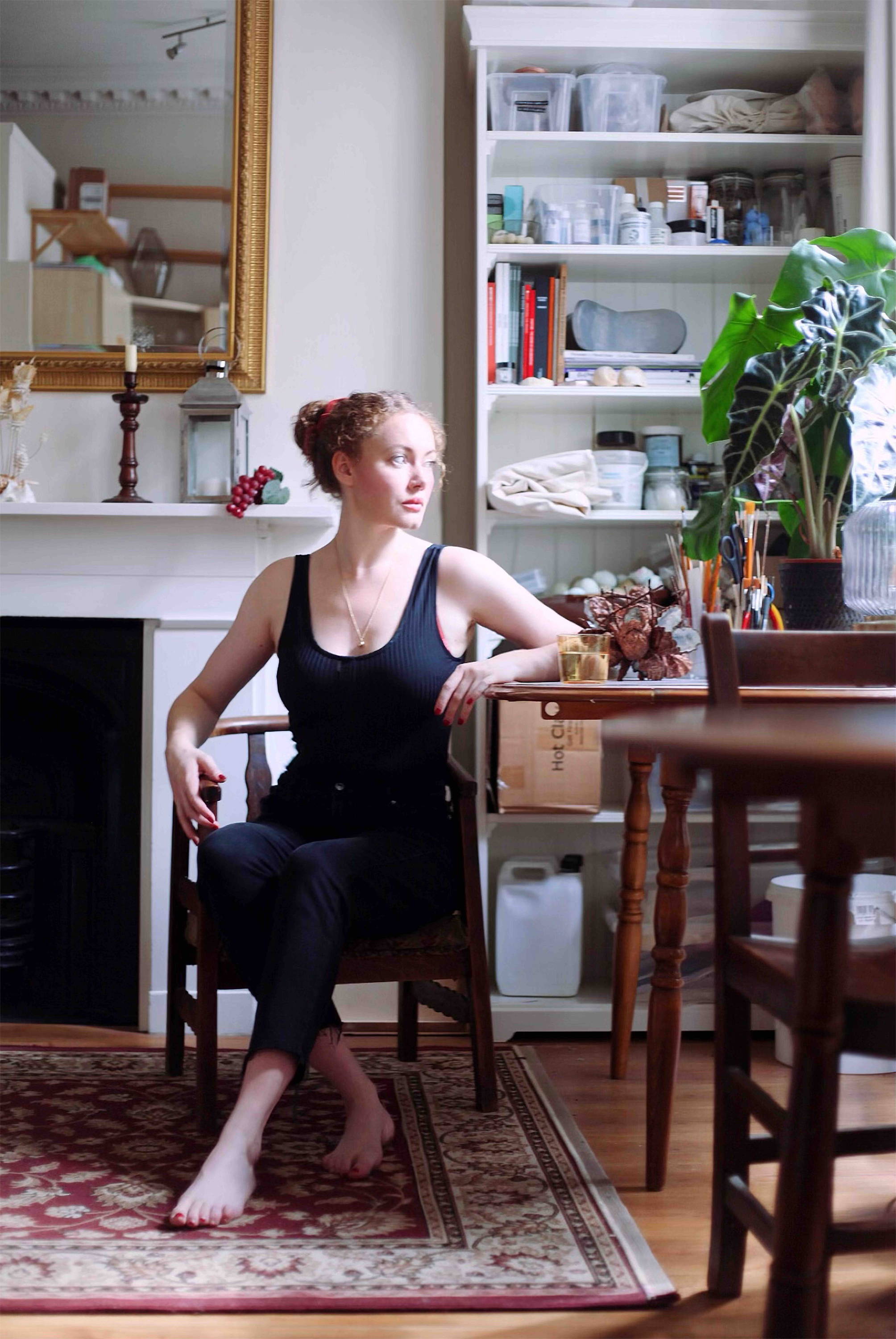 And in general, what inspires your work and desire to create?
I'm really interested in unusual collaborations and the crossover between art and science. Last year I had the honour of working with Dr Michelle Oyen, a bioengineer who has led innovative research into lab grown bone and eggshell, which could be used for medical implants. I also love to see young people pushing boundaries of overlooked materials. For example, Shellworks are a group of designers who have developed a series of machines that turn seafood waste into a biodegradable and recyclable bioplastic. Not only are the outcomes beautiful but they can be poured onto soil in its liquid form as a natural, non-polluting fertiliser.
I'm also collaborating with art historian Daen Palma Huse on the Instagram account @bonecreatives, where we are working towards a publication exploring the use of bone across time and cultures. There is such a vast history and I love discovering how talented makers, such as Valdís Steinarsdóttir, Monique Péan and Gregg Moore, are translating bone matter in their current work and into the future.
Are there any themes running through your work?
Loss. Hope. Preservation. Fragility. Romance.
What was your early career path? How did you discover this unique interest? 
I graduated from Central Saint Martins in 2012 having studied Performance Design, and taken a particular interest in scenography, costume and props. I loved the smoke and mirrors of it and storytelling through objects. The course was extremely broad and theoretical, and my interests bounced around a lot, so I didn't really learn a particular formal skill set. This set me free creatively though, as I was drawn towards experimenting with non-traditional materials that didn't have assigned rules to their use - so I felt I could just get on with it my own way. The best advice I learnt there was to just DO and not sit around talking about doing.
I co-devised an immersive performance piece for my final project called 'Feast', which was staged at a long table and based around food. It was sexy, grotesque and ridiculous. For some of the scenes I created these strange food sculptures as imaginary meals. It was then I had this aha! moment and that that's what I wanted to do: sculpting colourful mashed potato mountains and applying jewellery to pigs' heads was going to be my career path.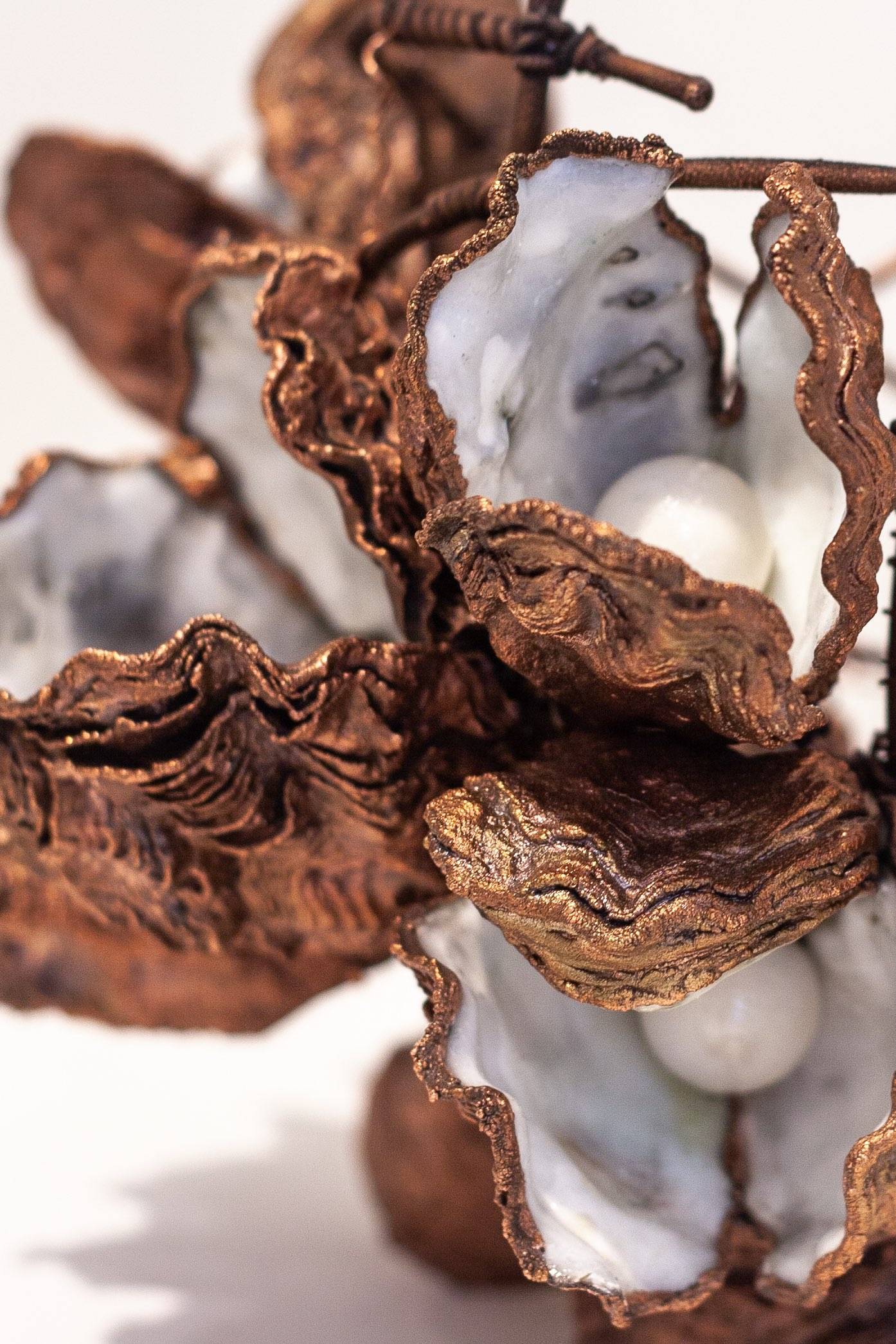 What are the realities, highs and lows, of being a craftsperson today?
There are so many unseen hours of work that we all do to support ourselves and provide the environment, the time, and the materials to just be able to sit down and work. The hours you see in the exhibited objects are just the tip of the iceberg in terms of time and effort. Any artist or craftsperson supporting themselves in a capital city is an incredibly hard worker. It takes an equal measure of inventiveness and discipline.
And so the precious moments where you are just in the studio, making – are a joy. Pure joy. It is a visceral pleasure to work with your eyes and your hands… to block out the rest of the world and feel completely present in your little bubble. When a work is very resolved, the sense of completion over something that you've physically crafted is extremely cathartic.  I think many artists would describe the experience of making work as being holy to them.
Can you describe a typical working day?
I wish I had a nice steady routine. Every week tends to look different as I also juggle working as a set designer/prop stylist in fashion. Projects come like buses, so I lurch between all systems go, and then little recovery periods. My ideal working day when I'm making my art is; laptop work in bed with coffee in the morning for a couple of hours as soon as I wake up before any distractions can drag me off course. I'll then take a break before returning to ease myself into some hours of solid studio work. Then 4pm is witching hour where my brain rebels, so I'll go out for a few hours, socialise, go the park, visit a gallery or whatever. I can then settle into more making later in the evening. Working from home, or at least having parts of projects set up on a table to work from home, really helps.
What does relaxation look like for you? How do you switch off and recharge?
Recently when I've finished a big deadline, I'll often get on a train late morning and go to my parents' in rural Hertfordshire. I like a Bloody Mary at a cosy countryside pub and to walk out through the fields to go and press my face against a horse's neck. I'm weirdly comforted by the smell of horse poo and the feel of their velvety warm noses. You can often stand in delicious silence with only the sound of birds chirping.I'm convinced I can feel my heart rate drop as my eyes absorb a proper expanse of horizon for the first-time in weeks or months. This quiet place I was desperate to escape from as a teen now feels medicinal; I return like a homing bird.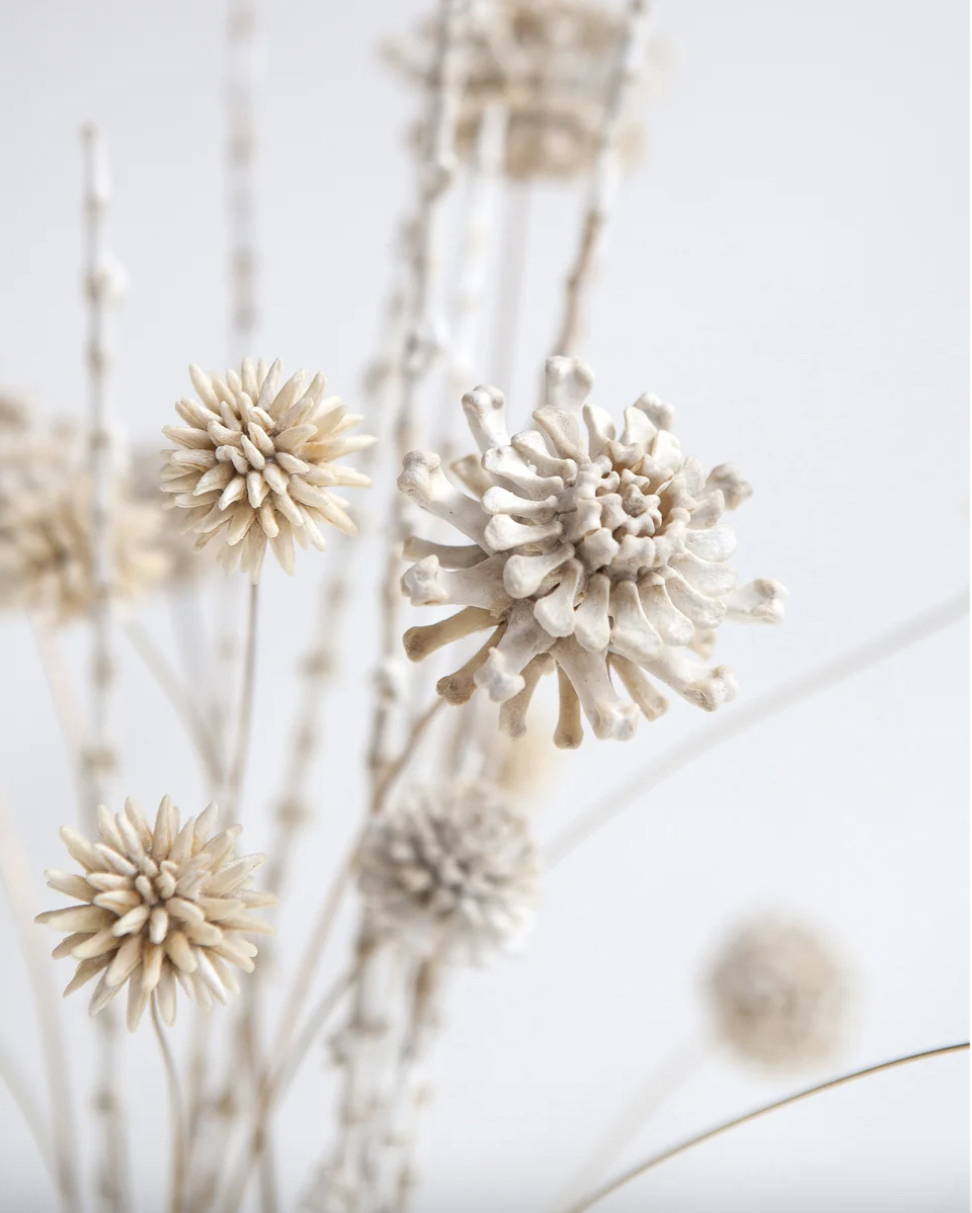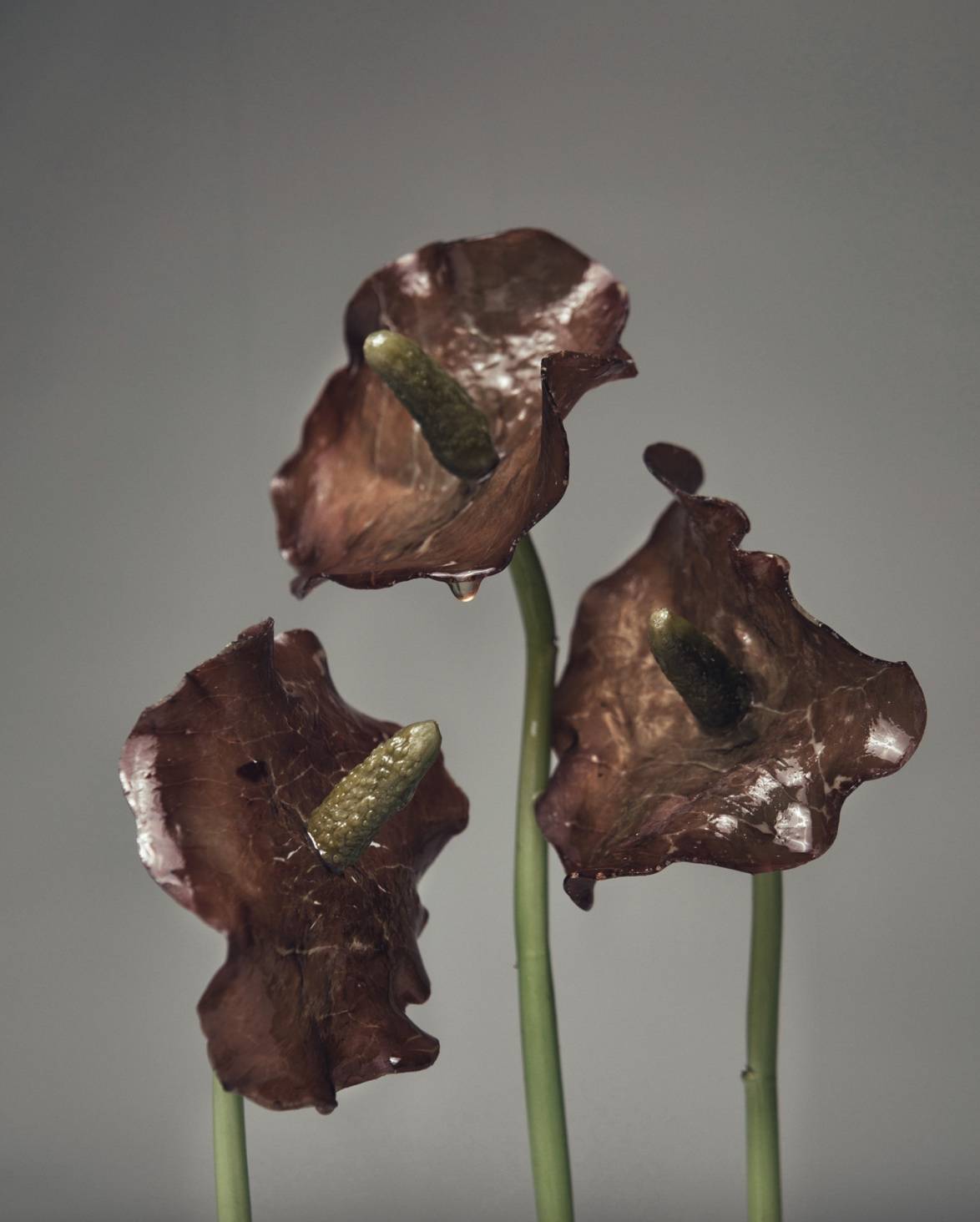 Where is home, currently?

I've had a very nomadic lifestyle during the two years of pandemic - moving in little heartbeats from rented rooms, guardianships, artist residencies, staying with friends. I went from being next door neighbours with London's bustling Selfridges to grey and moody Bermondsey, scouring the riverbed on my daily walk. It was an unpredictable period but I managed to keep landing on my feet and it was actually very resuscitating after so many years renting in London, to feel so free. I've recently just settled in a small apartment in Marylebone Village and I love my little neighbourhood and being so close to Regent's Park through the summer.
Your favourite museum or gallery in your home city?

I think The Wallace Collection is the most charming and gorgeous museum in London. It's so incredible that it's free to visit. It's compulsory to start with a drink in the brasserie inside the beautiful glass roofed courtyard, and my favourite painting inside is by Camille Roqueplan from the 1800s. It's called 'The Lion in Love'.
An artist you'd collect if you could?

There are three artists whose work I equally love and would hoard by the dozen if I could afford to. Their practices are entirely different, but all of the work gives me the same feelings of longing, wonder, loss and slippery, dream-like memories: Tuesday Riddell, who renders ethereal scenes of forest floors using the ancient crafts of japanning and gilding; Romilly Saumarez-Smith, who creates staggering beautiful jewellery and objects using antique finds and lost artefacts; and lastly, Jonah Pontzer, a painter, whose recent works on paper - crafted in ink, pro-marker, watercolour and oil - show intimate, fleeting symbols and refractions of reality.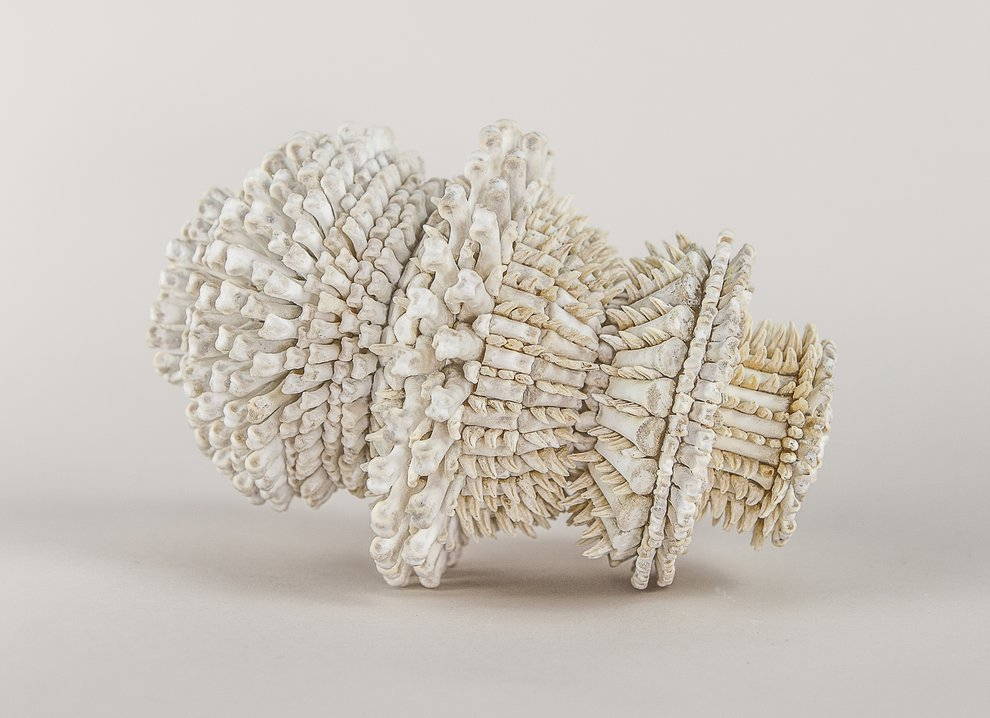 What would you be doing if you weren't a craftsperson?

If I hadn't been seduced by the arts, it could have been the sports world. As a late teen I was playing high level netball; I was scouted by the England Netball Satellite Academy and invited to trial for them. This is where you train for a couple of years until you're old enough to filter into the national squad. There was a fork in the road where it turned into army cadet level fitness training, and we all had thick, detailed diaries to record how many millilitres of water we had consumed a day, and for how many minutes we went out into the garden to do squats in the rain. I was not cut out for this psychically or mentally, and after playing netball 6-8 times a week for years, I was really ready to have a social life and move into London and get into some trouble.     
What do the next 12 months hold for you? What are you most excited about?
Later this autumn, I'm looking to open a very relaxed salon style exhibition of new works in my studio space, so please do keep a look out of that on my Instagram, or sign up to my newsletter for an invitation. Then in the spring, I'll be presenting a small body of my work at Sarabande Foundation as a result of my 'Developing the Creative Practice Commission' awarded by the Barcapel Foundation. This grant was awarded for my investigation this year into the use of bone ash as a medium in contemporary art and design.
The New Craftsmen's Claylarks exhibition is on until 25 September at London Design Festival 2022.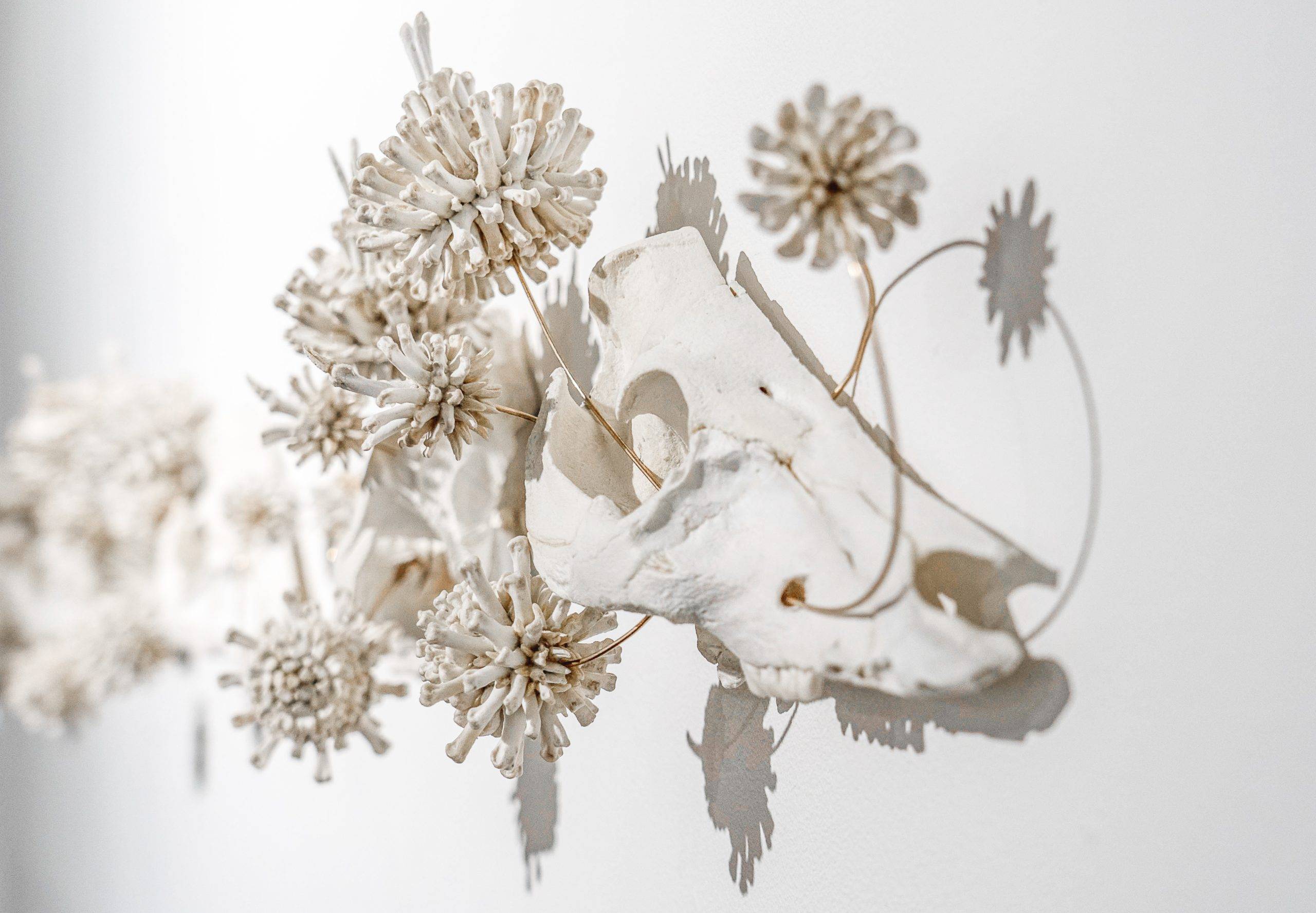 Explore More
Discover striking photography and thoughtful prose from the world's most atmospheric interiors #worldofcabana