This article is based on a text by Karun Thakar for HALI 192 'Stitched Stories', introducing a group of rare Bengali kantha embroideries, in anticipation of a promised gift to the V&A Museum.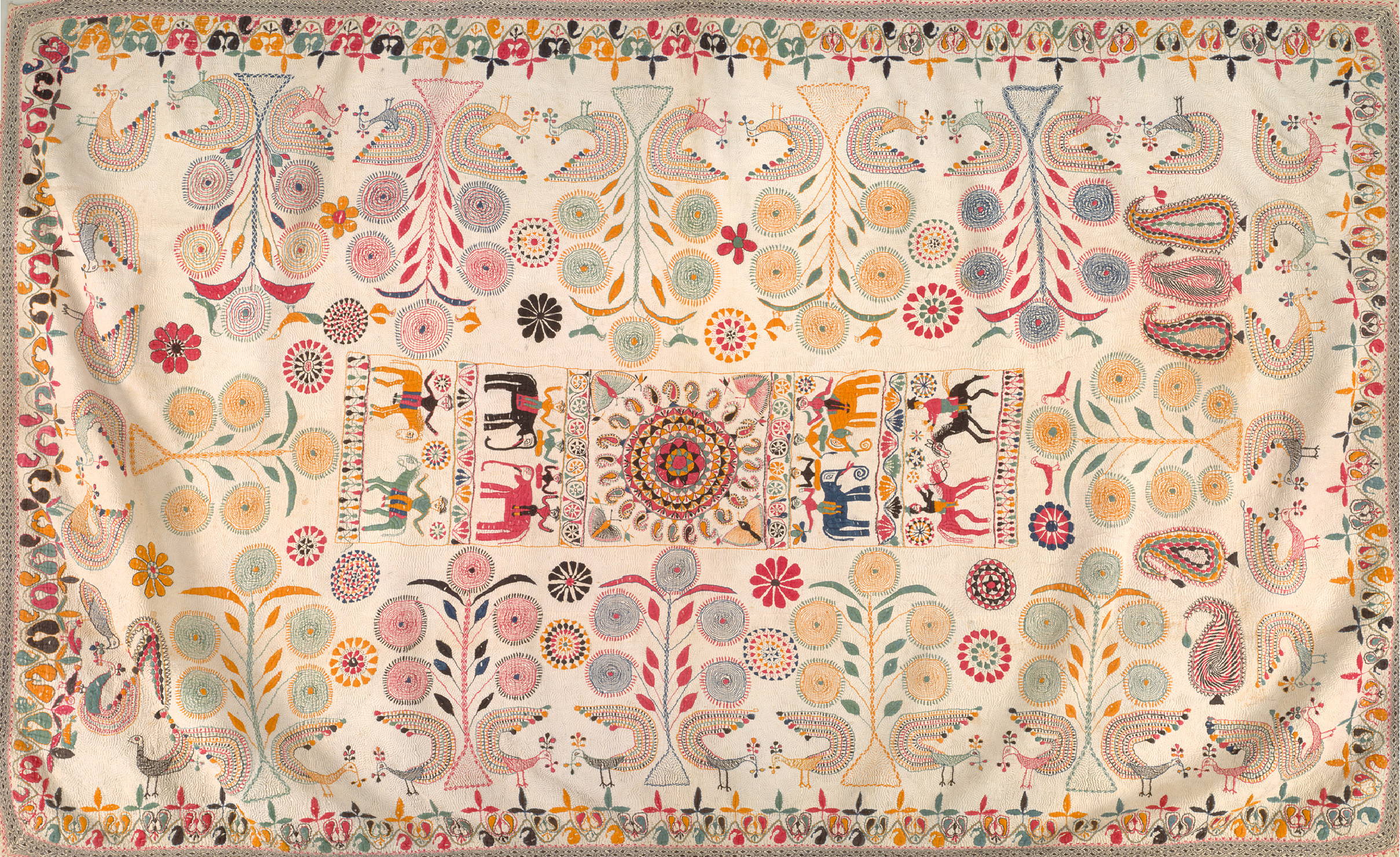 To think of the rich textile tradition of Northwest India is to bring to mind vivid cottons dyed using complex techniques, as well as muslins and silks of the highest quality. Indian textiles from this region have long been noticed for their beauty and collected. More recently, a fascinating type of textile – kantha – has justly received more attention. Embroidered kantha textiles were made exclusively by women, and much of their charm and beauty springs from their connection with the domestic and the generational.
Kantha textiles are made from worn-out saris and other ceremonial cloth too good to throw away. These precious pieces of material are then embroidered onto a backing (usually pale cotton) to create geometric patterns, gardens, or entire scenes. In this example from the Cleveland Museum of Art (above), a pattern of floral sprays recalls the poppies so favoured by the Mughals. Pairs of peacocks stand at the foot of each blossoming flower, their tails raised and curled. In the centre are pairs of horsemen and elephant riders.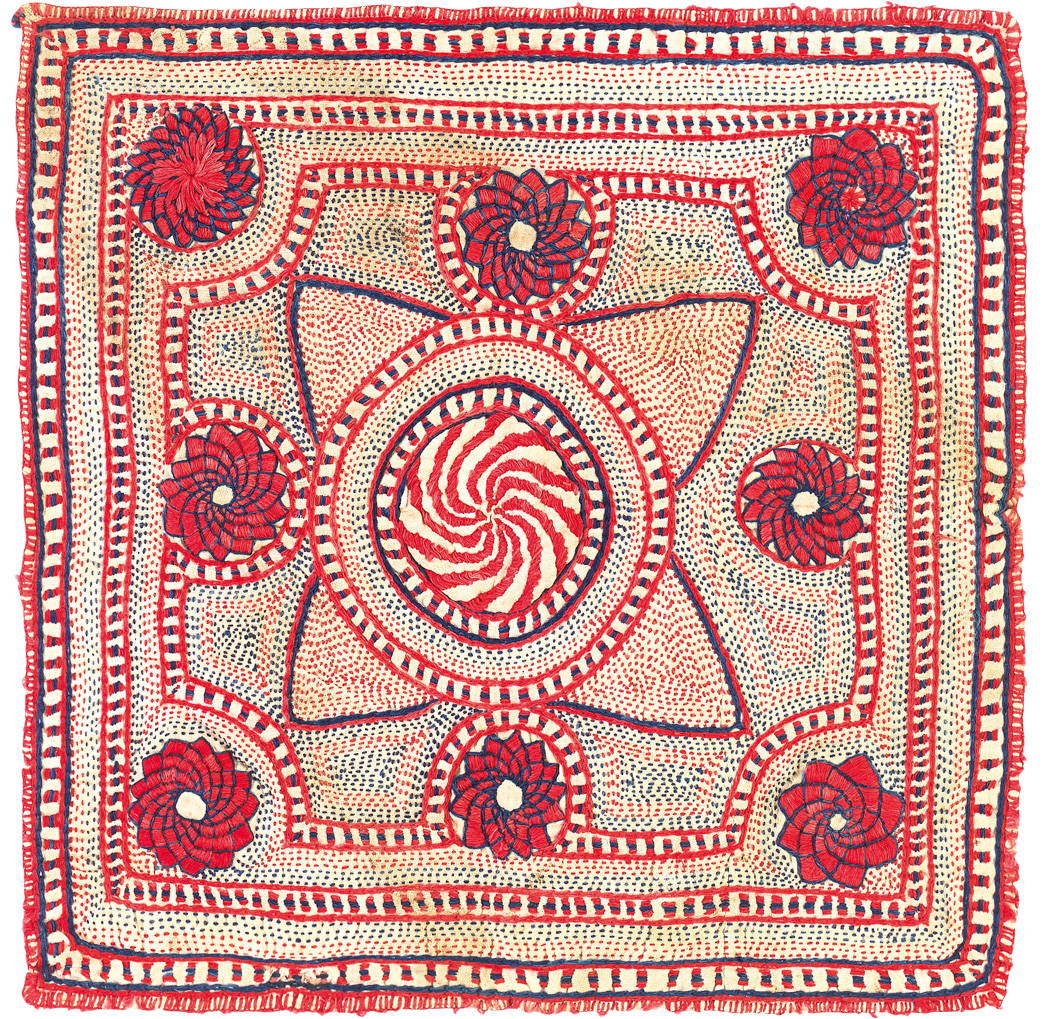 Embroiderers took months or even years to make a kantha, ending up with a unique object with its own identity. Pregnant with history from the materials—fabrics that had the age and patina of family roots, garments of family members living or deceased—and its embroidered iconography, each kantha created its own new future, to be treasured and handed down through generations. It is often assumed that kanthas were made using a very simple running stitch, but most of them show a range of complex stitches including buttonhole, darning, satin, fishbone, back, eye, dot, seed, fern, stem filling and arrowhead. In this example (above), alive with whirling visual momentum, at least three different techniques have been used.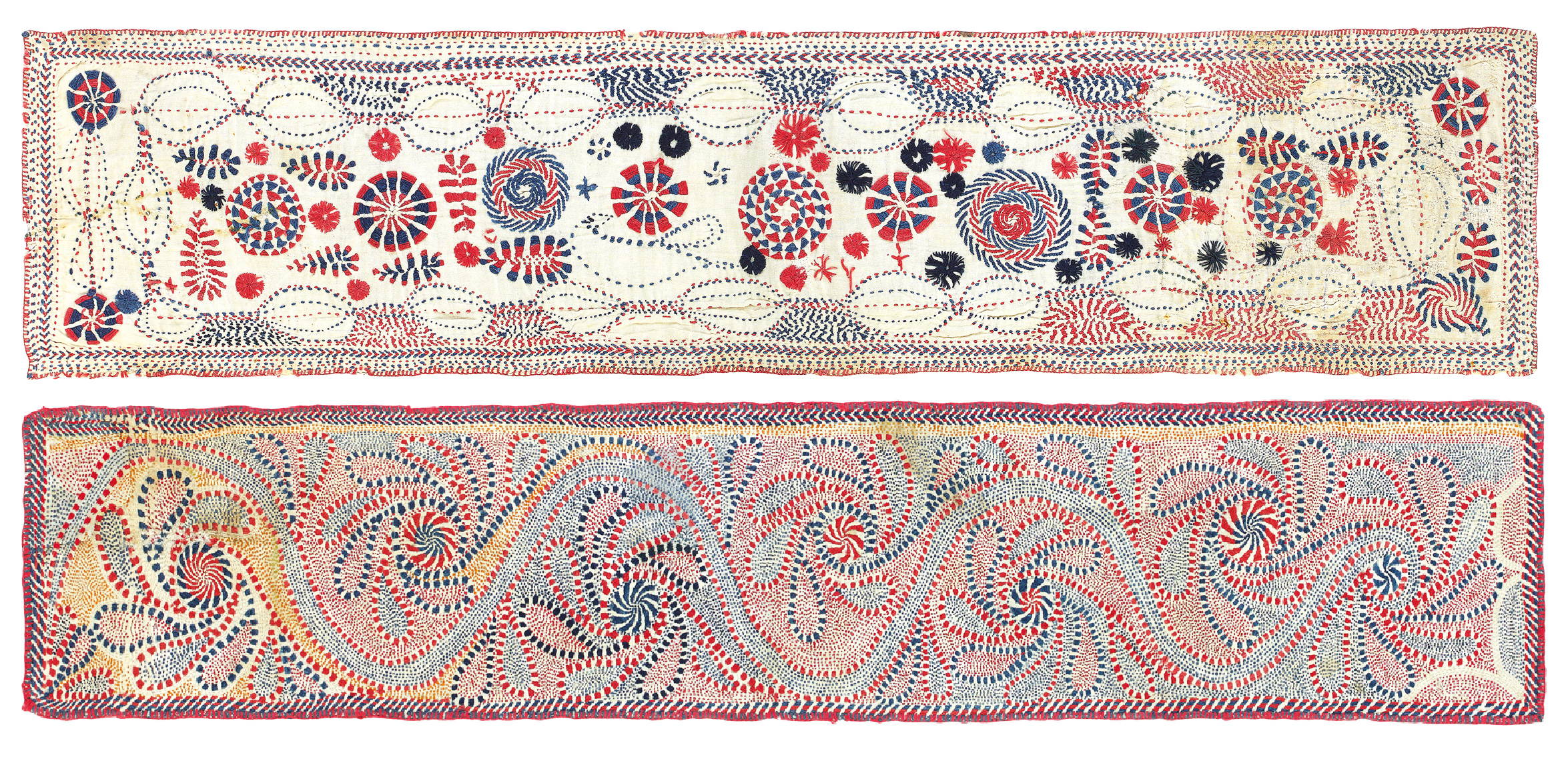 Kantha making was very much a domestic art practiced by Bengali women in both modern West Bengal (India) and in certain regions of Bangladesh. Although there are isolated examples of kanthas made for sale (especially in more recent times), they were traditionally made to be used by the family or given as gifts.
If they were kept for use by the family, they could serve a variety of purposes. Large pieces were made for bedding or floor mats. Smaller square pieces were used in wedding rituals, pujas (religious ceremonies), as prayer mats and for wrapping the Qur'an or sacred religious books. Women also used the smaller pieces for storing items of personal adornment such as combs and as containers for sindoor (vermilion).
These four long kanthas were possibly used as covers for mirrors (arshilata) used in wedding ceremonies, when a mirror is used to place sindoor on the bride's forehead. Their simplified designs were embroidered directly without underdrawing, and the spontaneous, imaginative quality of the resulting work is clear.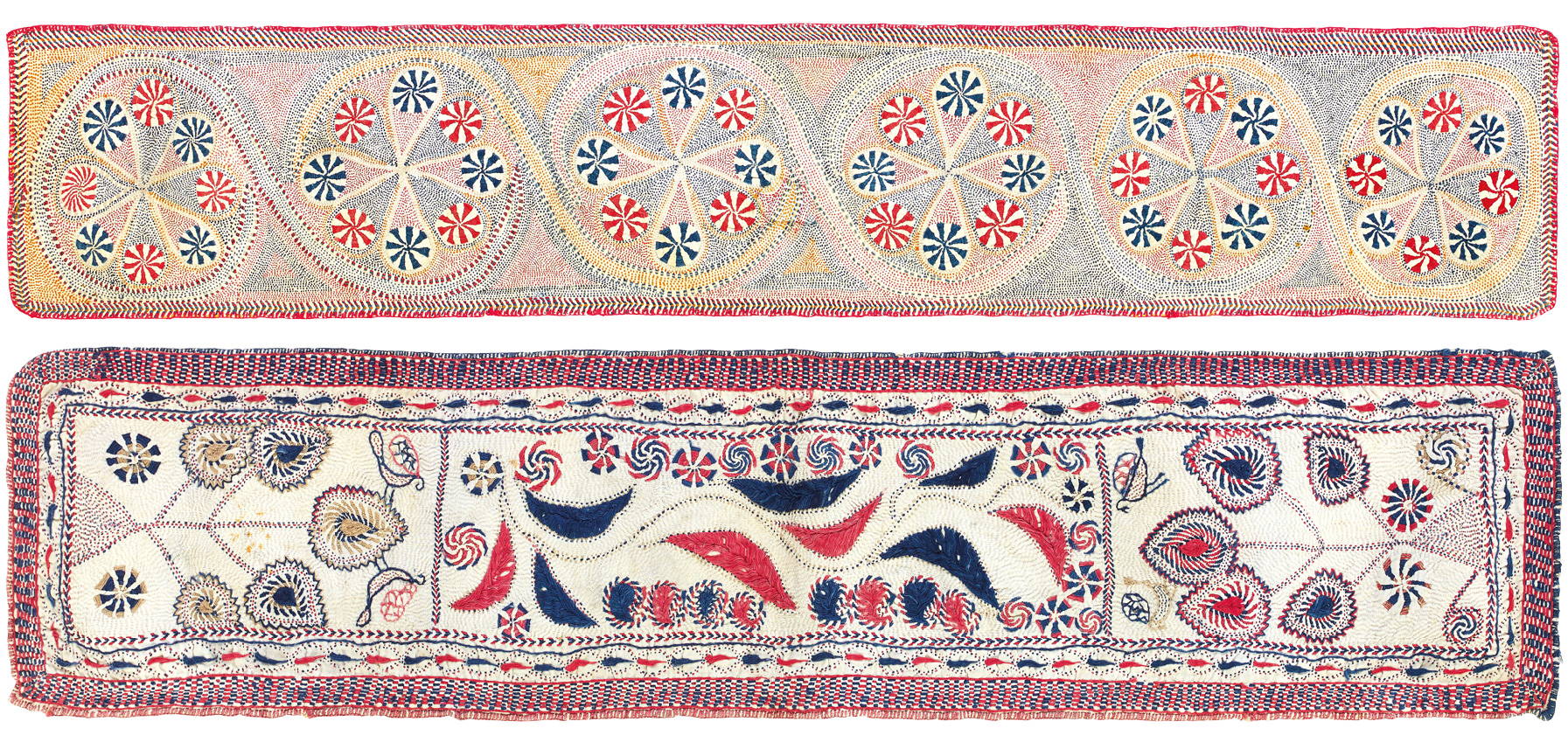 Others are more complex and ambitious in their storytelling. While many kanthas are decorated with motifs and scenes from everyday life, some reflect myths and religious beliefs. This example (below, left) depicts the goddess Kali; one of its most striking features is the wild and ferocious drawing of the goddess with her untamed long black hair in motion, almost reaching her ankles. She is shown mid battle, standing on a lion with two arms holding swords and another with a decapitated head, with men riding on elephants and horses holding swords and rifles, while butchered bodies and heads lie at her feet. Other gods depicted include Lord Shiva with two serpents wrapped around his head, Lord Vishnu with three heads and Sadhus with goatee beards and partly shaved heads. Krishna is depicted in several vignettes: in one corner he is shown on top of a tree with gopis below, a depiction of the popular tale of Krishna hiding the dancers' clothes while they were bathing.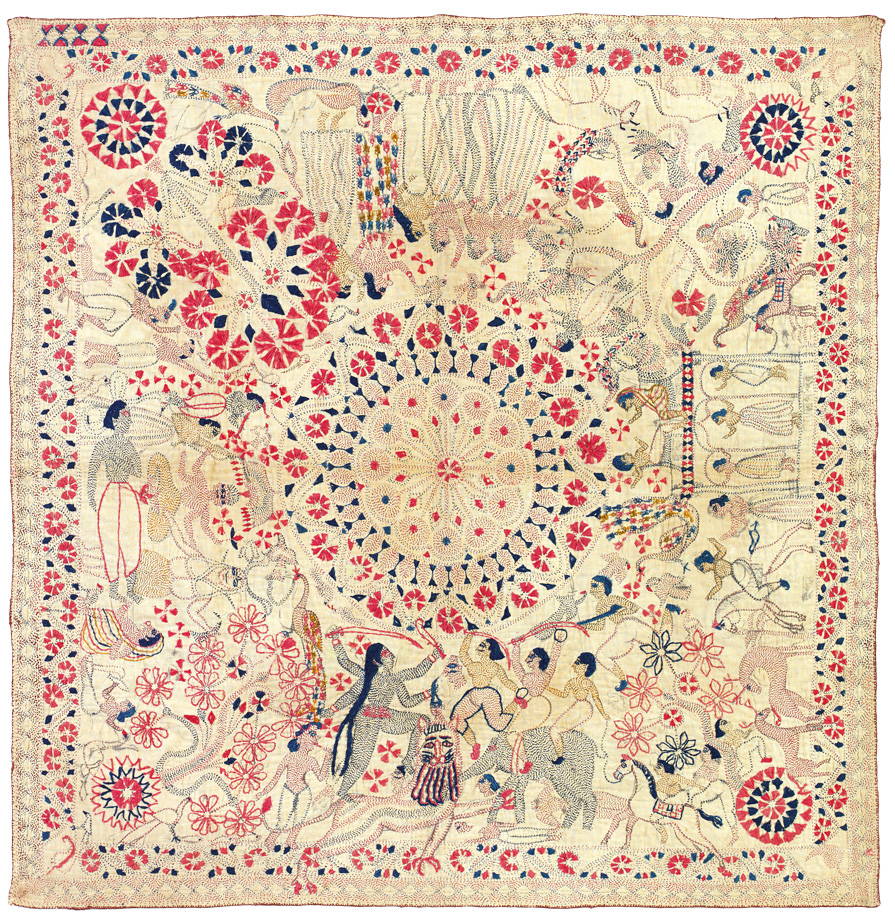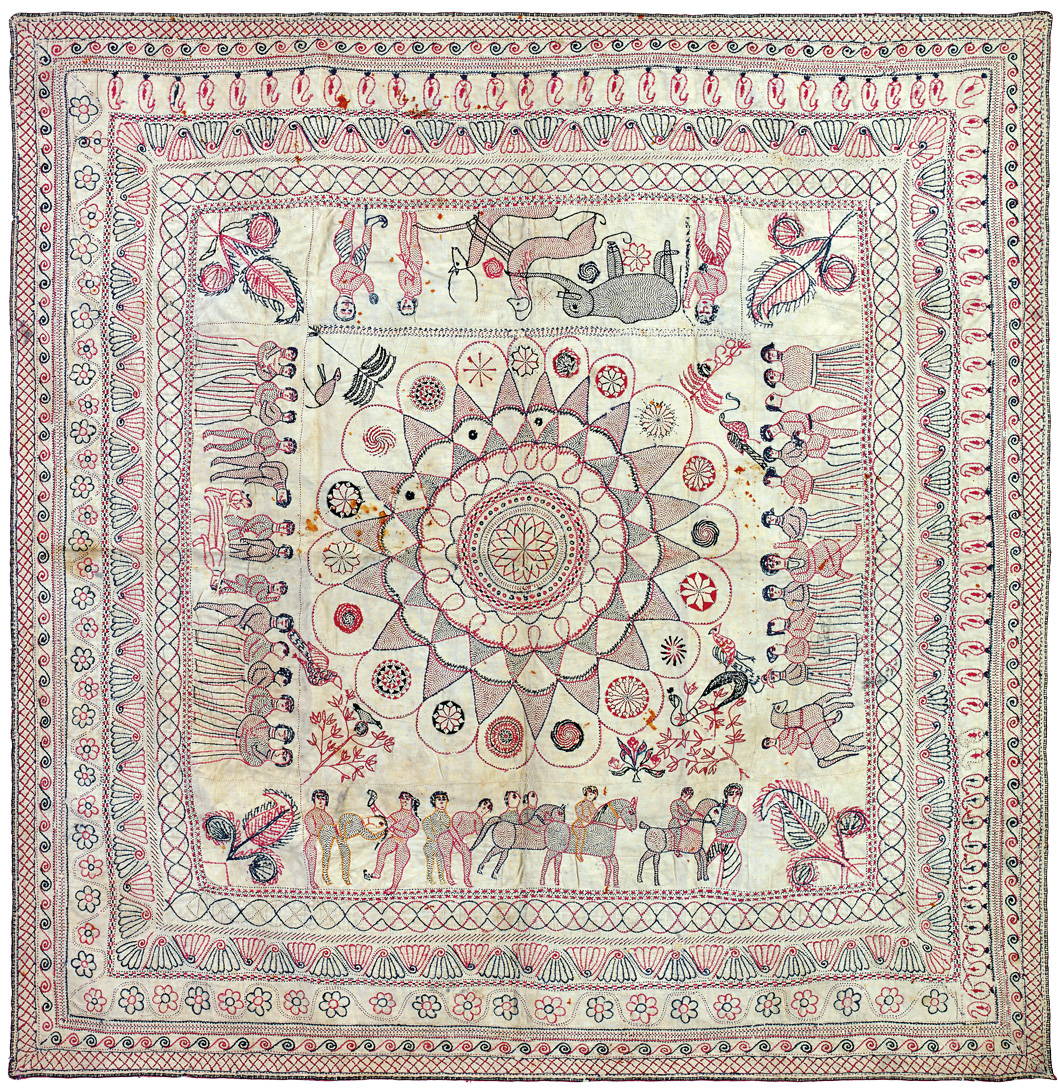 This very fine 'narrative' or pictorial kantha (above, right) depicts the rather unusual scene of death. Beneath a central lotus medallion, a figure lies on the ground, perhaps the body of a saint or a revered individual, surrounded by mourners. The women wear European costume, which can also be seen in another group listening to a sermon or a speech from a saint or important person. Horse riders, peacocks, trees, flowers, botehs, an elephant and antelopes in motion are also depicted. Looking at these folk embroideries, we can see the world through the imaginative interpretation of the women who made them; symbols appear alongside scenes from everyday life – sometimes joyful, sometimes melancholy.
Those textiles woven by Muslims eschew figurative decoration in favour of geometric designs. This minimalist example (below, left) is decorated almost exclusively with border designs, using only a few colours and relying on the stitching techniques to create a pattern. An almost 3D effect is created as the successive boxes recede, culminating in a cosmic vortex.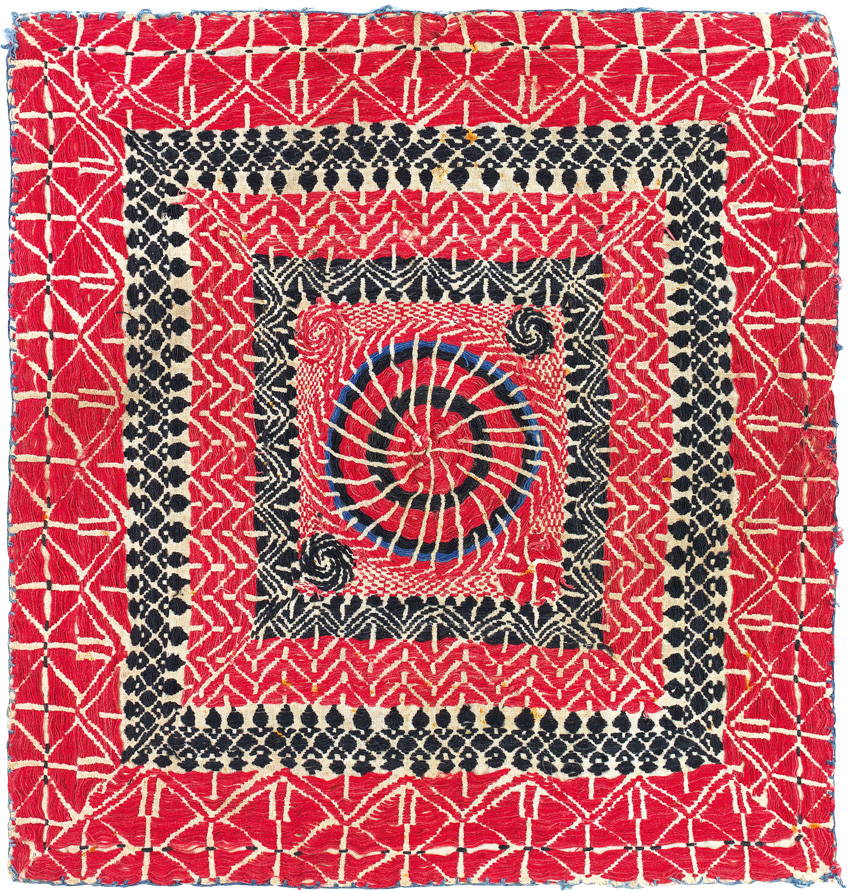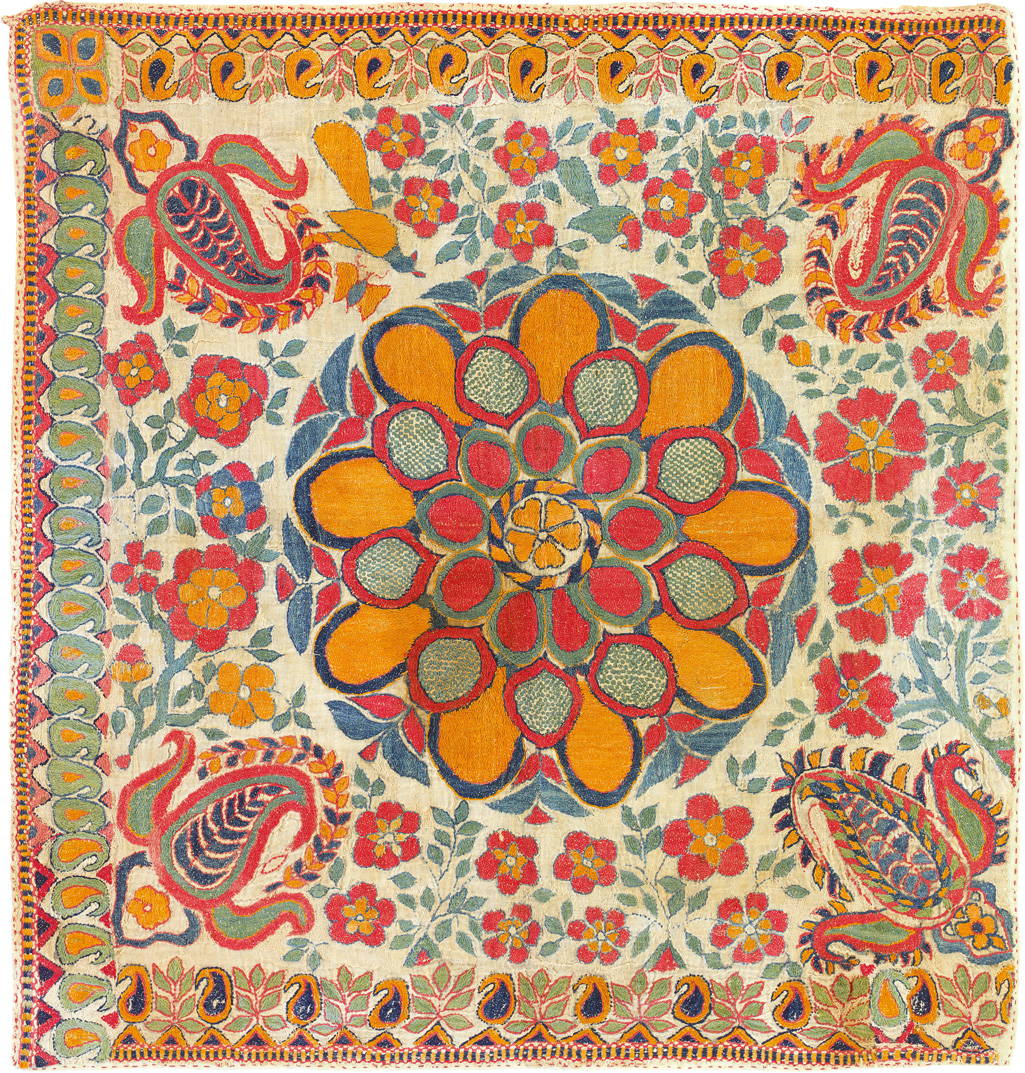 Thin, worn saris and dhotis were used to form the ground for these embroideries. Up to six layers were used for some kanthas and some of the embroidery thread was extracted from sari borders. Reusing worn textiles had practical benefits for less well-off households, but the fact that kanthas were also made by women in wealthier families suggests that this recycling was part of a broader desire to waste nothing. For Bengali Hindus who identify rice with the Goddess Lakshmi, wasting even a single grain is seen as inauspicious. The use of recycled or patched textiles is widespread across many cultures, as for example Japanese boro quilts, and often has auspicious or religious associations, as in Buddhist kesa and Islamic patched robes. In this vibrant kantha (above, right), a dramatic and bold central flower mandala fills most of the field. Two peacocks and a big butterfly are embroidered among the large-scale flowering shrubs. Boteh border motifs are repeated in the corners on a larger scale.
Explore More
Discover striking photography and thoughtful prose from the world's most atmospheric interiors #worldofcabana