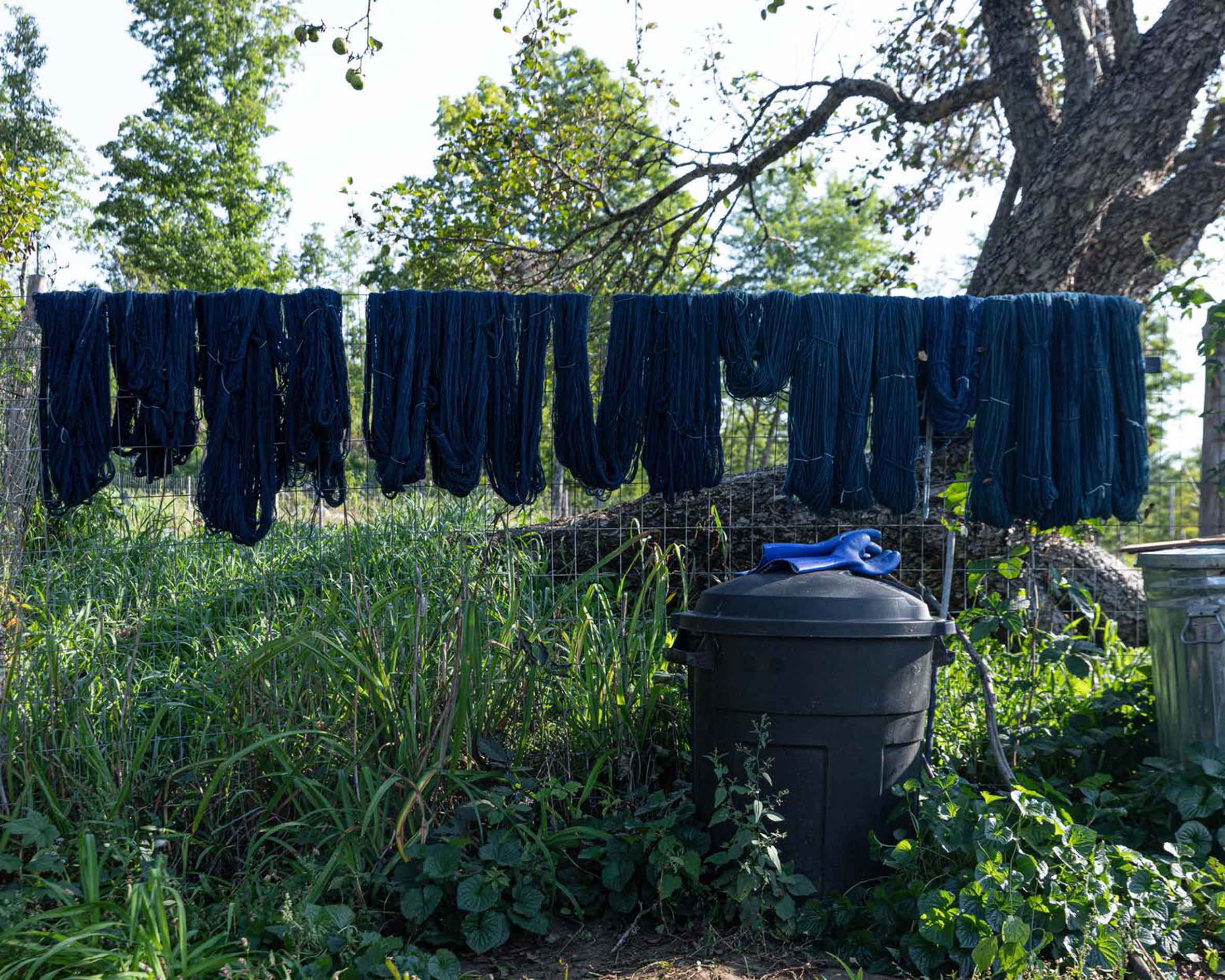 Meet the Maker
Justin Squizzero
Words by
Camilla Frances
and
Justin Squizzero
Images by Ari Kellerman
From his home on a storied 19th century farm, high in the hills of Newbury, Vermont, Justin Squizzero is reviving the traditional crafts of spinning, weaving and naturally dyeing textiles.
First introduced to cloth making by his grandmother, herself a weaver, Squizzero had learnt to spin by the age of 12 and was weaving by 16. An apprenticeship followed, with Norman Kennedy and Kate Smith of The Marshfield School of Weaving in Vermont, which rooted his technique in the British-American hand weaving tradition. Today, in the atmospheric property he is restoring with his husband, Andrew, Justin creates timeless modern heirlooms using a 200-year-old loom. These include blankets and figured coverlets, each imbued with the distinct character of northern New England. Indeed, Squizzero is the only maker of handwoven figured coverlets known to be at work today.
Can you describe your process; how do you plan and execute your work?
Sometimes I start with a historic textile and begin by determining what it is and how to best recreate it, or create something similar. Other times a client will have requirements and we'll work together to plan something that I can make to satisfy those needs. My figured coverlets are a whole other story; I start with a 19th-century coverlet, graph out its whole original design, adapt that design to fit my loom, draw the whole thing out again, punch a set of cards for my Jacquard machine (200-300 cards), and then warp the loom and weave the coverlet. The planning stage can easily run for 100 hours before I even look at the loom.
Where do you work?
Dyeing happens outdoors over an open fire. I have one loom downstairs in the main living space and the entire upstairs, the garret, is filled with spinning and weaving equipment. There is one finished room up there, but three quarters is unfinished and open to the roof. It flows between ordered and chaotic depending on the time of year.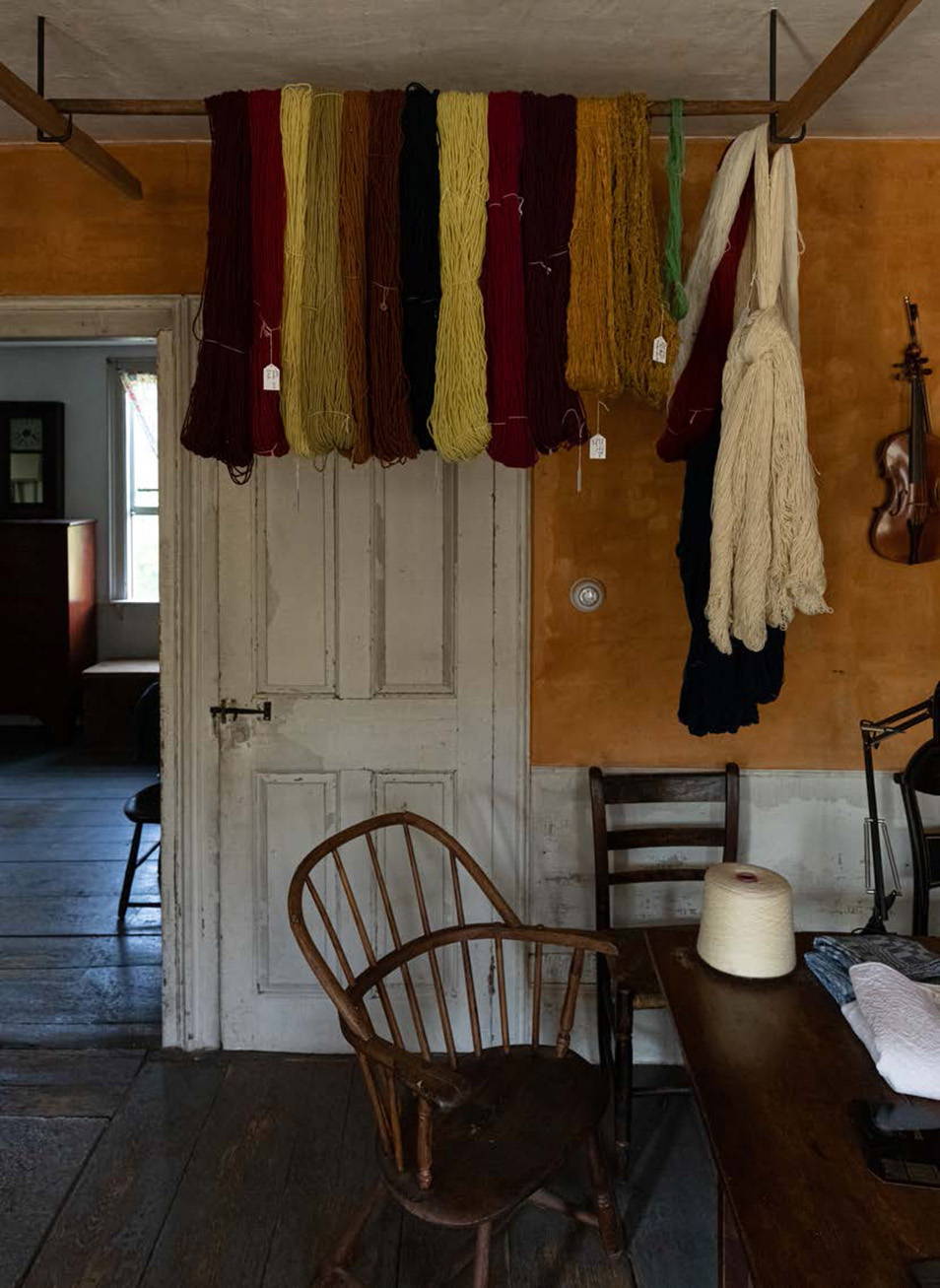 How would you describe your style?
Impeccable? Outdated? 19th-century farm chic? I have always liked old buildings, old stuff and old ways of doing things, and all those combine in my life and work.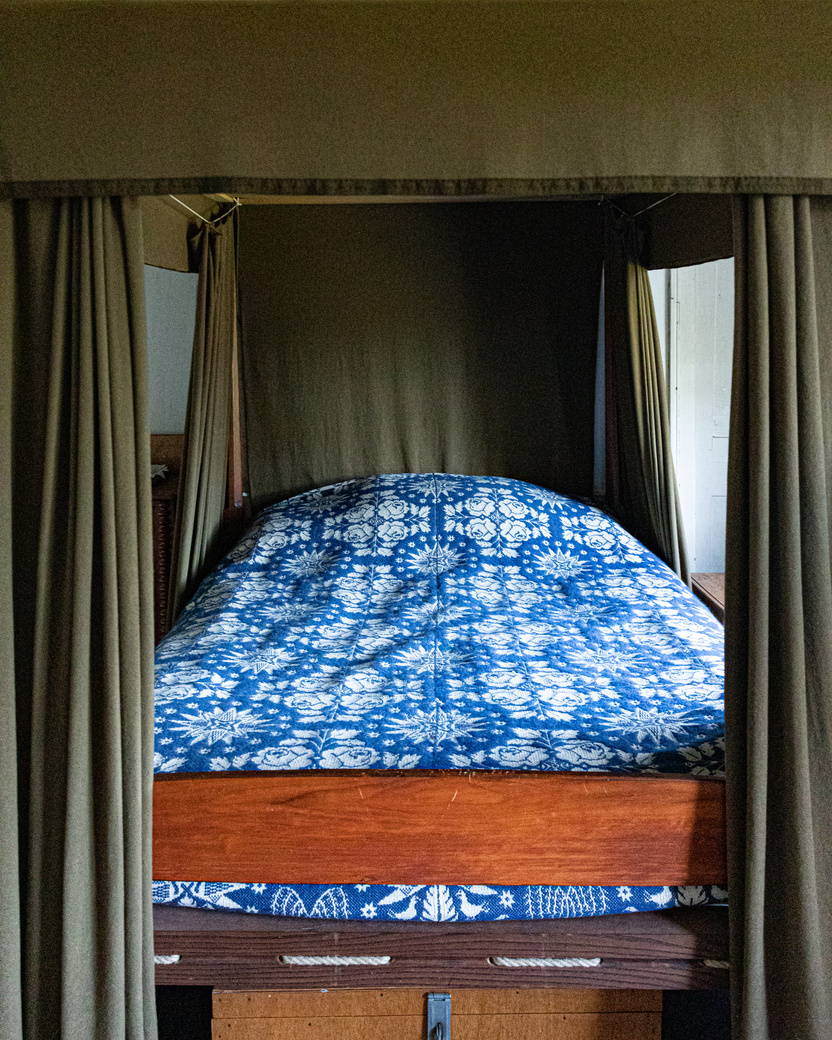 Who or what most inspires you?
Obviously the past, but also people who can recognize an inherent value in traditional skills and perpetuate them as a relevant part of their lives and not as a re-enactment of something obsolete.
Who or what influences your work?
I've pursued figured weaving on my own, mostly through studying 19th century texts, textiles, and equipment. Historic textiles are hugely inspiring. They often don't seem like much, but once you understand the ways in which they were actually made, and how much skill and labor they're the result of, they take on a whole new meaning and value.
What medium do you most enjoy working with?
I work with a lot of linen, which brings a certain challenge, as well as great beauty and durability.
Are there any themes running through your work?
Just because it's old doesn't mean it's irrelevant.
Can you describe a typical working day?
I'm an early to rise kind of guy, then it's let the dogs and cats out, get fires going in the stoves if it's cold weather, then coffee, livestock chores, followed by weaving or garden or work on the house, depending on what needs doing. There's at least one more round of animal chores later in the day interspersed with other work. I often listen to music or podcasts while I work, or just to the sounds of the loom.
What do you find most challenging about your work or industry?
I'm still getting the hang of working as a tradesman and selling like a fine artist.
What do the next 12 months hold for you?
We're continually working on restoring this house and returning the land to productivity so I'm excited to see what kind of progress we can make on that this summer. I've been expanding the capabilities of my Jacquard loom to weave other types of fabrics besides coverlets and I'm looking forward to getting a chance to finally start weaving those.
Explore More
Discover striking photography and thoughtful prose from the world's most atmospheric interiors #worldofcabana