Interview by Sophie Goodwin
Images from Parvum Opus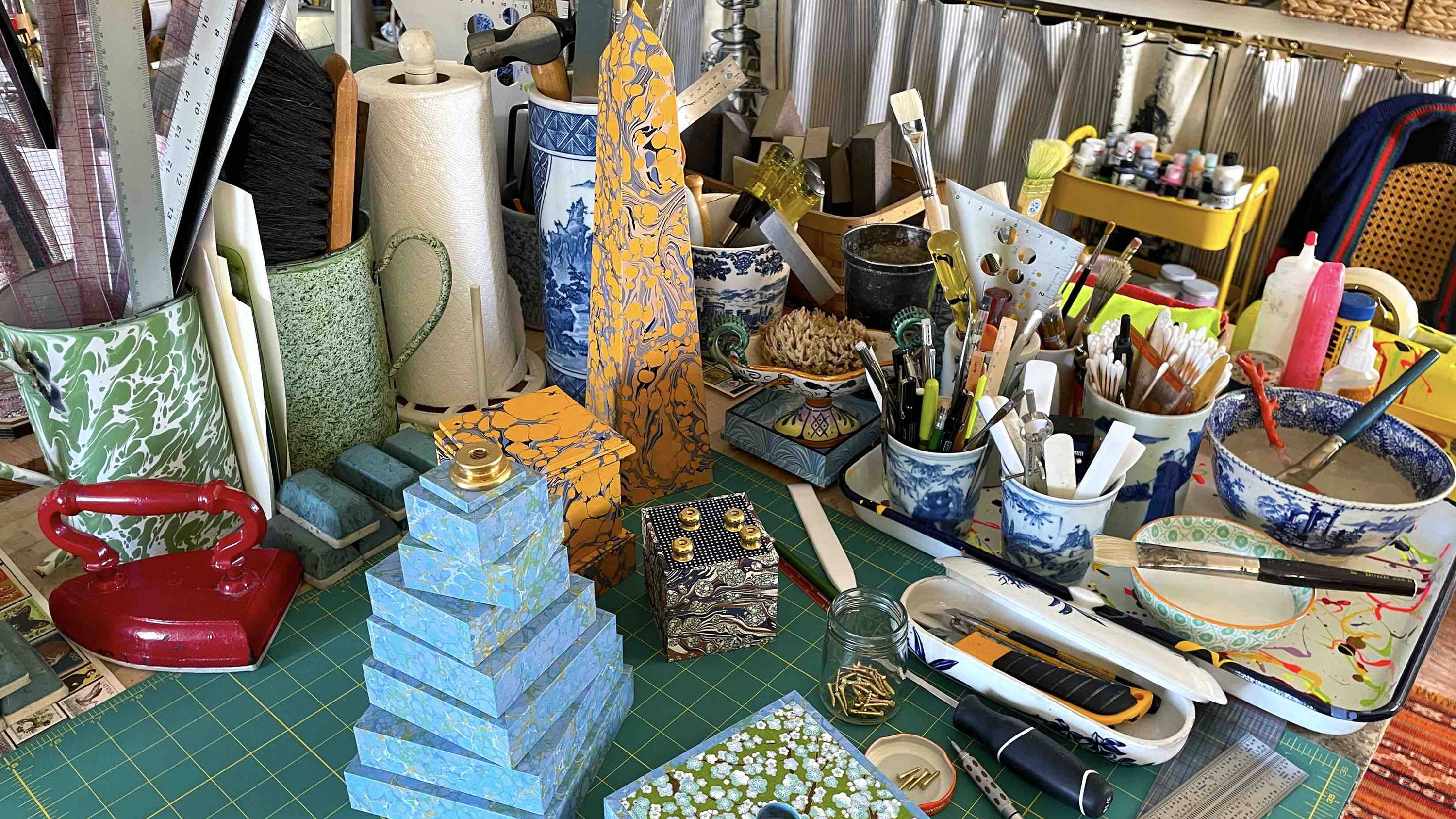 Michigan-based artist, Erika Stefanutti, crafts desirable and meticulous desk furnishings in the attic of her home. She talks to Sophie Goodwin about creativity, curiosity, and the importance of patience.

 
After extensive training in the fields of metalwork, painting, printmaking and traditional bookbinding, studio artist Erika Stefanutti launched Parvum Opus from the attic of her home in Birmingham, Michigan. Driven by a desire to craft unique, beautifully made objects for domestic settings, Erika began producing bespoke calendars, hand-bound books, desk accessories and art objects. Parvum Opus soon evolved from a traditional paper studio to a small, but busy, multimedia practice, encompassing a wide array of materials and craft techniques.
The go-to for designers looking for exquisitely crafted objects, Erika collaborates with clients all over the world.
"

I've selfishly created the shop of my dreams," she says. Although Parvum Opus has a collection of ready-to-order objects, Erika's speciality lies in crafting bespoke objects using a client's chosen paper patterns. "With a myriad of possible pattern combinations, each project is different. It makes every workday unique, which is such a gift."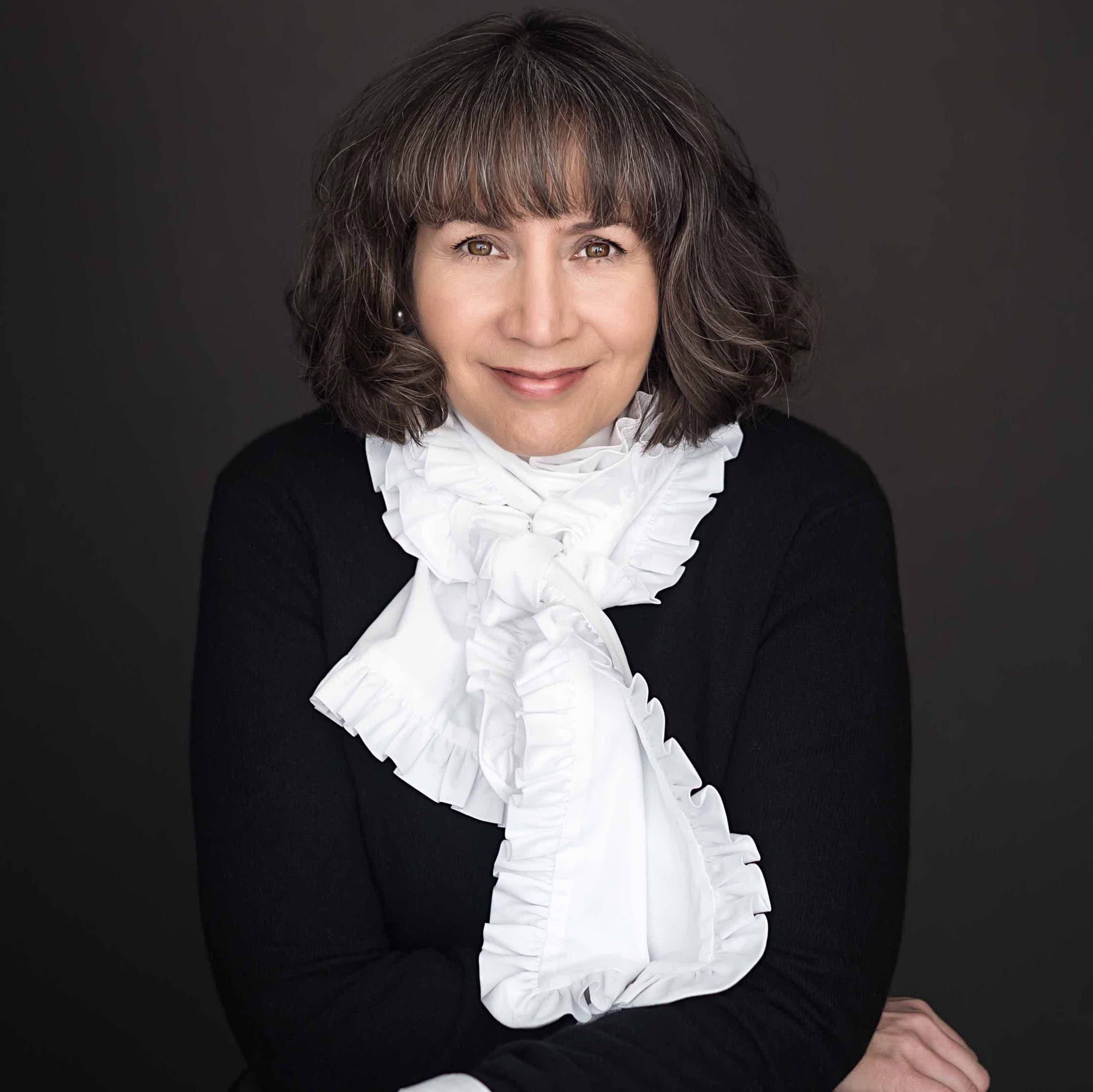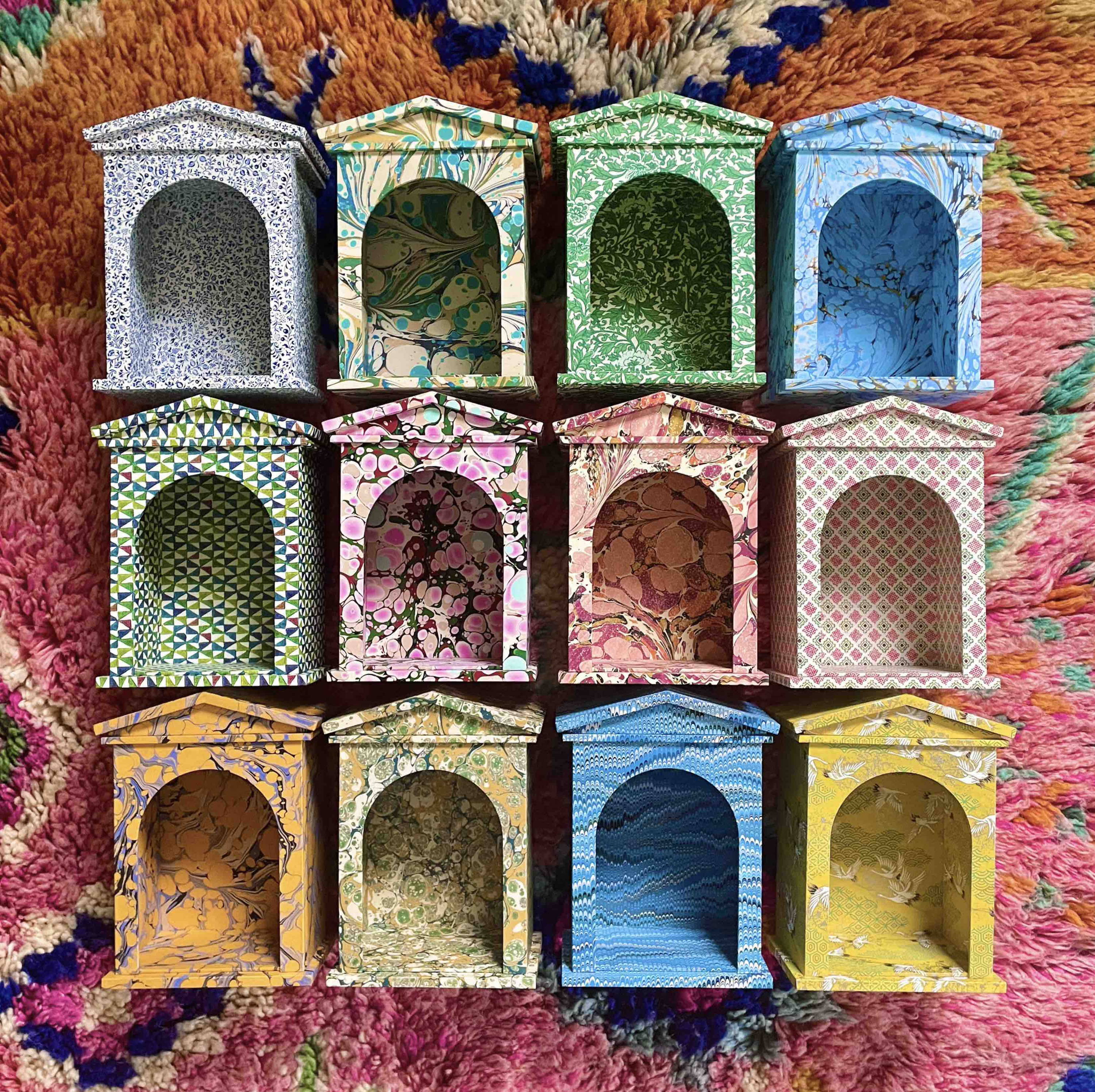 Can you describe a typical working day?
I have a short commute as my studio is in the attic of our home. The morning light is wonderful, and I'm surrounded by the cheerful clutter of hand-marbled papers, tools and works in progress. After the requisite email and paperwork check, I settle down to build. I've been a builder for as long as I can remember, and this sort of work is incredibly fulfilling for me. I have a small team that is charged with cutting all of the different project parts to my specifications, which I then assemble and finish. My work requires focus and precision, so I prefer working alone when I'm in 'construction mode'. There is always good music and tea, of course, and I generally work on building several pieces at a time in small batches to maximize my productivity. I have lunch with my husband most days as his office is at home, too. Then it's back to the studio for more construction and finishing, usually until about 5pm. I work Monday through Friday, and the weeks absolutely fly.
How would you describe your artistic process?
New works begin with pencil and paper, often during visits to art libraries or museums (I never leave home without my sketchbook). I'm a bit selfish in my work; I try to please myself first, making the thing I wish I could find in a beautiful shop. From initial measured drawings, I move on to 3D 'sketches', maquettes that provide a sense of the final work's physicality and scale. Sometimes designs develop quickly, but usually I need to live with a piece for quite a long time, working on commissions and other projects while I consider details of design or manufacture. Every detail, both aesthetic and functional, is attended to with great care and consideration. Once these are resolved, it's fun to photograph the new piece, and add it to the collection.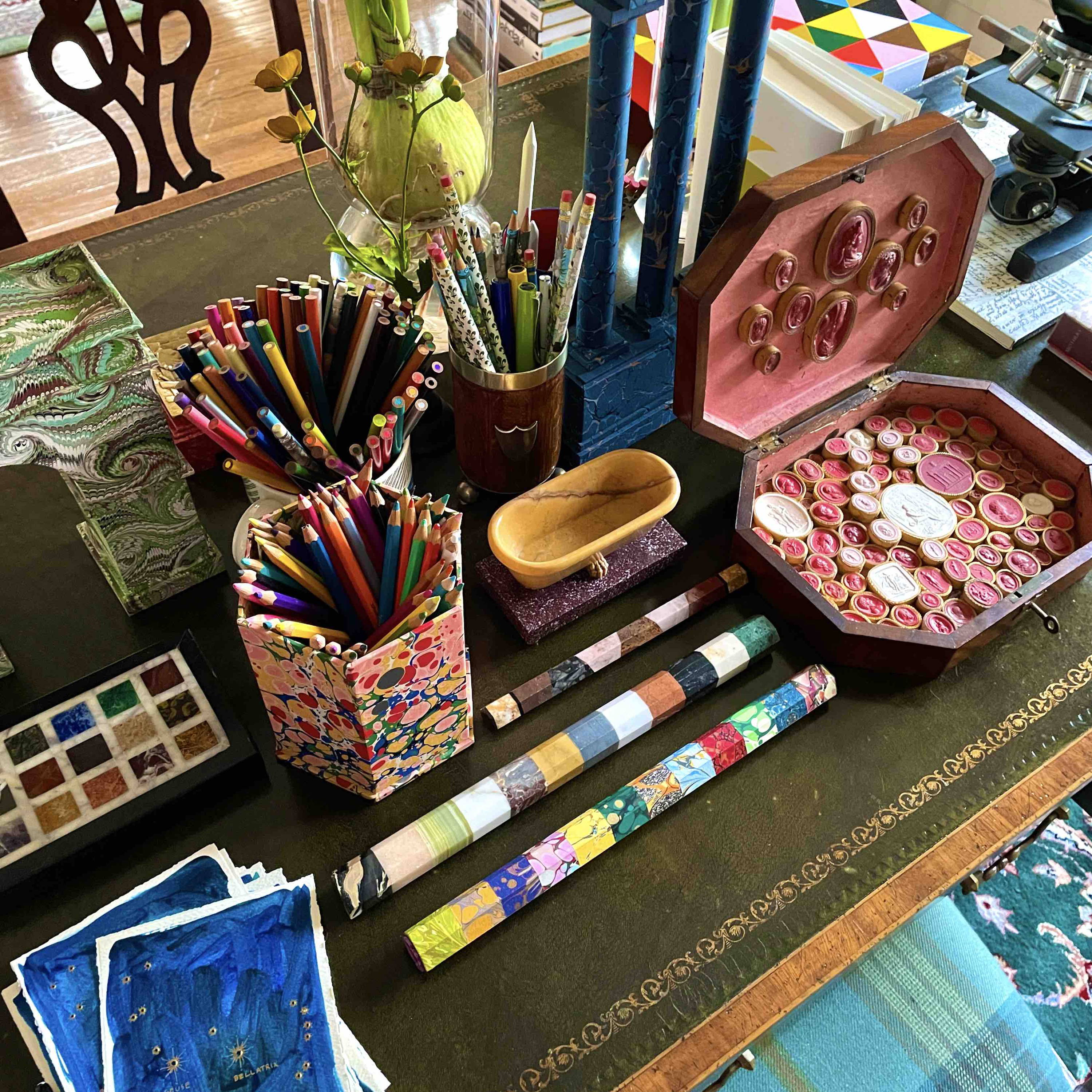 Your favorite commission to date?
Oh! Like choosing a favorite child, it's impossible to say. My work has gone to some very interesting homes. I'm very lucky to work with lovely, curious individuals who share my passion for craft and who choose to surround themselves with handmade art and objects. I have an ongoing collaboration with [British designer] Bridie Hall, who has become a dear friend and aesthetic compatriot.
Where is home?
Birmingham, Michigan, just outside of Detroit.
I'm Colombian, descending from a long line of artists, and my parents emigrated to the US when my father was a young medical student. I grew up
here
, where I still live with my husband, a business owner from Argentina. We have two wonderful sons, aged 25 & 27.
You studied at Cranbrook Academy of Art; how did this influence your work?
My graduate studies at Cranbrook were critical in setting me on my creative path. This was a period of intense production, where I was surrounded by artists, designers and architects from all over the world who came to study there...

Cranbrook is the home of mid-century modernism, where Eliel Saarinen, Harry Bertoia, Charles and Ray Eames et al created their globally influential designs. I read Hegel, Merleau-Ponty and Descartes while exploring ideas of physicality in the digital age, feminism in the arts and culturally sanctioned notions of 'women's work'. Cranbrook's architecture, pedagogical approach and design history continues to inspire my work. The campus, Saarinen's magnum opus, is considered to be the most designed environment in the US.
Your favorite place in the world?
Among them: Sir John Soane's Museum, the Enlightenment Gallery at the British Museum, Museo del Oro in
Bogotá, the Gothic Quarter in Barcelona, and the great cities, including London, Paris, Rome and Florence. I also adore small museums, visiting artists in their studios and spending time reading in libraries.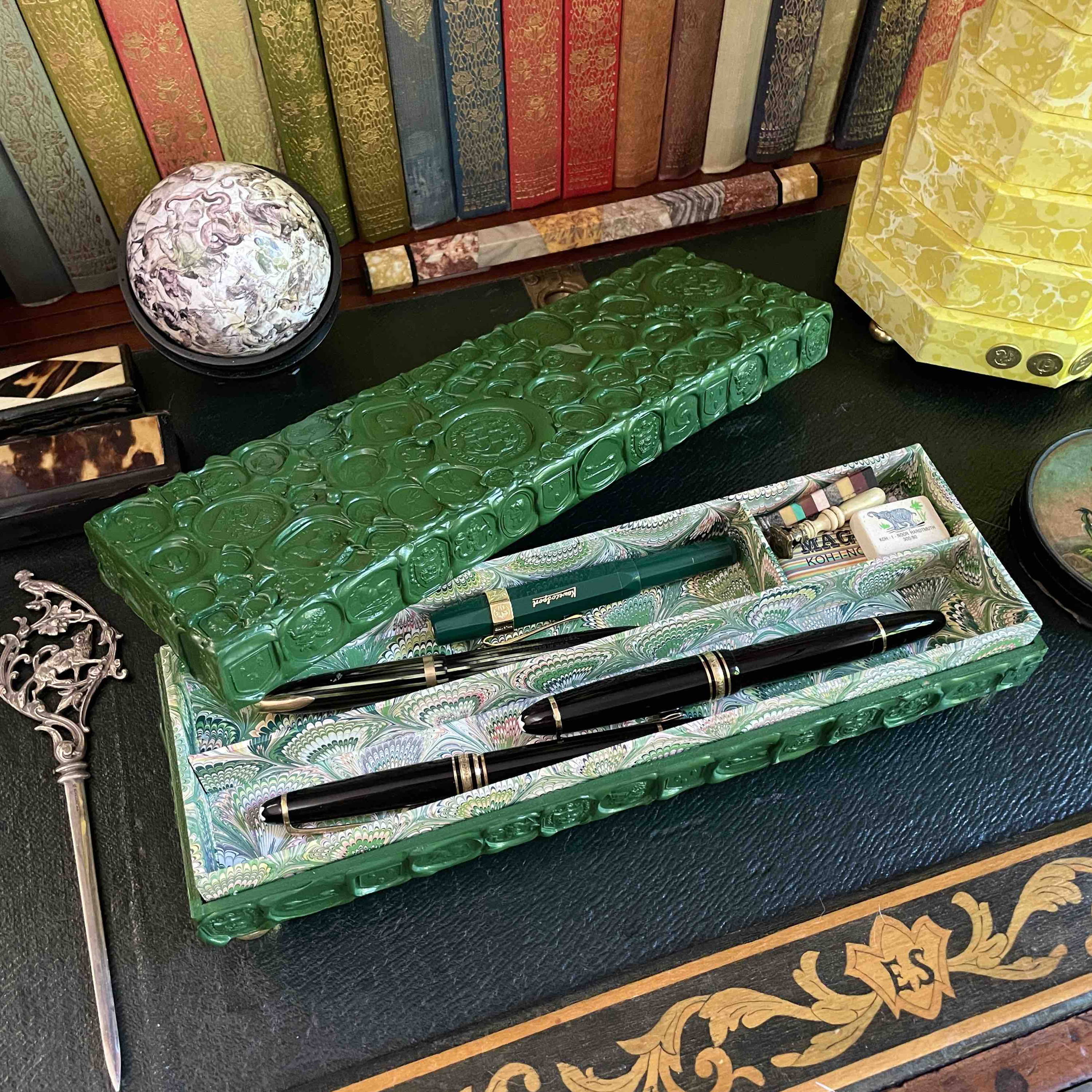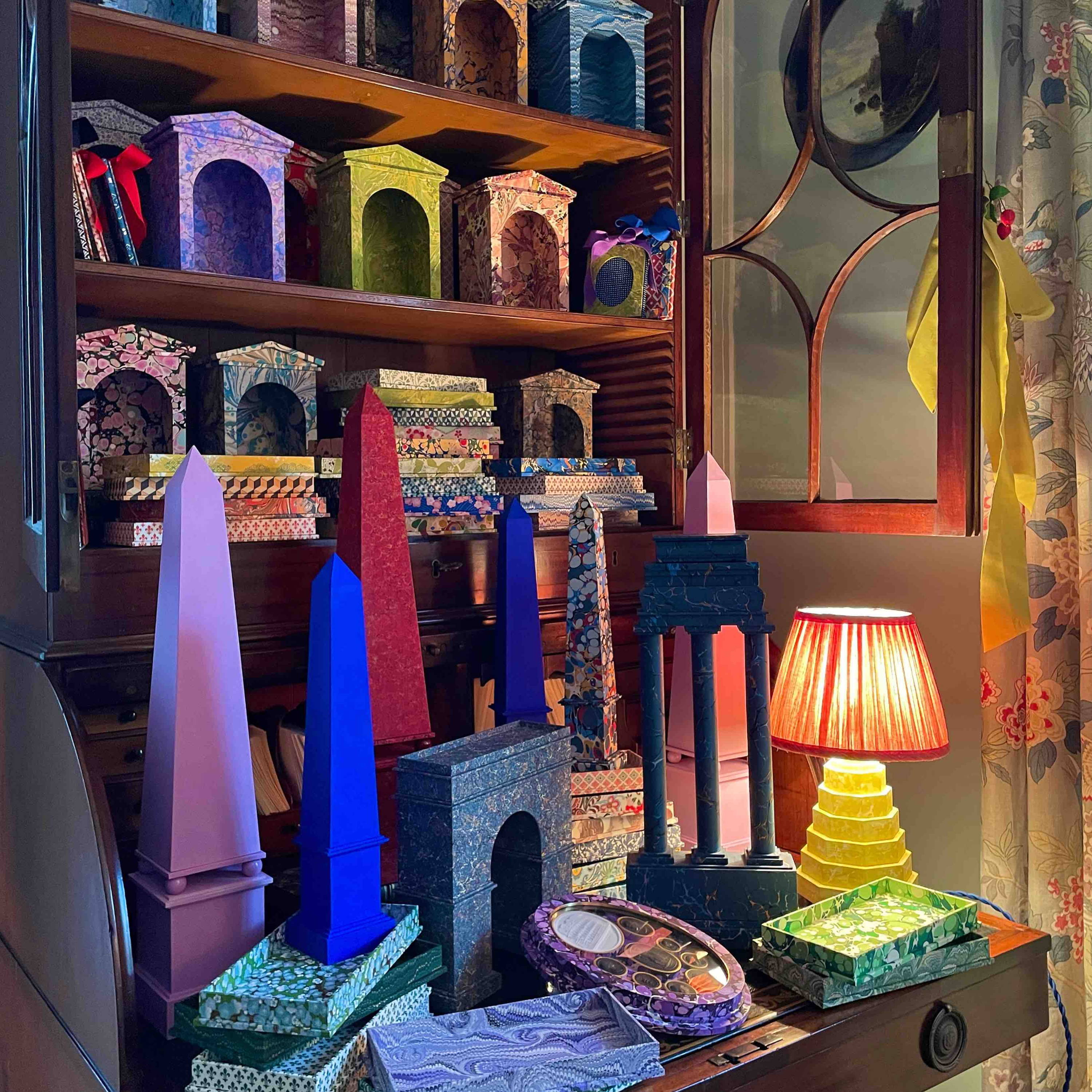 Your favorite artwork or artist?
I've just been to New York to see

Edward

Collier who is one of my long-time favorites. 

I also adore the work of Line Vautrin; her work is especially influential for me as she invented new materials and techniques in order to create her fabulous pieces. She was apparently quite a stubborn individualist too, which I think is wonderful. Among my treasured possessions is one of her bronze vide poche trays, depicting the story of Judith & Holofernes.

I'm quite active in the Detroit art community, so am privileged to know many wonderful practicing studio artists. After a long period of decline, the area is fast becoming a hub for creatives, which is wonderful to see. There's a

great number of galleries and grass-roots art circles here, and, although I adore New York and other major art centers, I don't have to go far to feel invigorated by local and emerging talent

.
Are there any traditional crafts you hope to protect through your work?
Handcrafted objects carry profound meaning and sadly many crafts are dying, as our societies move more and more to the mass-produced or virtual. Metalsmithing and book binding are dearest to me, of course, but rather than protecting any specific craft tradition, I'd say that I'm interested in encouraging people to devote time and attention to the things they bring into their homes to use every day.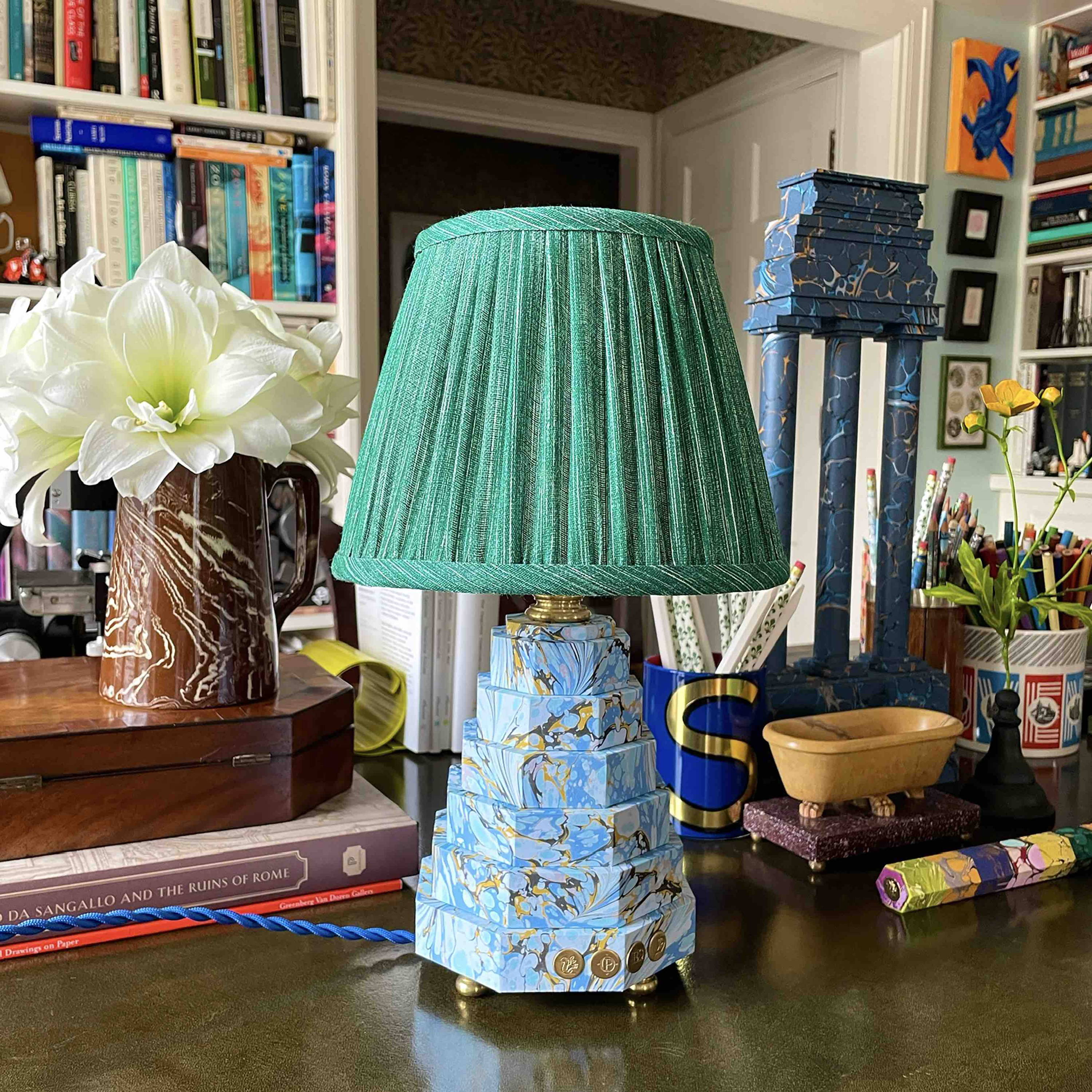 Is sustainability important to Parvum Opus?
Like so many of us, I focus on buying fewer, better things. I choose to surround myself with antique/vintage pieces, and objects made by designers and artists I respect. My own work is designed and built to last for generations and is not in any way trend-driven. Most pieces are made-to-order, so we have no backstock or seasonal waste. My materials include wood off-cuts, archival recycled book boards, non-toxic adhesives, and fine, small- batch papers. No scrap of marbled or paper is wasted in the studio, as even these precious small pieces are used for my mosaic specimen trays.
Your pieces ranges from decorative objects to lamps, trays, picture frames and tissue boxes. What's next?
I'm most excited about our new mirror designs. So far, I have three variations in progress, and if time allows, there will be one more. The first is convex with a circular frame studded with plaster intaglios. This will be available in white, matte black (inspired by beautiful Wedgewood basaltware), and perhaps a deep blue or green. The other two designs feature octagonal frames, and either convex and concave mirror glass, in the tradition of antique
sorcerer's glass
mirrors, which were hung near front entrances to protect homes from evil spirits.
What is the secret to achieving the exceptional?
Creativity. Curiosity. Deep focus. Time. Passion. Obsession.

Since I founded the studio, this quote from Yeats has been on the wall:

'It's certain there is no fine thing, Since Adam's fall but needs much labouring

.'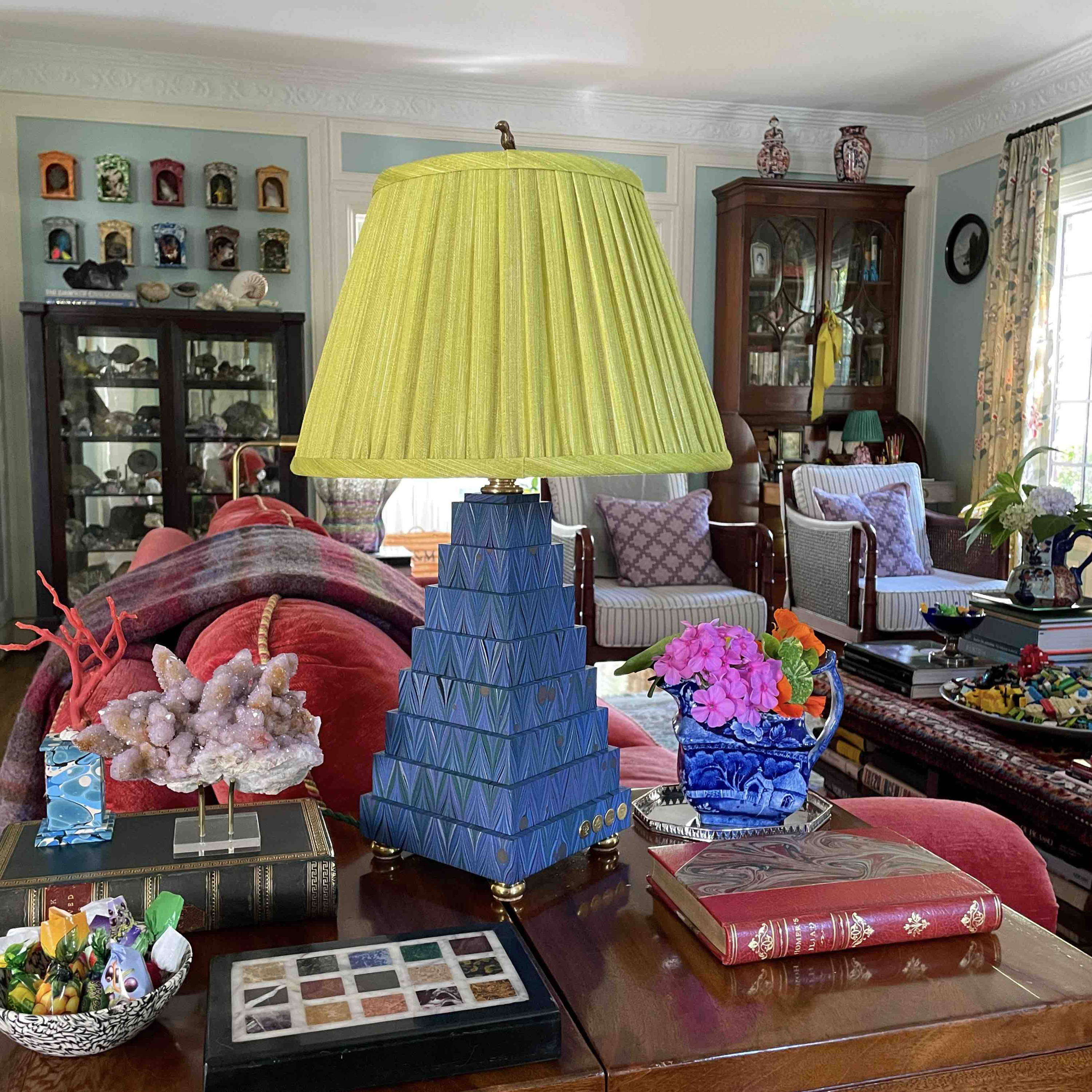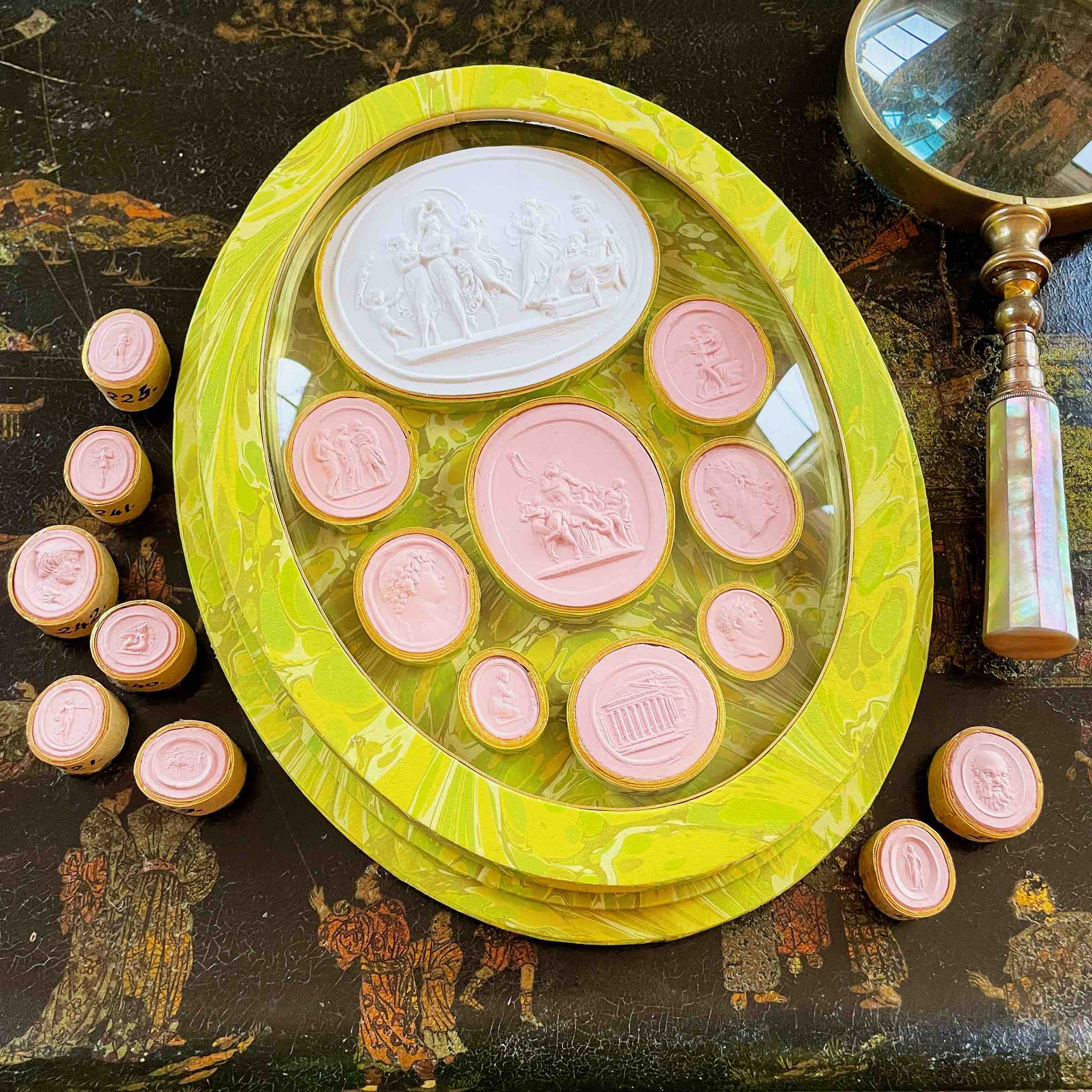 Explore More
Discover striking photography and thoughtful prose from the world's most atmospheric interiors #worldofcabana