Interview by Camilla Frances
Images from
Undiscovered Canvas
and
SoShiro Gallery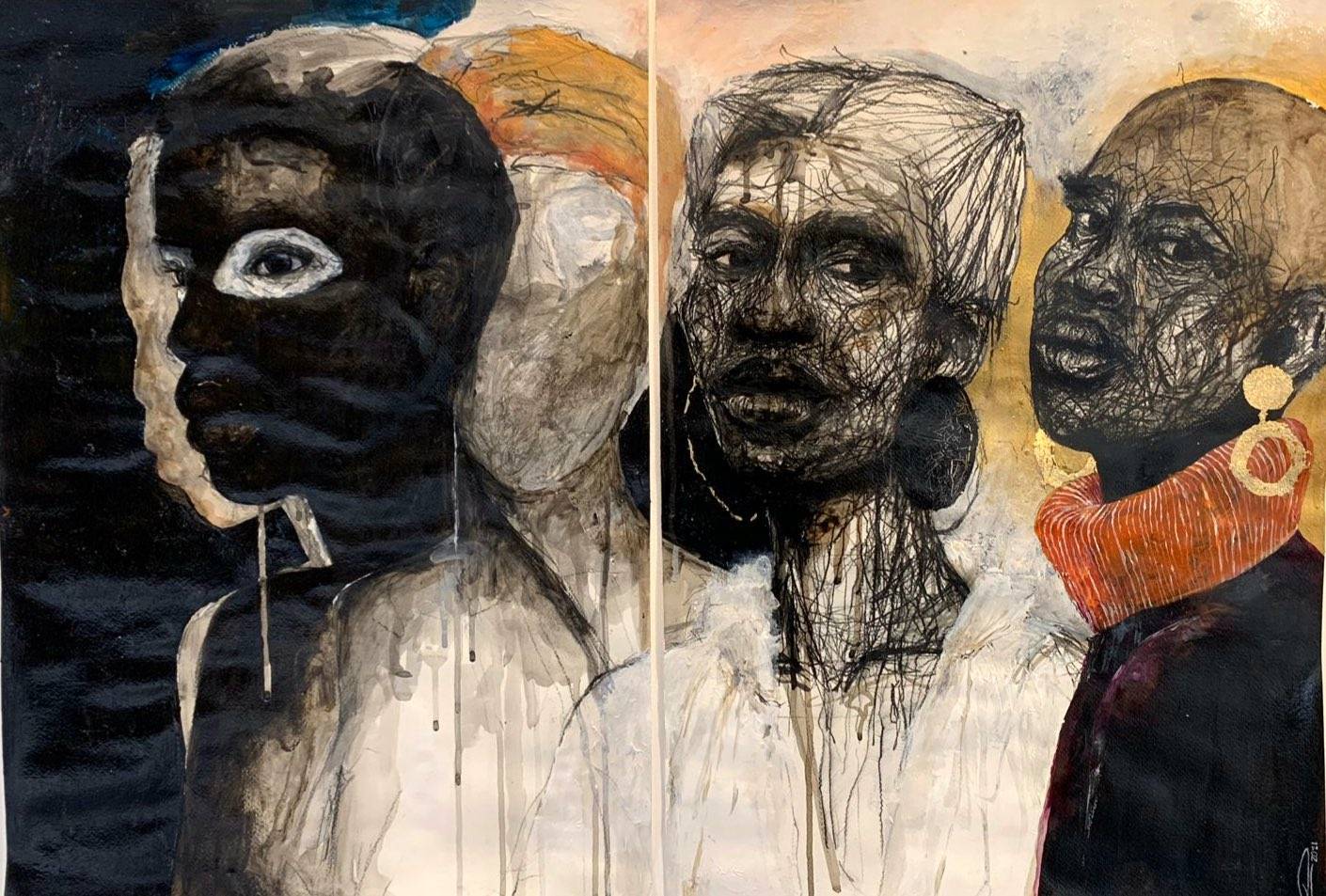 From her home in one of South Africa's oldest townships, Johannesburg-based artist Nthabiseng Boledi Kekanais, creates bold, expressive works in acrylic, charcoal and pastels. She talks to Camilla Frances.
With their rich color palettes, visible brushstrokes and arresting, expressive faces, Nthabiseng Boledi Kekanais' mixed media portraits are both distinctive and memorable. The young Johannesburg-based artist, who grew up in Alexandra, one of South Africa's oldest townships (where she still lives), has been painting since the age of nine, using acrylics, charcoal and pastels to visualize a changing world through her lens.
"By nine years old, my family realised there was something bigger there than they anticipated," she says, referencing her artistic childhood, characterised by an insatiable drive to make, create, paint and experiment. With her family's support, Nthabiseng won a place at South Africa's prestigious National School of Arts - a secondary school specialising in the creative arts - where, in her art teacher (Ms Sotiriades; deserving of a mention), she found a nurturing, encouraging mentor. Like all great teachers, Ms Sotiriades introduced Nthabiseng to new materials, and instilled in her the confidence to value and explore her own style. "My other teacher has been experimentation," she says, "just dappling and sampling mediums to see what works and what doesn't."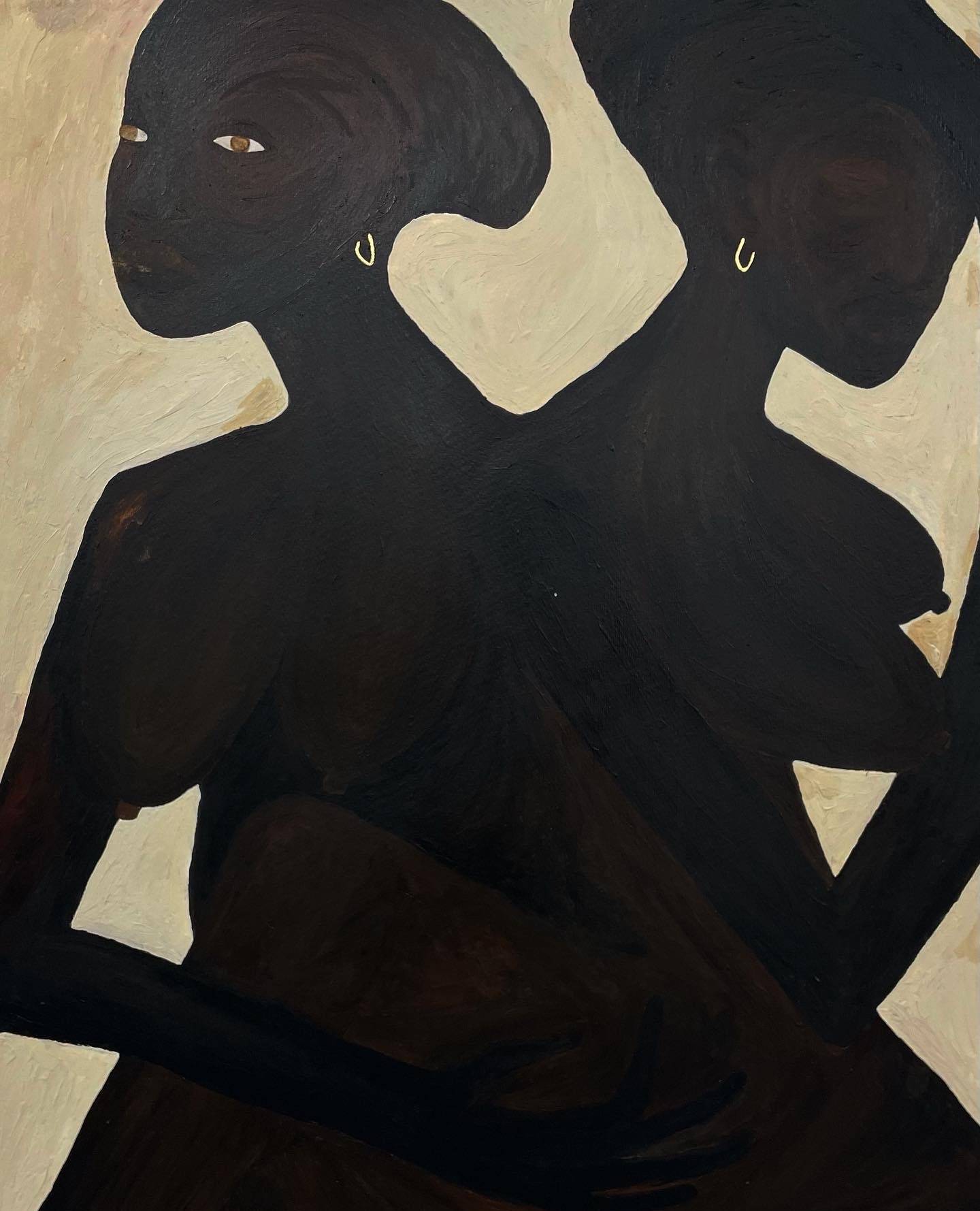 Currently exhibiting at SoShiro Gallery in London's Marylebone, as part of the multidisciplinary show, Not Black or White, Nthabiseng is enjoying international interest in her work, while remaining resolutely grounded and prolifically creative. She is now preparing for a show at Makwande Residency in the south of France - a non profit that fosters creativity and research through its international residency for emerging African Female artists - and dedicates her work to championing inclusivity, and exploring what that means in society today.
Your paintings are beautifully expressive with a strong identity. Who or what most inspires your work?
I draw my influence and inspiration from many sources, such as my subconscious mind serving as a vessel of counsel from my ancestors and Ramsedi (God). Inspiration is sourced from everything that evokes and awakens me - [including] artists, such as Wangechi Mutu, Alberto Giacometti, Mmakgabo Sebidi, Kamala Ibrahim Ishag, Credo Mutwa, and Claude Monet, to mention a few - but nature is the ultimate source of inspiration.
Where is home; what do you see from your windows?
Home is in Alexandra, east of Johannesburg Gauteng. I live in the township in a communal yard with my mother in a four room house. Alexandra township is one of the oldest townships in South Africa and, like any other townships, there is the good (liveliness) and the bad (poverty). I am blessed to have a house I can call home, and all the works for this show were created in a space I call my bedroom, which is roughly 16m square in size.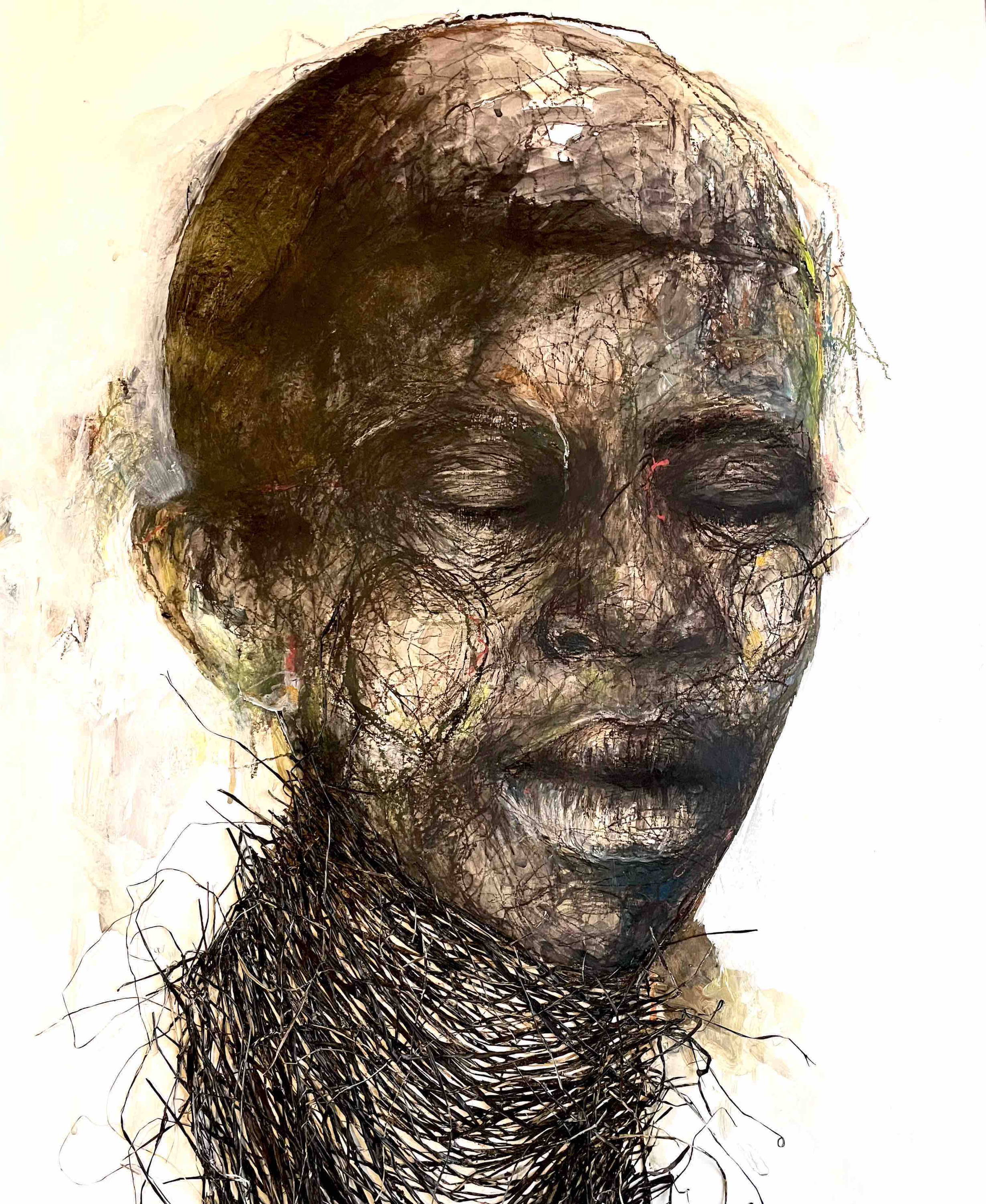 Can you describe a typical working day?
I create from the comfort of my home, and my sleeping schedule is tricky. When people sleep, I am usually awake and when the sun is about to rise I am usually about to sleep. My creativity is insane in the mornings because that's when I am usually productive, and the silence is incredible. Living in a township with neighbours all around you there isn't much calm so it's really a treat in those times to be awake. Those are the times I meditate a lot. I don't like breakfast so I usually break my fast in the afternoon; I wake up around 10am so around 2pm I start having my first meal (surprisingly my mom is not a fan of my schedule - shocker). When creating, I listen to music 80% of the time… sometimes I create in silence… guided by my thoughts, and emotions, which influence the strokes of the brushes.
And what about your creative process, how do you plan and execute your works?
It starts with a vision...of the body of work... I then start sketching ideas, and do some research into the artists that inspire the language and style of [my] work, and then I take it from there. But I have to say that the process is really never the same because sometimes I am just guided by spirit to create and all will unravel at its own time.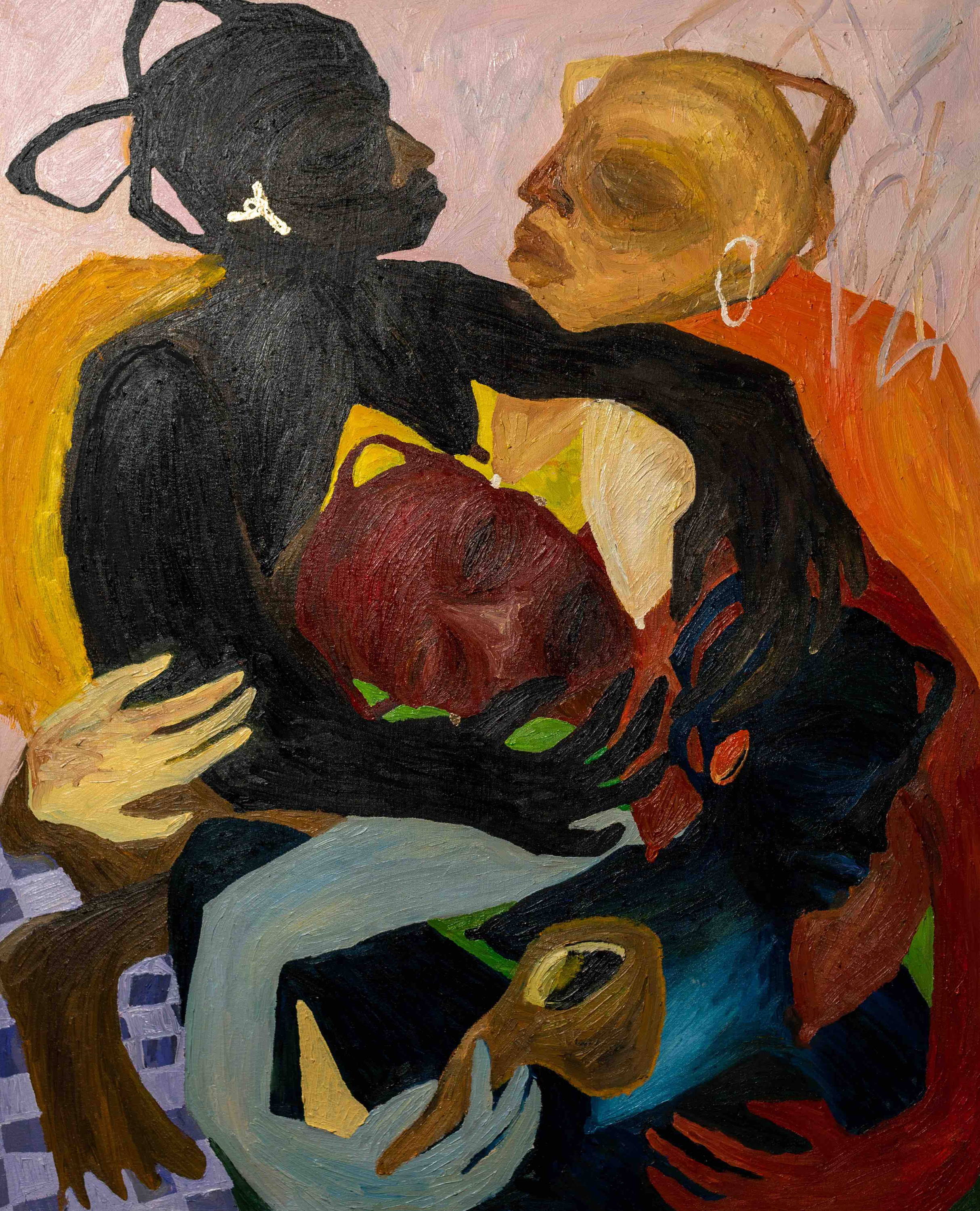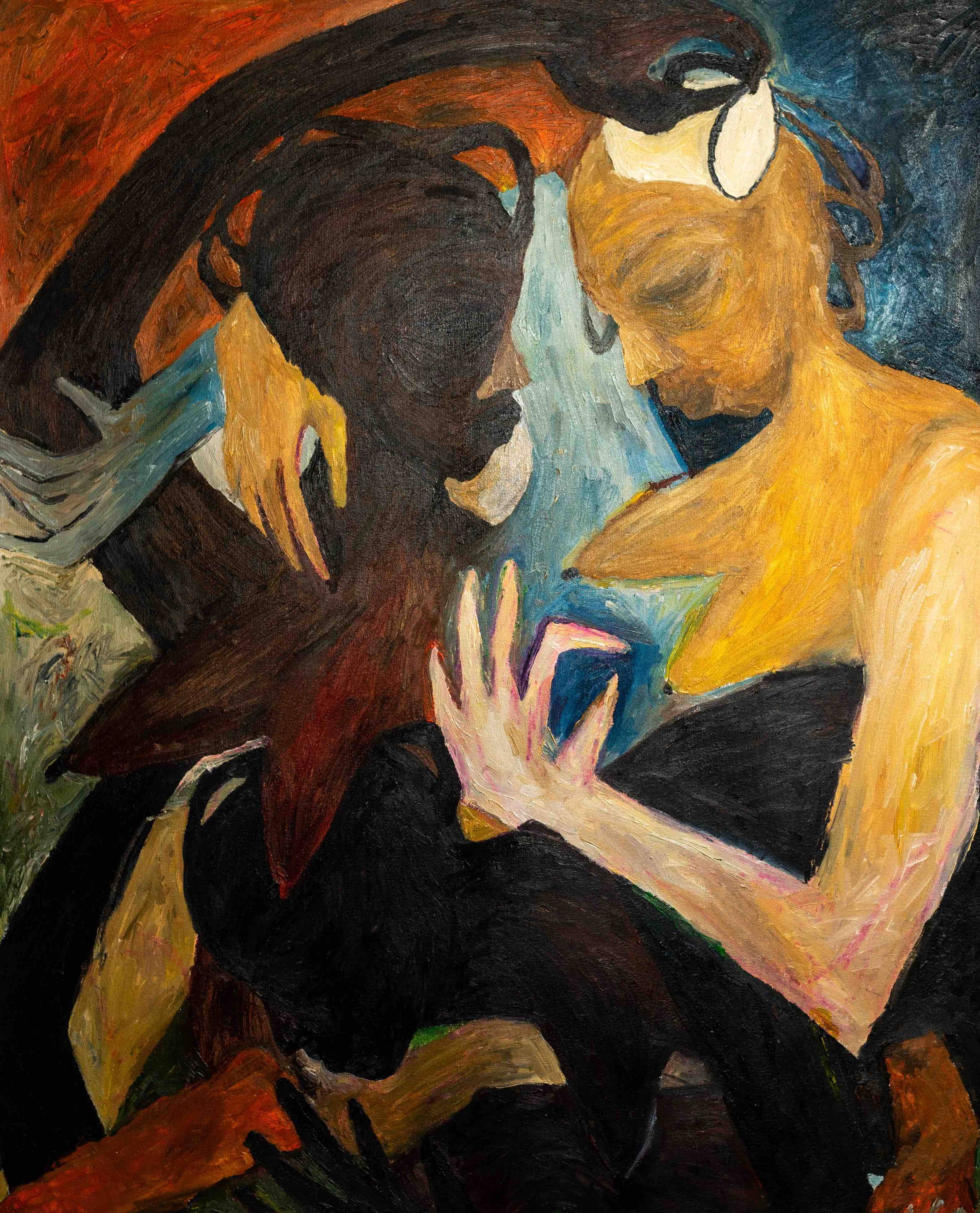 What does relaxation look like for you?
Relaxation for me is going off grid and unplugging from social media, my phone, all my technological gadgets; it is in reading, meditating, sketching, journaling and exercising; taking care of my mind, body and spirit.
Your favourite museum or gallery?
I will say the Everard Read gallery in Rosebank because it's one of my favorite places to go. There are also some I haven't been to; from my research, Musee D'orsay and the Met because they hold works by some of my favorite artists, the likes of Vincent Van Gogh, Paul Gauguin, Claude Monet, Wangechi Mutu and more.
An artist you'd collect if you could?
Kamala Ibrahim Ishag, I love her work. There is something so ethereal about her work, yet so grounding. She is incredible. There are so many amazing artists, but I would also add Gauguin and Mme Mmakgabo Sebidi.
What's the best piece of advice anyone has ever given you?
To 'be intentional with all I do and be of service to myself and the world.' This advice was given to me by [someone] I consider my spiritual father, and it has been so meaningful. I now create works with the intention that they will convey a message I want to be shared at that moment in time, works that serve as an offering to the world.
Nthabiseng Boledi Kekana is exhibiting at 'Not Black or White', which runs at SoShiro Gallery, London, until 17 March, featuring over 60 works from Africa and the UK. www.soshiro.co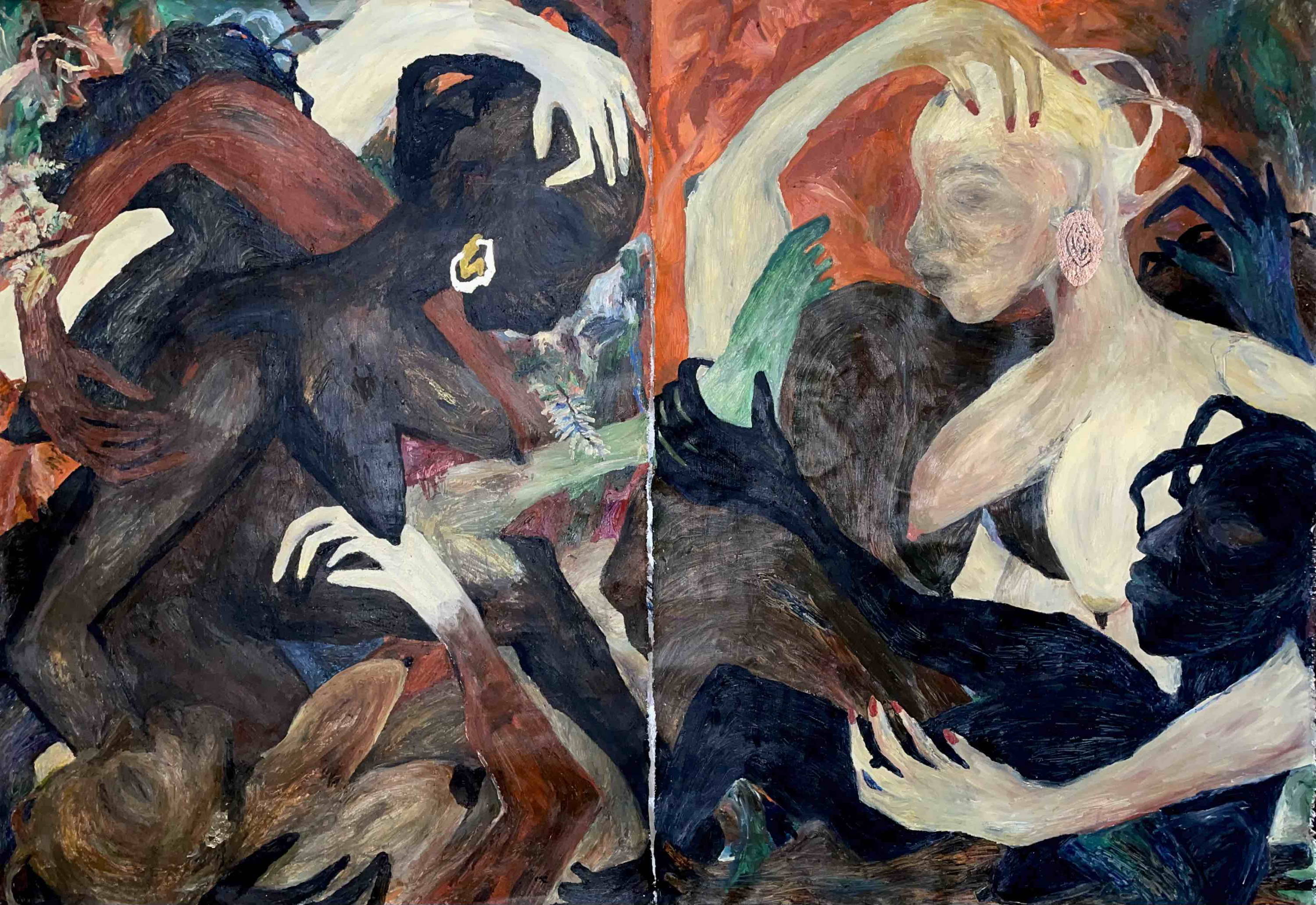 Explore More
Discover striking photography and thoughtful prose from the world's most atmospheric interiors #worldofcabana