Words by Maria Hummer-Tuttle
Images from
Miguel Flores-Vianna
and
Vendome Press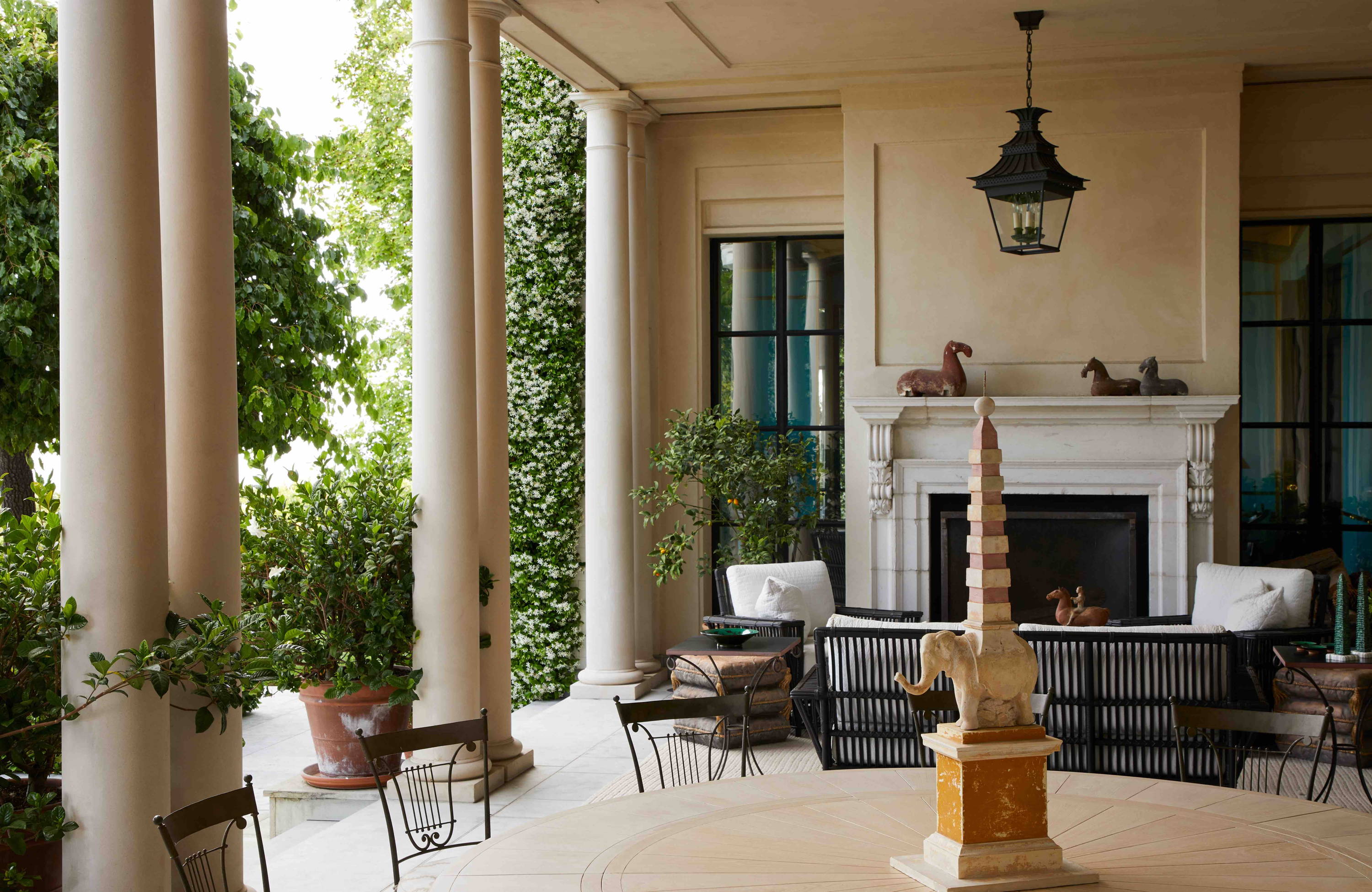 Collector and author, Maria Hummer-Tuttle, believes inheritance of objects comes with a responsibility towards them. She shares with Cabana five of her favorite objects, from her personal collection, gathered over many years. They each feature in her new book, Objects of Desire, with photographs by Miguel Flores-Vianna. 
Emilio Terry, elephant holding an obelisk (above and below, right)
The elephant holding an obelisk on the loggia off the entry hall was created by Emilio Terry, the Cuban-born French architect, interior designer and artist. In the 1950s he began designing the interiors of the Chateau de Groussay near Paris, then owned by Carlos de Beistegui. In addition to the house decoration, Terry created a theatre and designed a park to which he added 18th century-style follies. I was told that one of the follies that was designed and presented but never realized was this elephant with the obelisk. The base was to include the interior room.

After his death in 1970, Groussay passed to his brother and then to his nephew. In June of 1999 Sotheby's held its first auction of the chateau's contents. I was in Europe shortly before the auction and went to look at the lots. I spent the whole day, part of it sitting on the floor, looking through folders of loose drawings and prints. I submitted bids on a number of things – particularly works on paper depicting the rooms, the gardens and the follies. I also bid on the elephant with the obelisk. Sadly I was not successful in a single bid. Several years later, on Christmas Day, I came into the living room to find it under the tree. My husband had seen it in a Paris antique store window.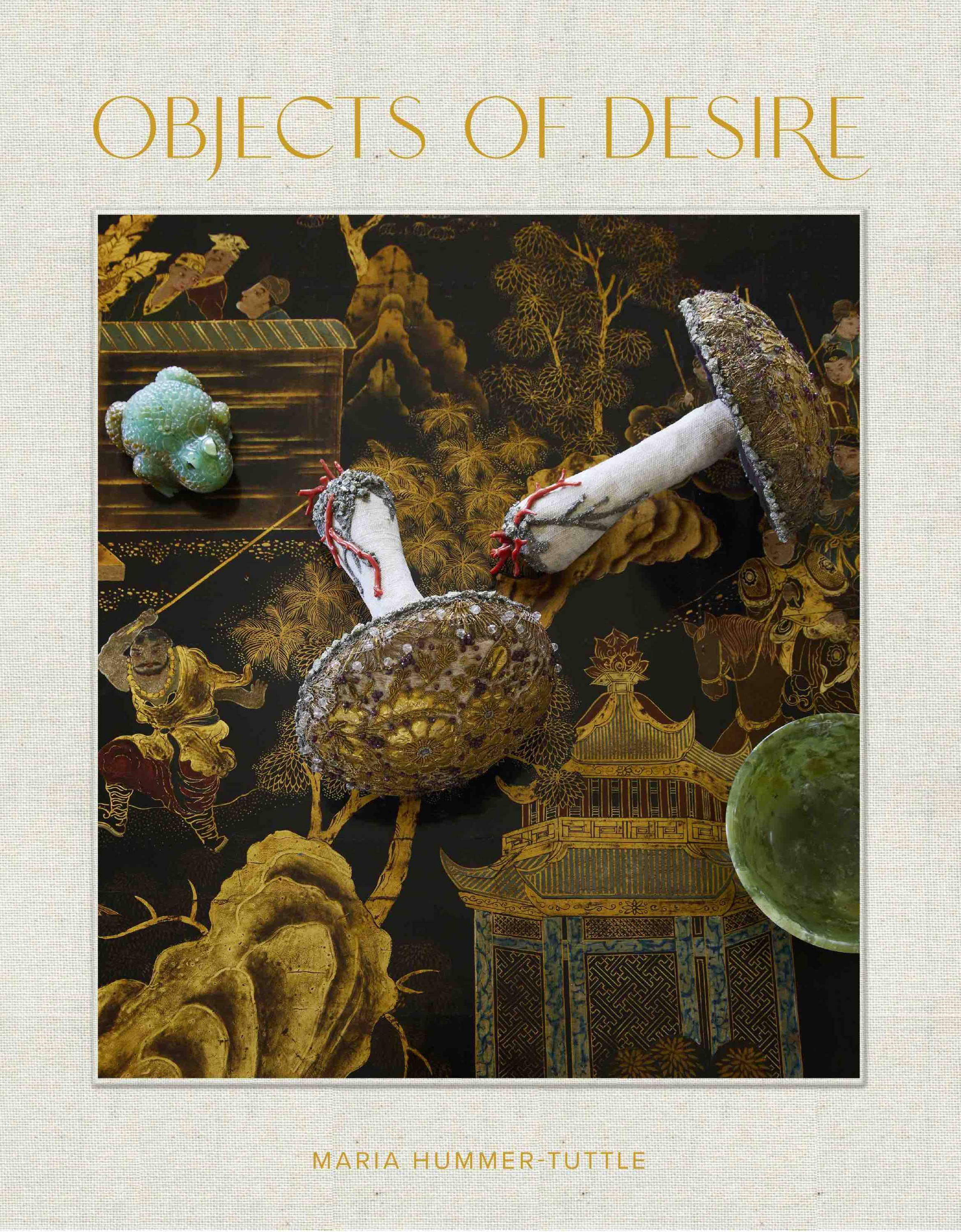 A Chinese lacquer coffee table (above, left)
On the cover of my coffee table book I wanted a coffee table. The cover photograph (below, left) shows a rather small table in the living room made of a Chinese lacquer panel bought from Nicole Brugier in Paris. I recall pulling out panel after panel in this marvelous shop and workroom until we found this one and knew at first glance. The jade bowls were purchased years ago in Hong Kong on Hollywood Road, one of the oldest streets on the island. It was believed that a jade cup could keep you safe because any poison placed in it would split the vessel.
I well remember first seeing the two mushrooms in a decorative arts store in Paris' 1st arrondissement. Sadly, the shop is gone now. The owner explained that her friend had made them out of stuffed rough linen and "coral," with beautiful "caps" that were said to be quite literally caps for bridal veils in the Renaissance, now more heavily beaded. The acquisition of the jade frog is lost in the fog of memory.
Bracelet by Line Vautrin (above)

This bracelet is by the French artist Line Vautrin. To me, she was a creative wonder of objects and jewelry. She was born in Paris in 1913; her family were metal workers. After working briefly for Schiaparelli, she began designing poetic boxes, mirrors and a wide variety of imaginative jewelry. This bracelet is an example of one such piece using a visual pun, or rebus, as a design. Words are represented by letters and pictures. My bracelet says in French: "Words are silver, but silence is golden."
Line Vautrin has always fascinated me – a woman with a business of her own before World War II – so original, clever and prolific. I find her work romantic as well. She researched the ancient goldsmiths in the museums of Cairo and studied folk tales; she used double entendres and whimsy in her smart, beautiful pieces. Called the "poetess of metal" by Vogue, she died in 1997.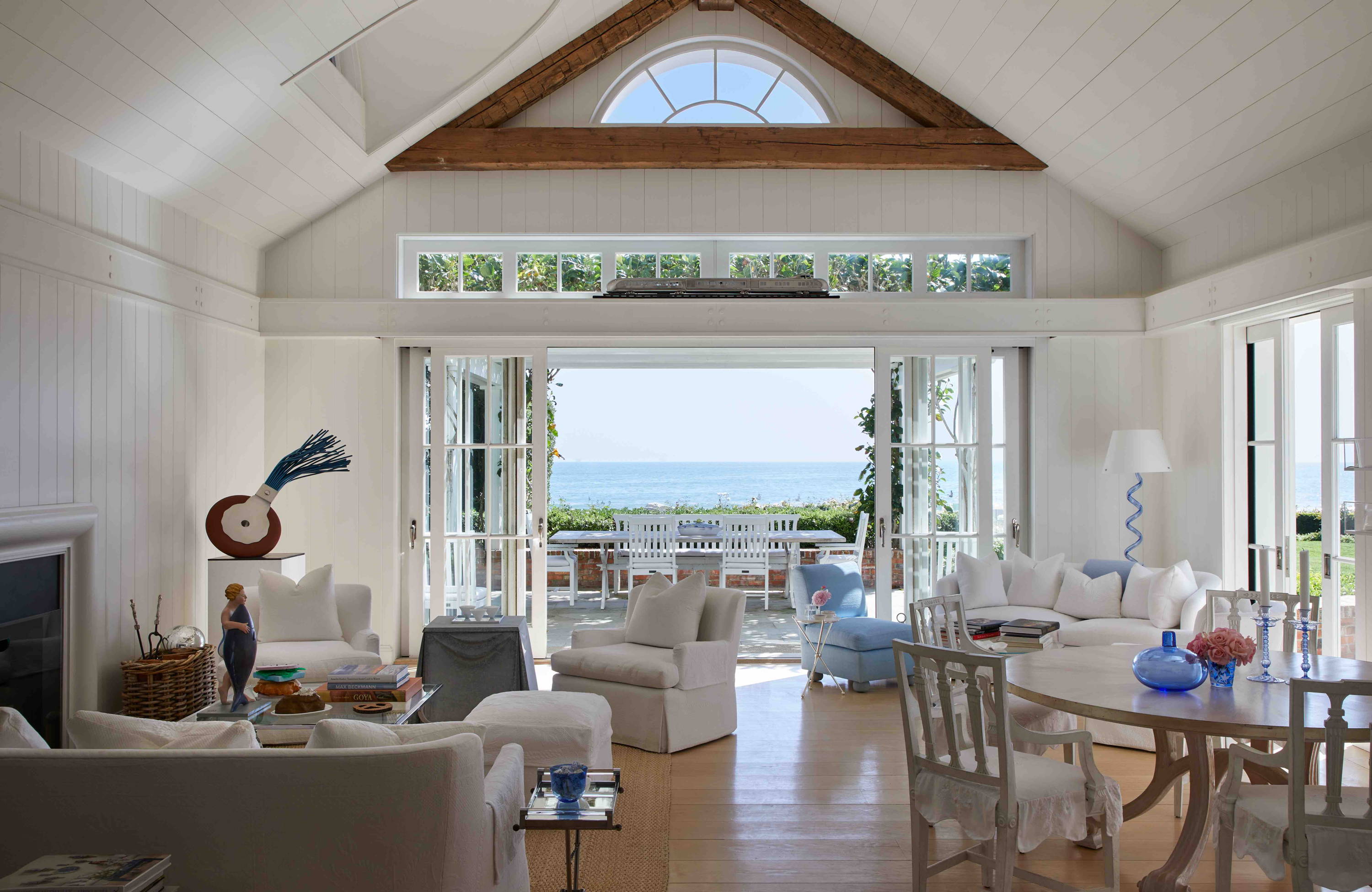 Claes Oldenburg, Typewriter Eraser (above and below, right)
The typewriter eraser may have been one of Claes Oldenburg's favorite objects. He depicted it in drawings, collages, paintings, and sculptures in a wide variety of sizes. Our eraser, one of an edition of 18 dated 1977, appears precarious on its base due to a hidden support.
This object was outmoded from its inception. An "anti-heroic" thing gone from daily use appeals to those who remember its design and to those who must create their own connection. Oldenburg said that "time will undress" certain objects. I explained the use of a typewriter eraser to a grandchild, only to be asked what a typewriter was.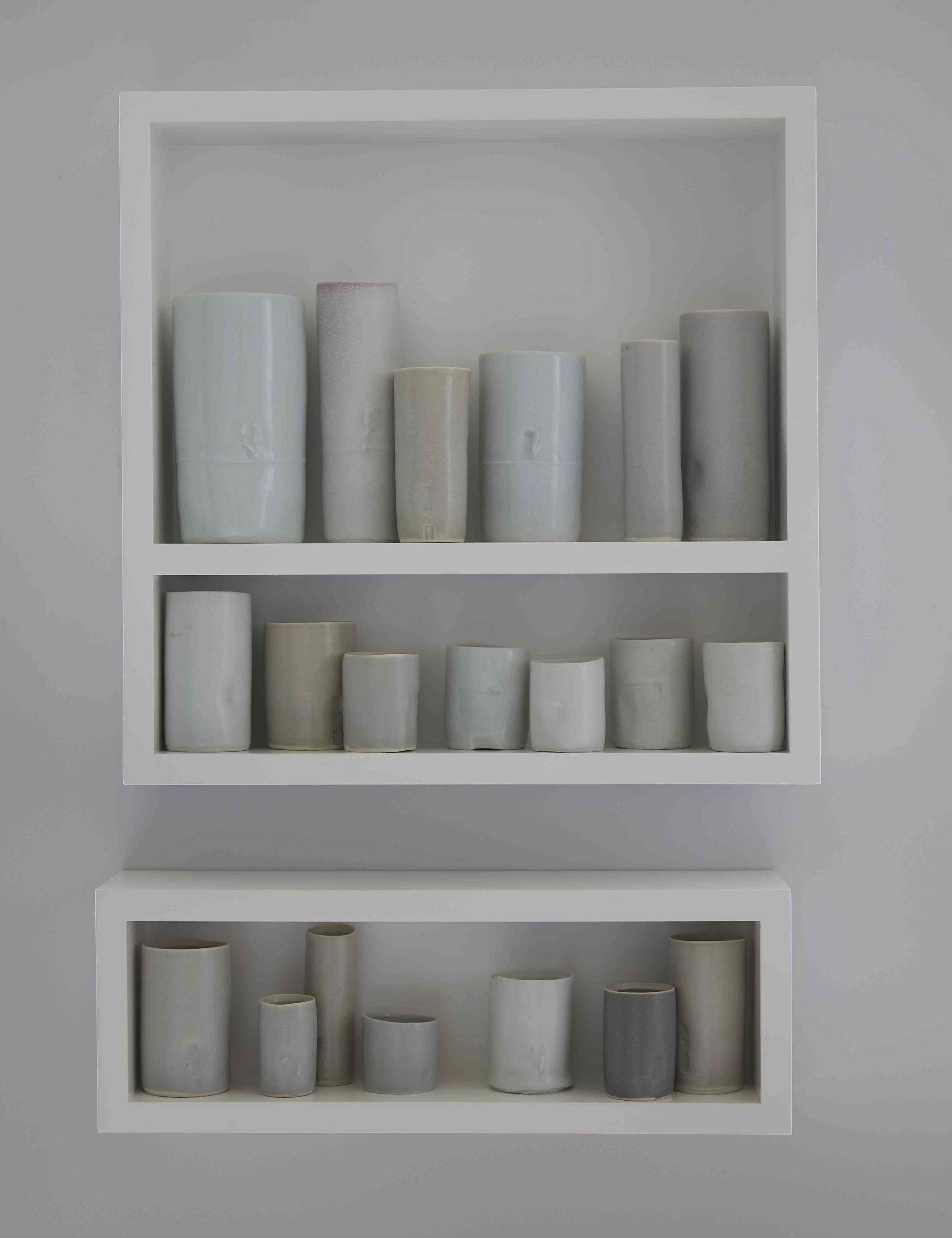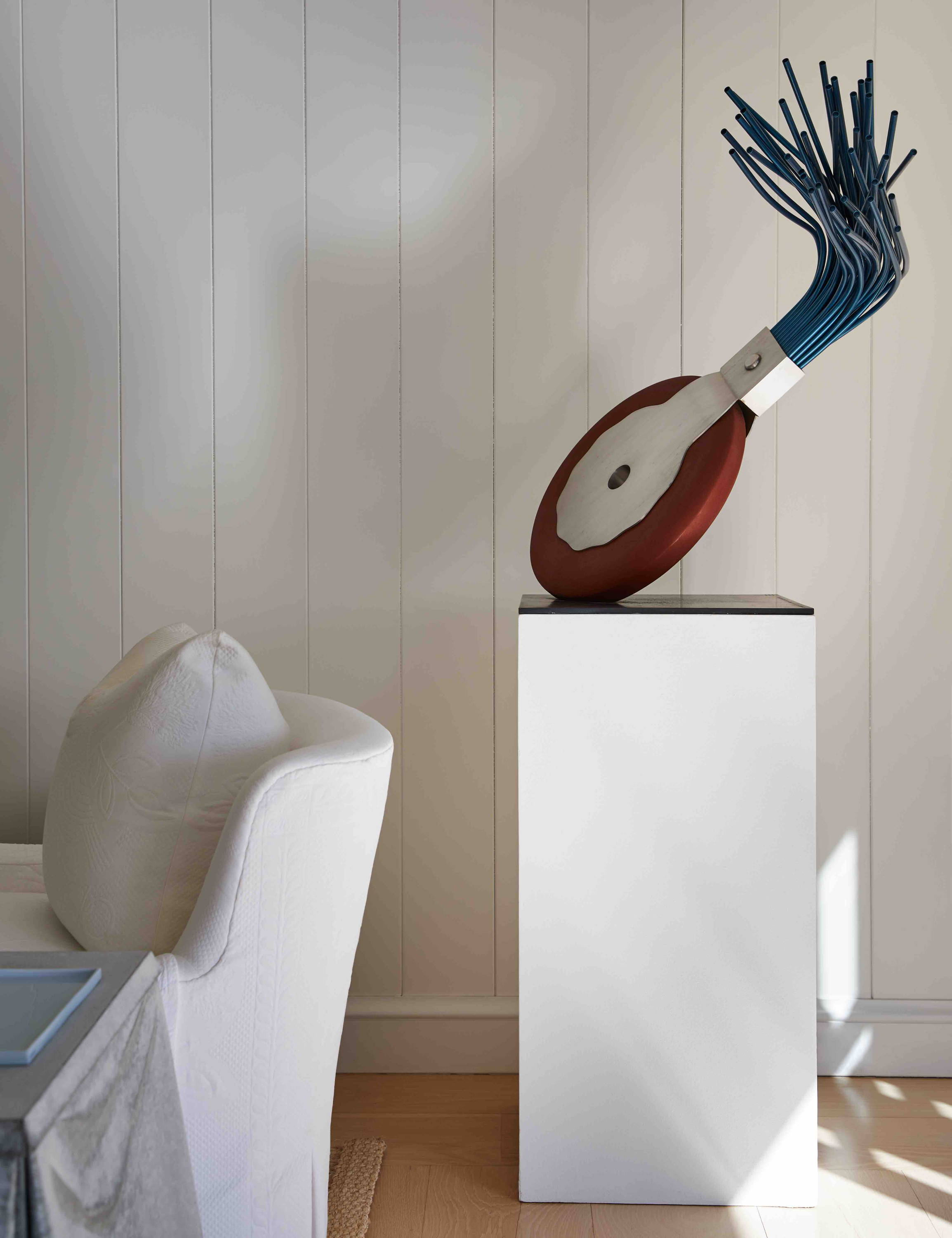 Sculpture by Edmund de Waal, "After the Rain, 2010" (above, left)

My husband and I have purchased three sculptures by Edmund de Waal over the years. We are huge admirers of his. It was such a gift that Edmund wrote the foreword to my book. I consider him the foremost person on the subject of objects. In the preface to his most well-known book, The Hare with Amber Eyes, he writes of a time in the early '90s when he was in Japan on a two-year language scholarship. In the afternoons he went to a ceramics studio where he made work in porcelain for the first time.
He describes gently pushing the sides of his jars after he had taken them off the wheel. The jars then show his hand. He left school at 17 to become an apprentice to an English potter. After his apprenticeship he spent seven years working by himself in studios in Wales. And then he was in Japan "making a porcelain jar with pushed-in, gestural sides." It was in afternoons during this time that he would visit his great uncle. After lunch, Uncle Iggie would open a vitrine and get out the carved netsukes, each one small enough to hold in a closed hand – one of course was the hare with amber eyes. When Iggie died, the netsukes were left to Edmund. A thing inherited.
I believe, as does Edmund, that the inheritance of objects comes with a responsibility to them. Storytelling is part of that responsibility. In the foreword, Edmund quotes Virginia Woolf, writing that how you put things together in the world is a kind of storytelling: "It is not just things that carry stories with them. Stories are a kind of thing, too."
Explore More
Discover striking photography and thoughtful prose from the world's most atmospheric interiors #worldofcabana