Interview by Camilla Frances
Images and styling by
Chris Mottalini
and
Jeffrey W. Miller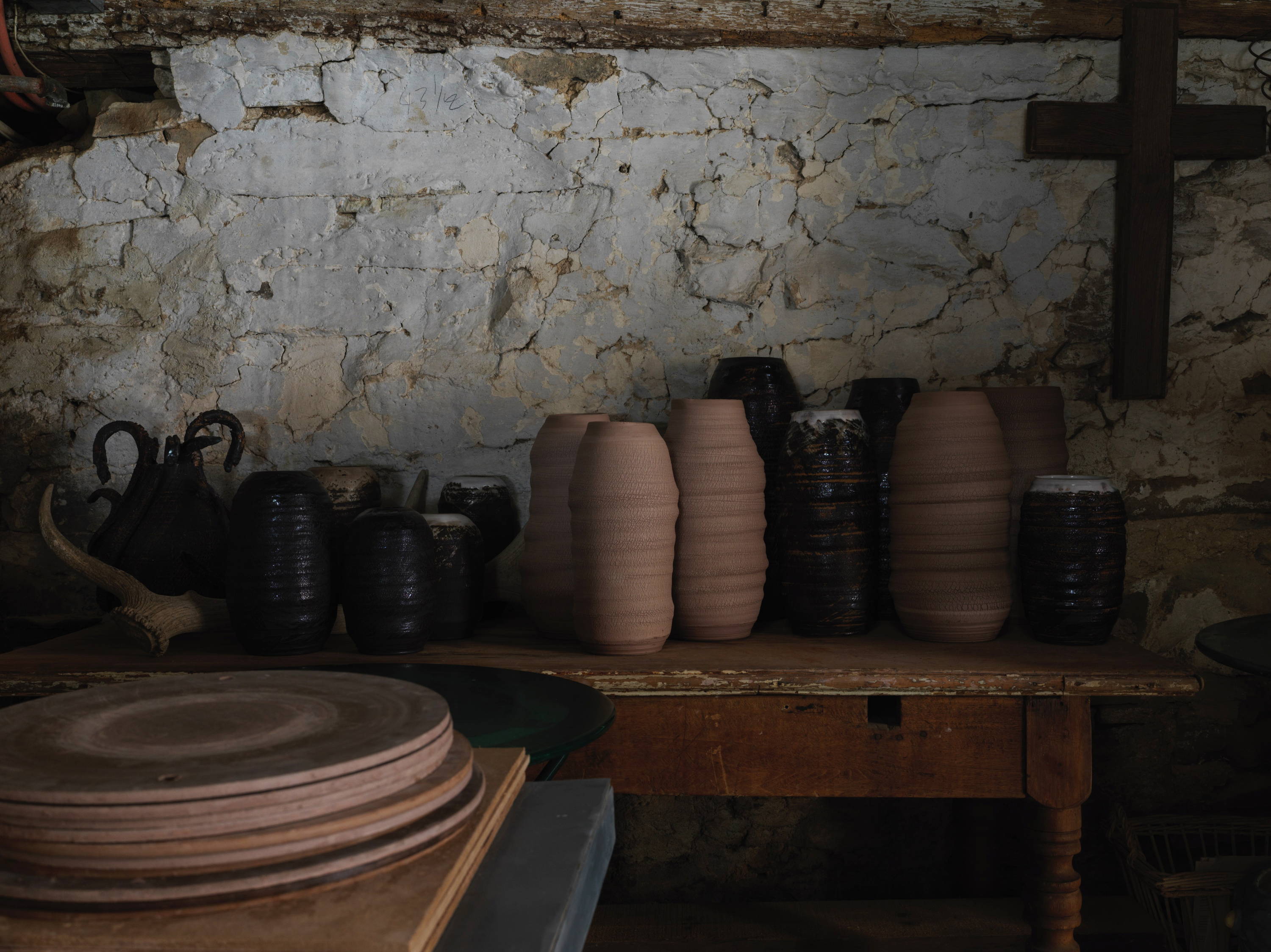 Fashion designer turned ceramicist, Peter Speliopoulos, lives and works in New York where he conjures "new souls from clay" in his atmospheric light-filled studios. After an illustrious career in fashion - working for brands including Cerruti Arte and Donna Karan, and designing costumes for the dancer, Karole Armitage - Peter began experimenting with ceramics during summer holidays in Patmos.
Discovering a natural affinity with clay, he pursued formal training in 2015, sparking an intense period of exploration and experimentation. In the years since, he's founded a ceramics line, Peter Speliopoulos Projects, and a home accessories collection, and has had two solo exhibitions at Les Ateliers Courbet in New York.
How would you describe your style?
My ceramics, home objects, fashion designs and costumes, all reflect a quality of being raw and refined - organic and sensual forms with 'scientific' aspects that render them both primitive and modern, an ancient soul and a modern spirit. I like textures and movement, eroded surfaces and patinas that convey the passing of time.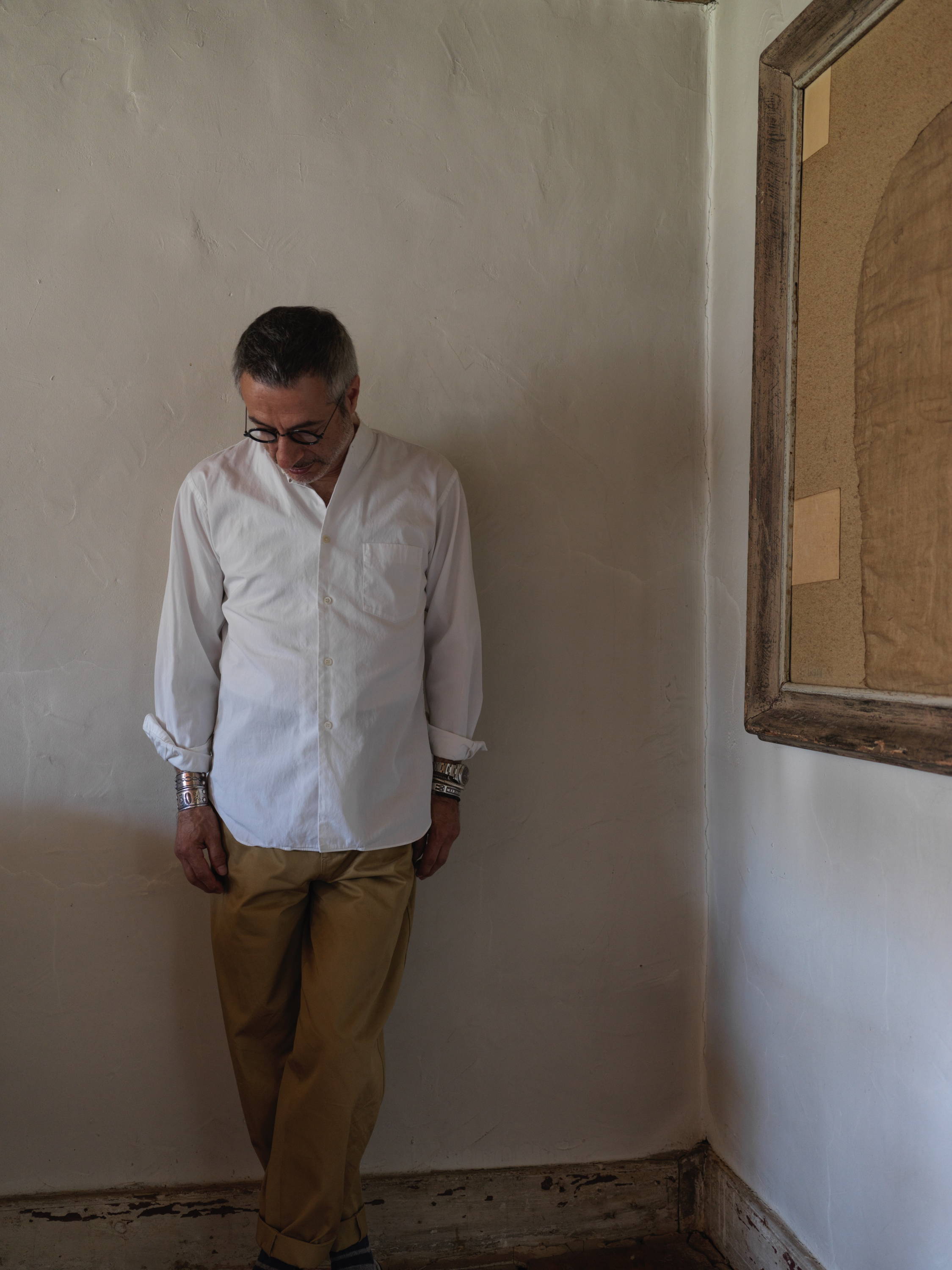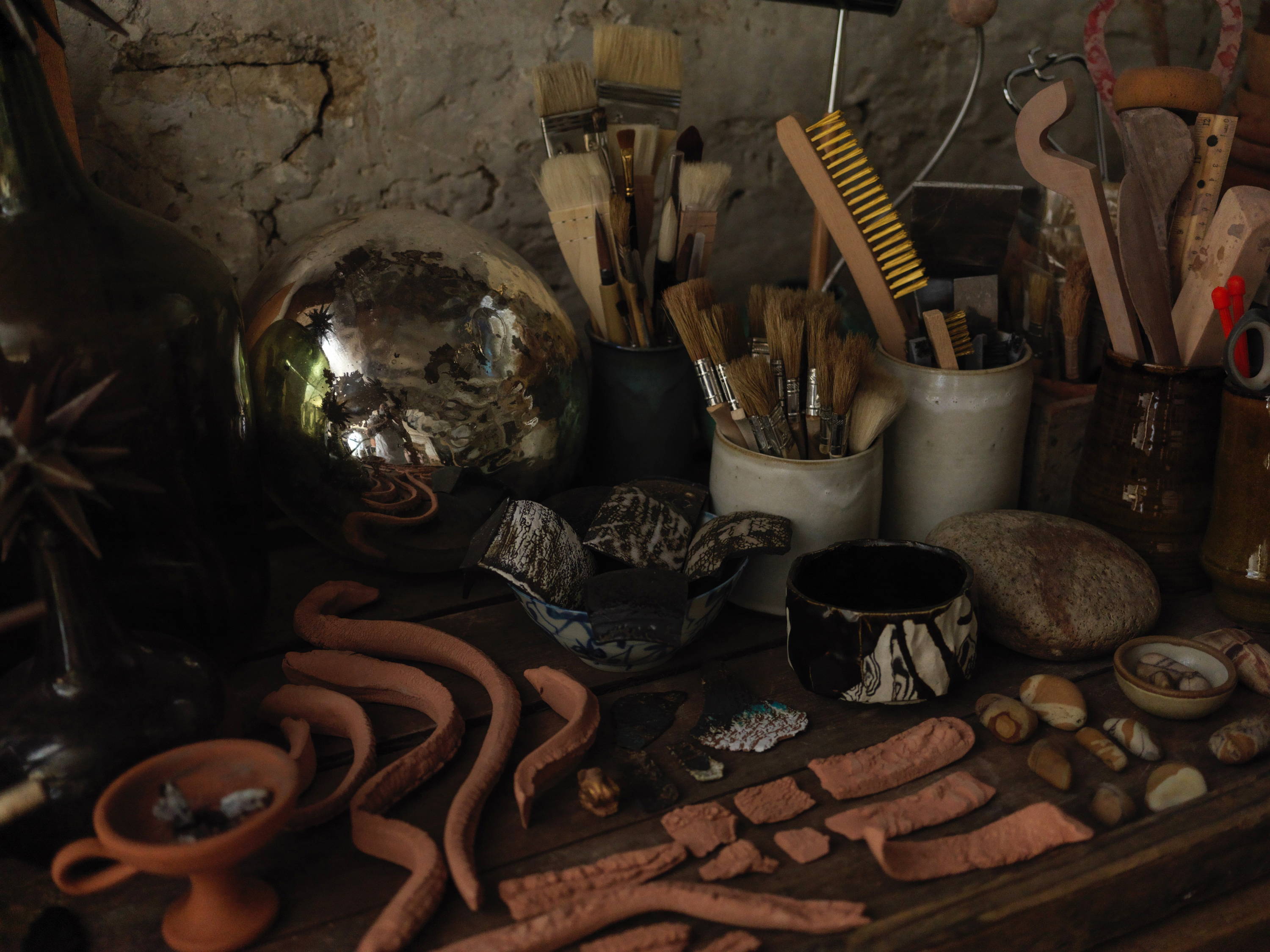 Are there any themes running through your work?
Although I consider my ceramic sculptures to be abstractions, my recent solo exhibition 'CHTHONIC', was inspired by the primordial gods and chthonic deities of Ancient Greek Mythology, with their abstract elementalism and darkness, and their creation, born from chaos. The sculptures were created during lockdown, so there were many parallels to the emotions we were feeling, of crisis and instability. I wanted to conjure new souls from clay, and although they are at times animalistic and haunting, I see them as optimistic totems offering a vision of hope and rebirth. 'Coming Home', my home objects collection, is inspired by the journeys of Ulysses and Medea. Many of the operas I have created costumes for also have mythological themes.
Which medium do you most enjoy working in or with?
I love clay and work in stoneware. Clay allows me to express the raw refinement I love, in shape and finish. What is most exciting is creating a work with one's own hands. That has brought me so much satisfaction and joy – the expression of an idea in an object I solely make, every aspect of which I control by doing it myself. Materiality is the common denominator that influences all my work. In fashion, I have been obsessed with fabrics. I think I use clay as a fabric, with which to sculpt or suspend, like felt or organza, to dramatic effect.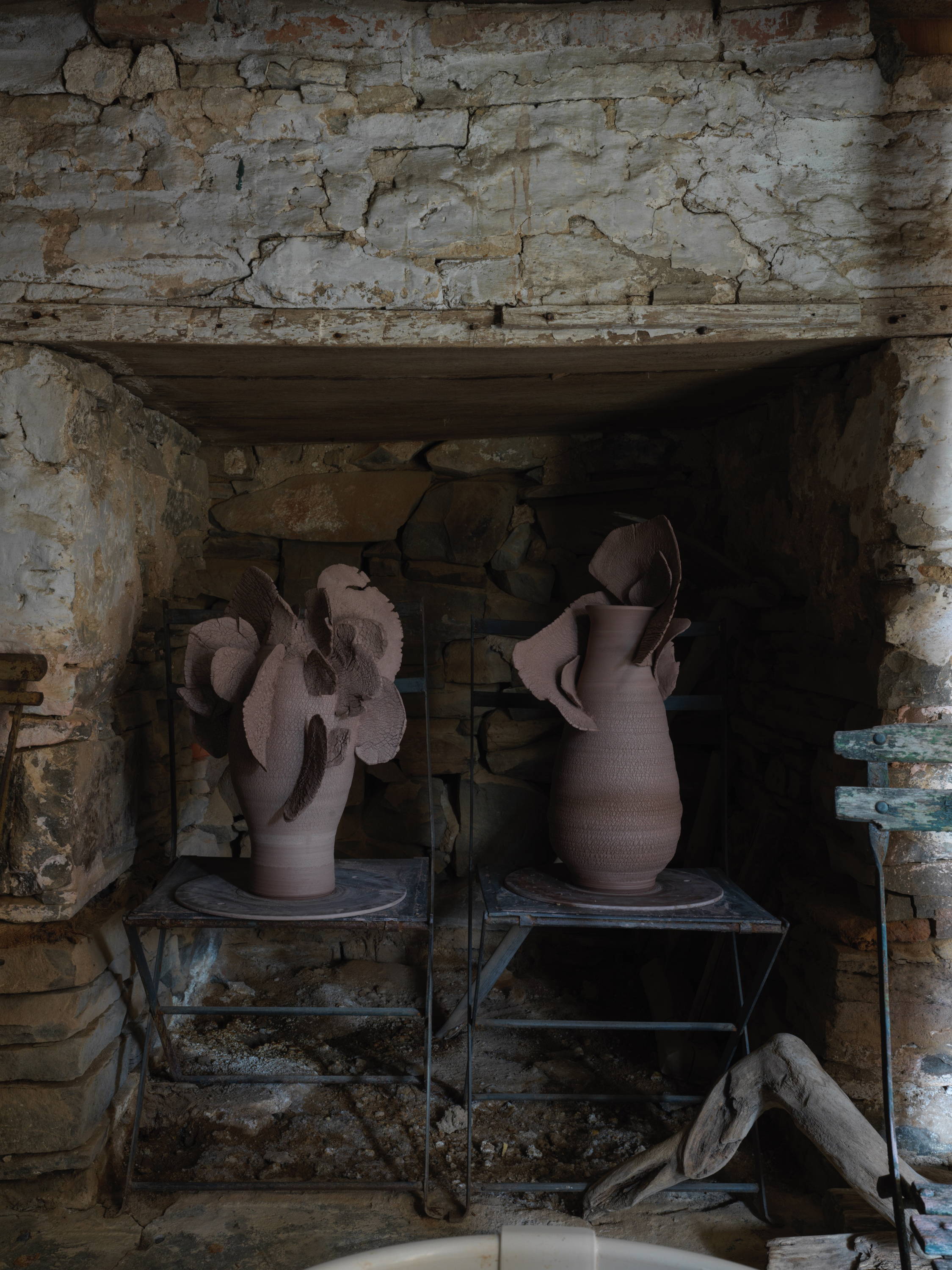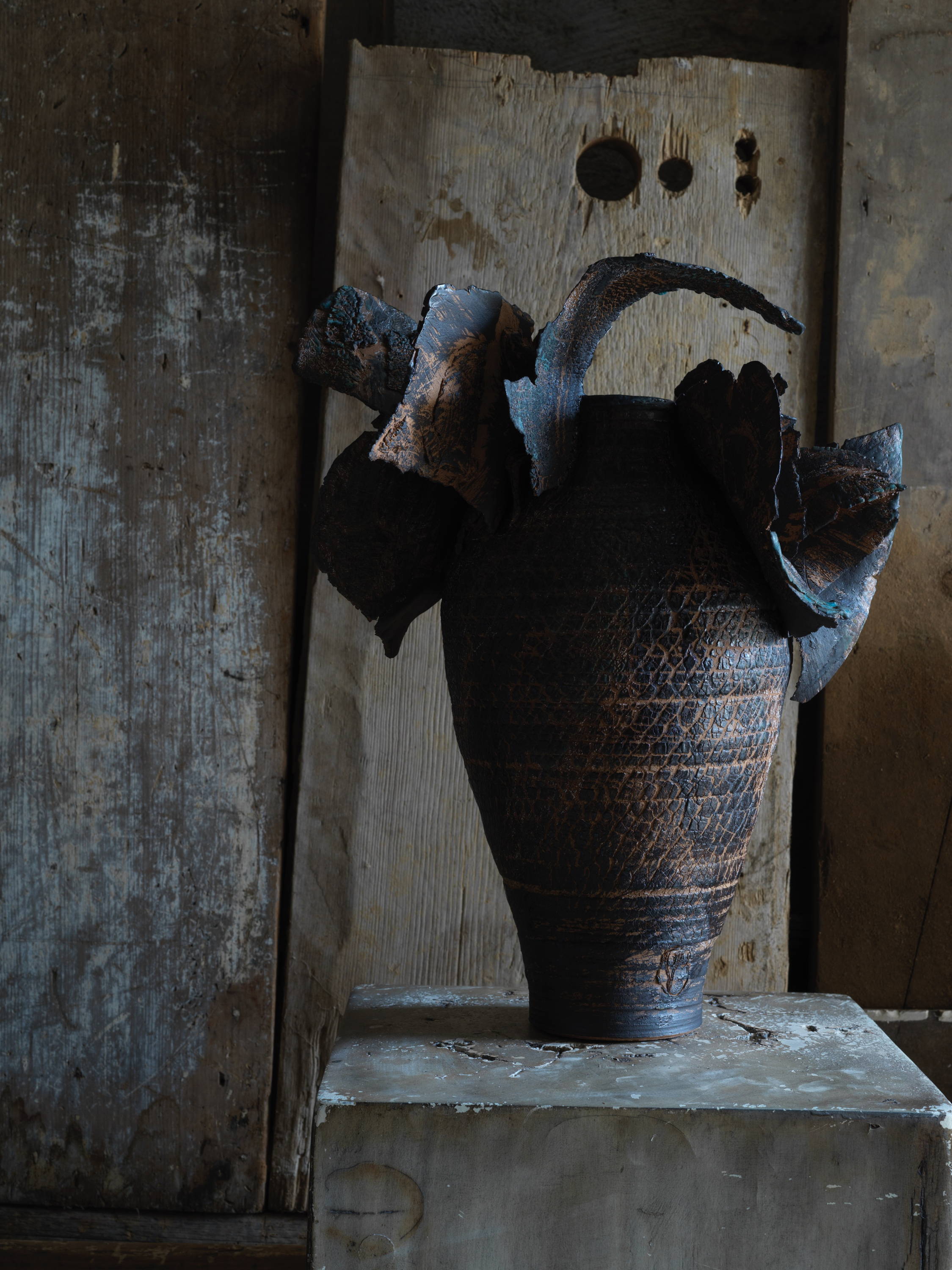 Who or what most inspires you?
I am curious by nature. I do a lot of searching and, as a result, I find a lot of beauty – in fine art, antiquities, music, folk art, historical and contemporary fashion, interiors. I love traveling and have discovered so many amazing places and peoples. They and their cultures, arts and crafts, inspire me.
My idols are Mariano Fortuny, and Luchino Visconti. Fortuny because, apart from the fact that I adore everything he created, he was a great inventor, scientist, painter, set designer for Wagner and creator of those gorgeous velvets and plisse. The work has profoundly inspired me but also the man. Visconti, I fell in love with when I saw his films in New York's revival cinemas in the late 70's; I have never gotten over them! His quest for beauty and authenticity in every period is remarkable. His understanding of society is psychologically nuanced and bold.
How do you plan and execute your work?
I am very disciplined, which serves me well in making ceramics - they take a lot of planning, they have many steps and processes. I might make thumbnail sketches, but At any given time, I am throwing, pieces are drying, pieces are being fired, and bisque ware is ready to be glazed. Throwing on the wheel leads me into a zone, an altered state. I am less spontaneous with glazing; I plan and keep meticulous notes of how each piece was glazed.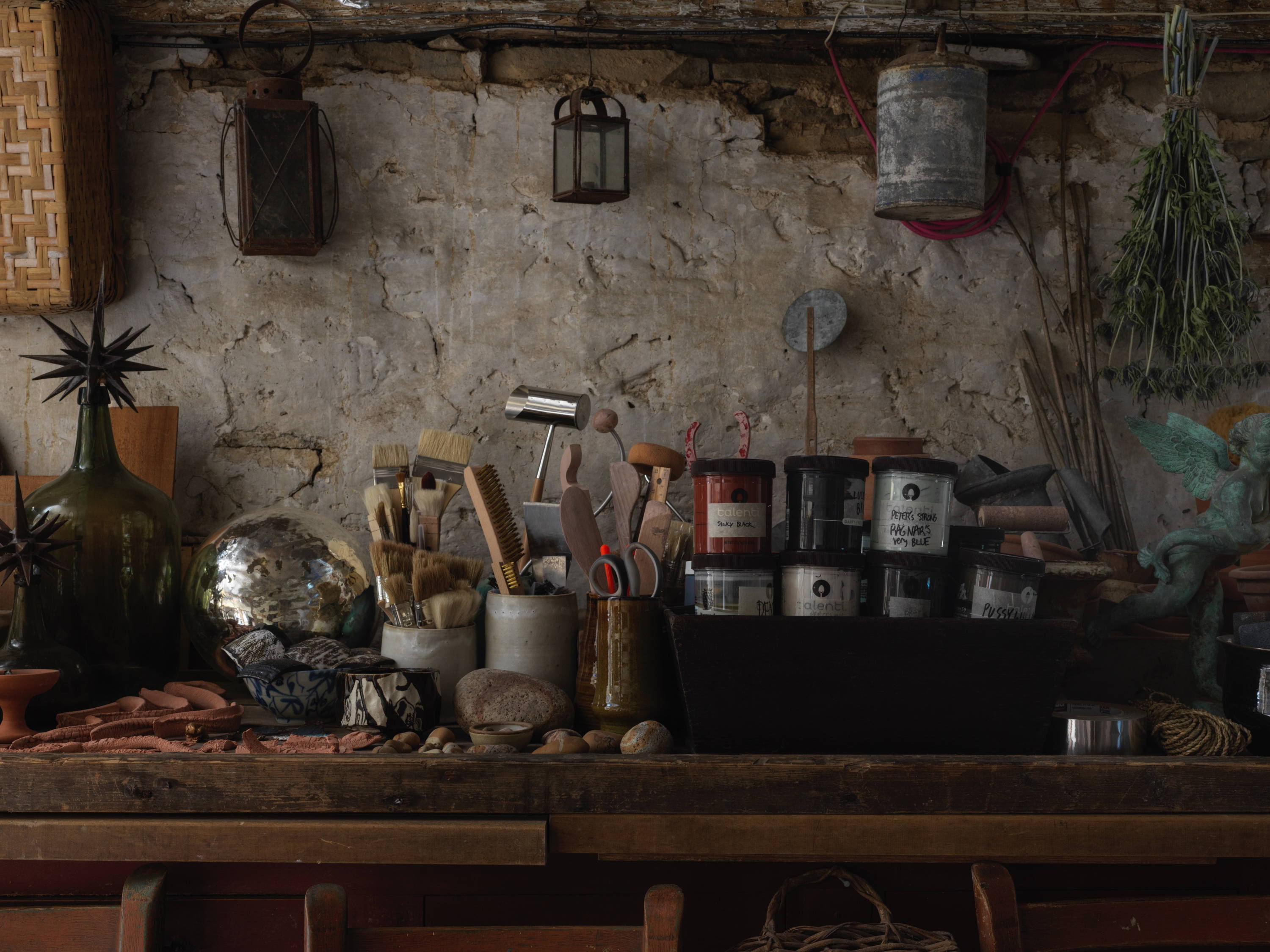 Where do you create your works?
I live in New York and have a small studio in Long Island City, which I adore. It's in a fantastic building of artist studios, constructed with glass bricks which surround the windows for softer light. Long Island City is very low with old factory buildings, so I feel like I'm entering a Charles Sheeler painting when I emerge from the subway. During the pandemic, I created a full studio in the cellar of my 18th century house in the Hudson Valley. It too is just a room but with tremendous character, due to its stone walls and broken stone and dirt floor. It morphed easily into a studio, with a window and door leading to a terrace with a wisteria covered pergola. My workbench is like a cabinet of curiosities, with my tools, antique sculptures, Patmian rocks, baskets of glazes and specimens from nature. I like to imagine I am living and working in a Dutch master's painting.
Can you describe a typical working day?
When I'm really in the cycle of working, I rise early, drink a lot of coffee, get to work by 9/9:30 and work until 2pm, then break for lunch. I've never been one to go out for lunch; I hate the interruption of the work, the process. I work until 6ish — longer in the summer as I need light. I rarely listen to music when I work, but I listen to a lot when I'm not working: Wagner, Strauss, Bach, Callas, Joni Mitchell, Laura Nyro and Phillip Glass. I like to study how composers construct their works, how it unfolds. It often inspires me.
Your favourite museum or gallery?
The Metropolitan Museum of Art - one of the greatest encyclopaedic museums in the world and practically in my backyard! But I must mention The Barnes Foundation in Philadelphia, the collection of Dr Albert Barnes. It's installed exactly as he left it, with eclectic mixes of Impressionist, Post-Impressionist and Modern Art, African sculptures, Pennsylvania Dutch chests, German work tools, Native American jewellery and Geometric Period Greek antiquities. It created an everlasting image for me over 40 years ago, forming many of my passions.
What do the next 12 months hold for you?
I hope to be able to travel and explore new destinations around the world. I really miss that, and I miss my friends abroad. I miss Italy very much, that creative spirit, that joy. I think it will be a great year of experimentation and new learnings, in preparation for a new ceramics show in 2023.
Explore More
Discover striking photography and thoughtful prose from the world's most atmospheric interiors #worldofcabana