Words by Kath Griffiths
Images from Mark Cropper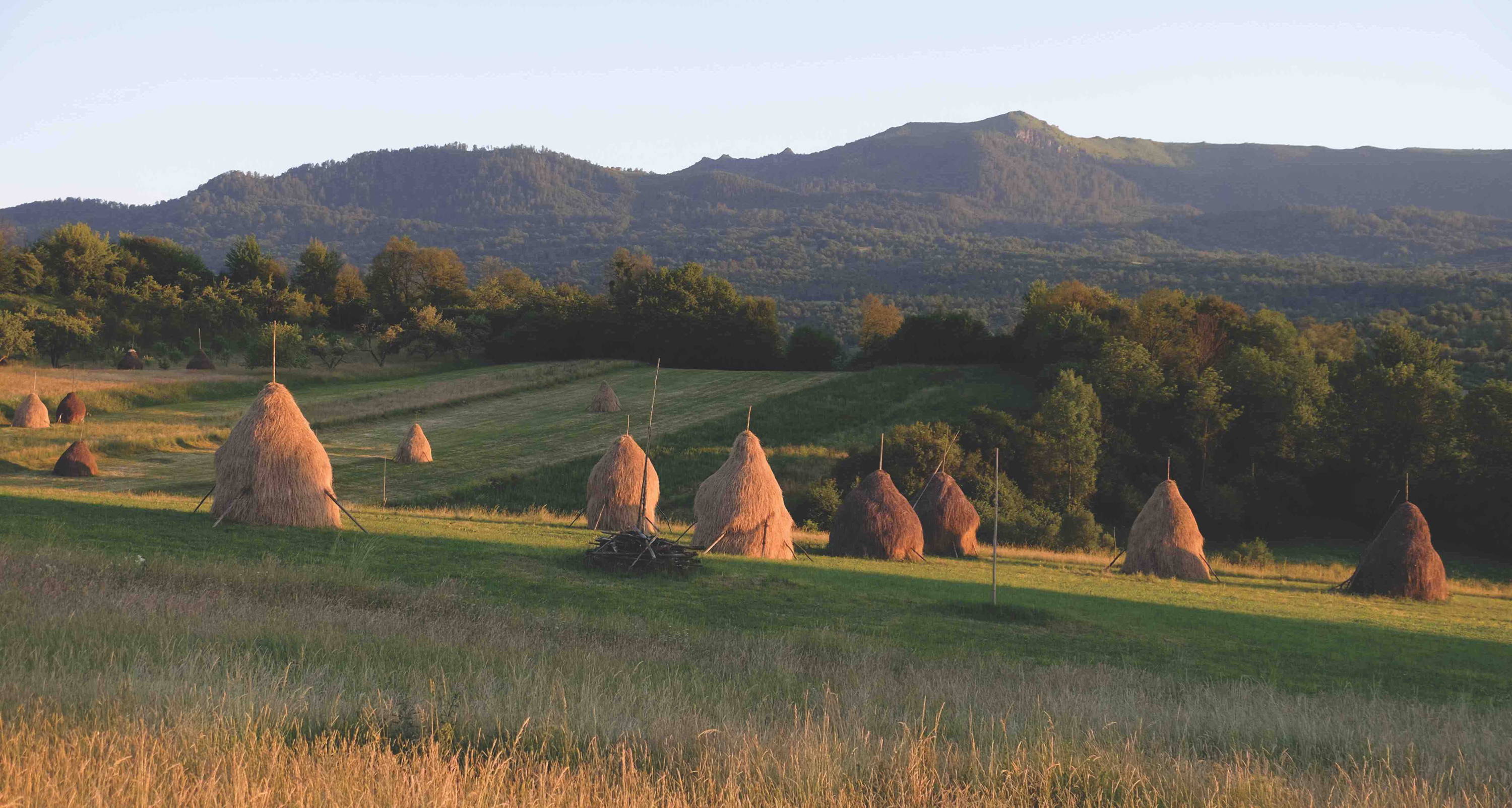 Textile dealer Kath Griffiths recently travelled to Transylvania on assignment for Cabana. You'll find the portfolio she produced, with photographs by Mark Cropper and words by William Blacker, in Cabana Issue 18. Here, Kath shares her own experiences of the fabled, craft-rich region, gathered over 20 years of visiting and falling in love with Transylvania and its mysterious old-world charms.
I first travelled to Transylvania 20 or so years ago, arriving to Brasov on the overnight train from Budapest. Having read Patrick Leigh Fermor's 'Between the Woods and the Water', a diary of his travels through Transylvania before WW1, I was apprehensive that the present-day Transylvania would disappoint. An early morning coffee on a cobbled street in Brasovs old town, with its colorful baroque houses, gothic Black church, and the snow-capped Carpathians in the near distance, gave a wonderful first impression.
I had travelled to visit a friend making a film set in the mountains, farmsteads and meadows of Szekler Land, in Eastern Transylvania. Cast and crew and I stayed in a village house. Life in this Transylvanian village was a revelation to me. We bought almost all our food from neighbours who had grown, reared or preserved it. In the evenings we watched and listened with fascination as cows came home from the pastures with the village herdsman, each one knowing when they should leave the herd and turn to the gate of their owner.
We roamed without crossing fences from wildflower meadows to wooded pastures. We travelled by horse and cart to a sheepfold high in the Harghita mountains, through meadows of wildflowers and forested slopes. The shepherd looked after the villager's sheep and the farmer travelled by horse and cart to collect the milk and cheese to return it to the villagers. I wandered along the quiet, untarmacked village roads where behind large carved wooden gates lay small farmsteads and traditional wooden gabled houses. I was a stranger to country living;

 

the simplicity, beauty and connection with nature and the earth was magical to me.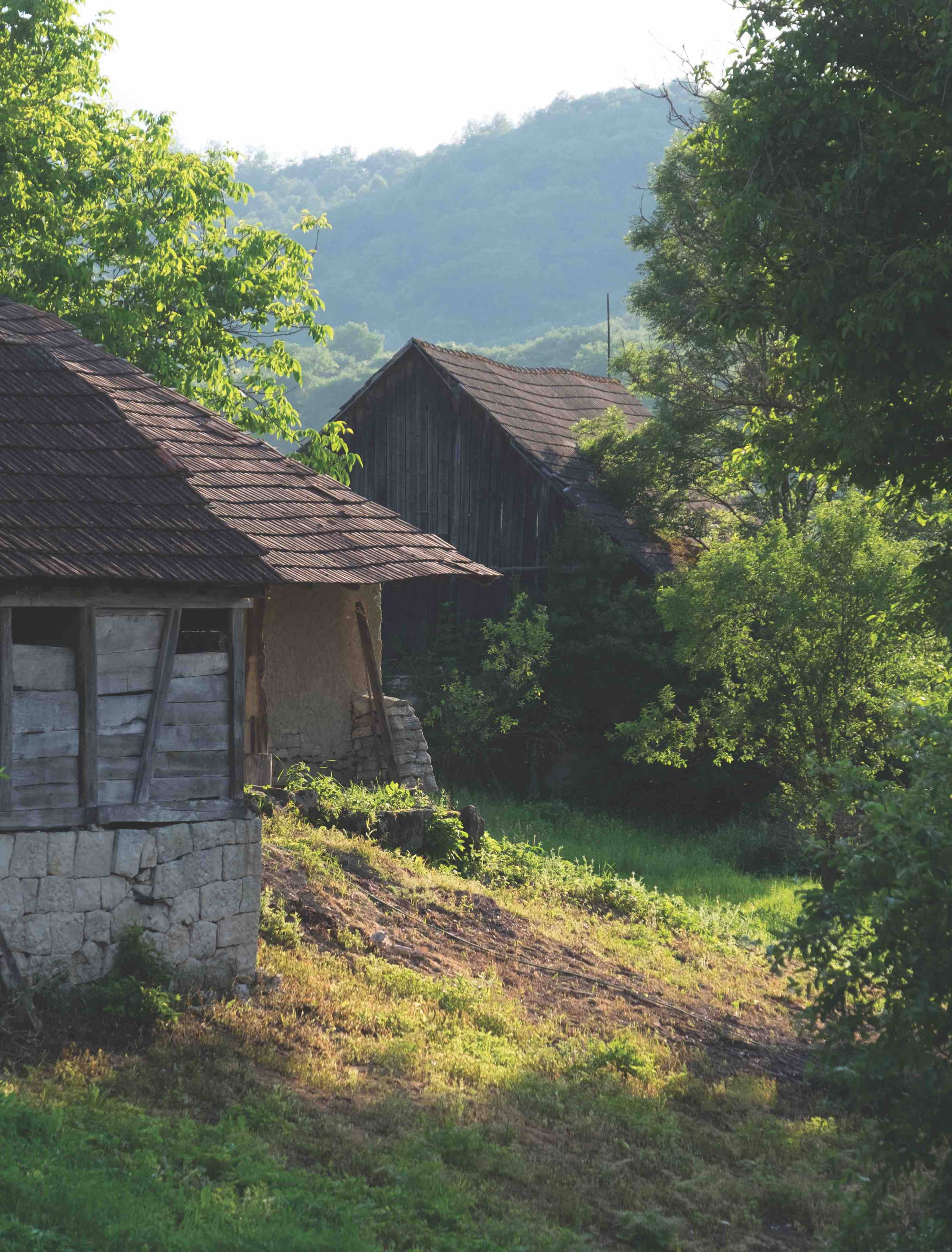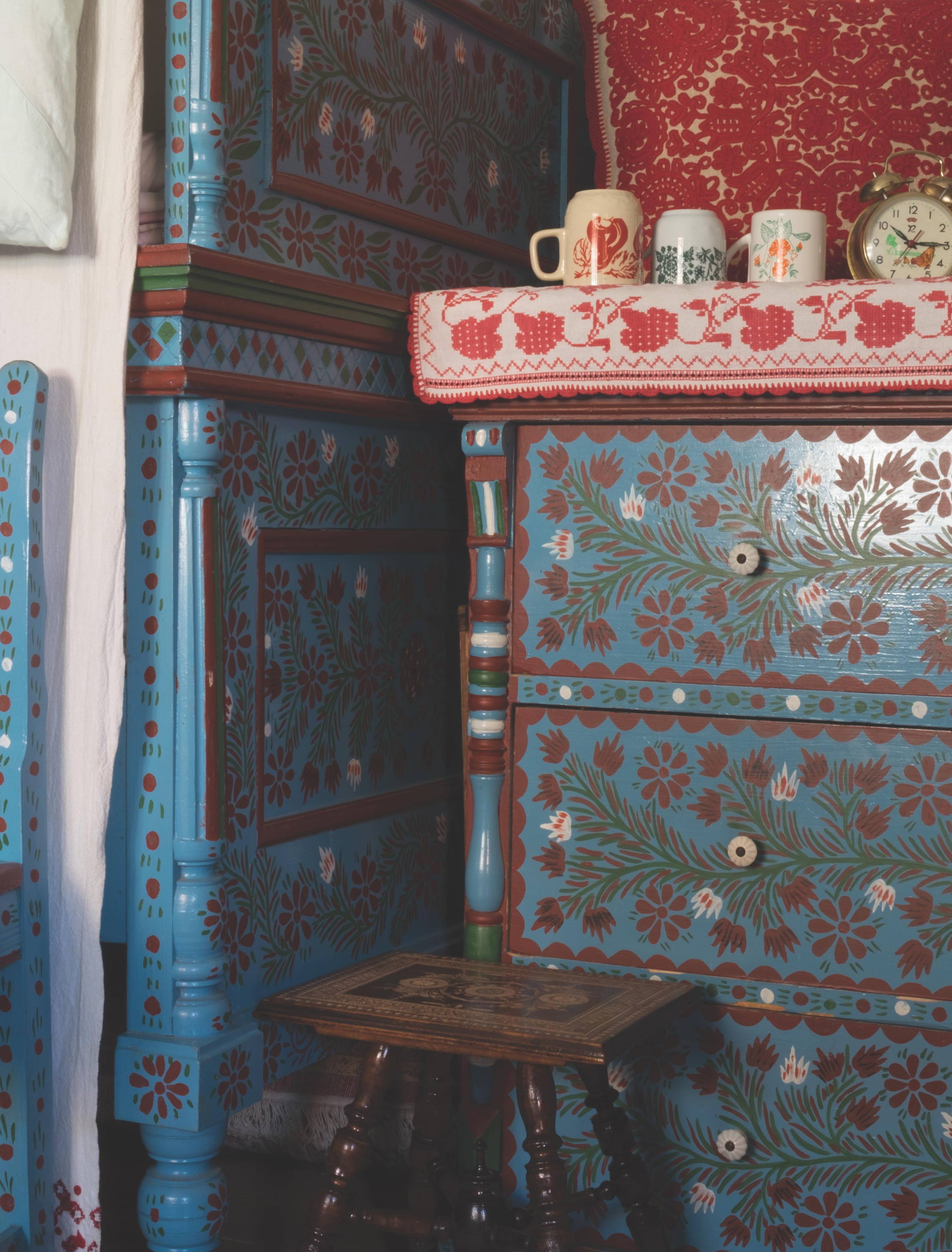 "These rooms are not redundant relics of the past. People still gather here on special occasions; they hold textiles, costumes and confirmation crowns that are used or worn as the occasion demands."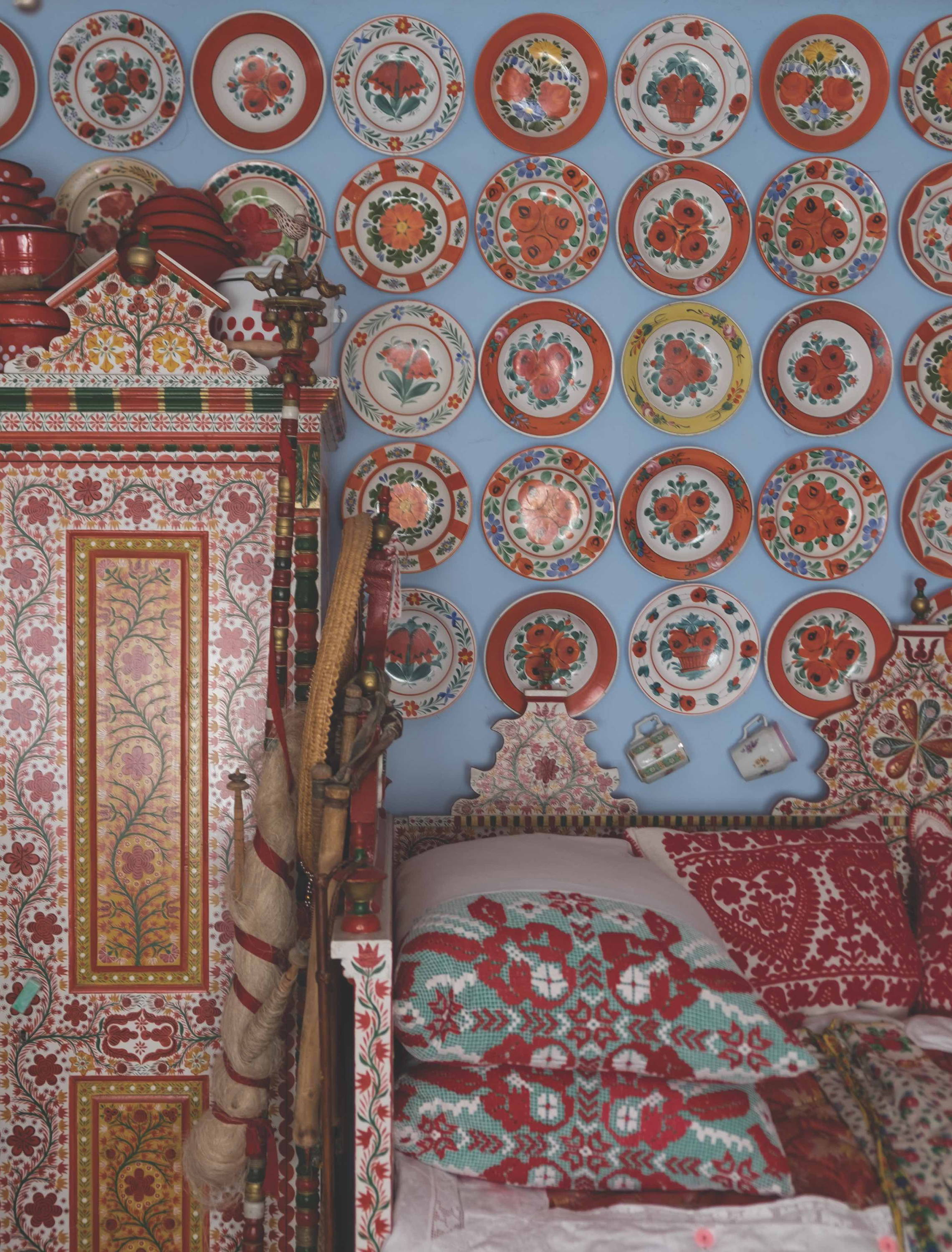 Since then, I have visited Transylvania many times. Culurally rich and diverse, the region is home to Romanians, ethnic Hungarians, Roma and Saxon Germans. It has more than its fair share of grand cities, but to me the real beauty and enchantment lies in the villages, and the way of life and traditions that have endured, tenuously, surviving wars and political upheaval. There are more fences now and fewer trees, more tarmac, more concrete, fewer traditional houses, fewer horse drawn carts, but the landscape is still magnificent. Foreboding mountains, rolling hills with the iconic conical haystacks (pictured, top), and wildflower meadows.
People still work the land in traditional ways, grow their own food and raise their own animals, and artistic traditions are still very much alive. The Land of Calata (hun Kalotaszeg), a largely Hungarian area to the west of Cluj, is where many Hungarian folk traditions have endured. It is the home of the irasos embroidery, where village houses with heavily decorated rooms are not uncommon - and although the practice of presenting the dowry treasures on the wedding day no longer exists these rooms are a sight to behold.
There are walls adorned with painted plates, painted chests packed with carefully rolled pleated skirts and aprons, and beds draped with home woven, embroidered cloths and piled high with decorative pillows. These rooms are not redundant relics of the past. People still gather here on special occasions, they hold the textiles, costumes and confirmation crowns that are used or worn as the occasion demands.
The villages of Saxon, with their pretty colorful houses and magnificent fortified churches, lie in bucolic landscapes. With very few exceptions you won't find restaurants or coffee shops here, but you will find a haven of tranquillity and beautifully restored village houses, an area perfect for cycling and walking the quiet roads and tracks. In Maramures, with its wonderful wooden churches, traditional ways of life and colorful carpets, felt is still made in traditional mills with pounding wooden beaters snd women still weaving on their home looms.
The fields are alive with people planting, growing, scything on terraced slopes with little automation and there are also signs of hope, the repopulation of some of the villages and a new pride in Transylvanian traditions, with many doing amazing work to preserve the cultural heritage of their land.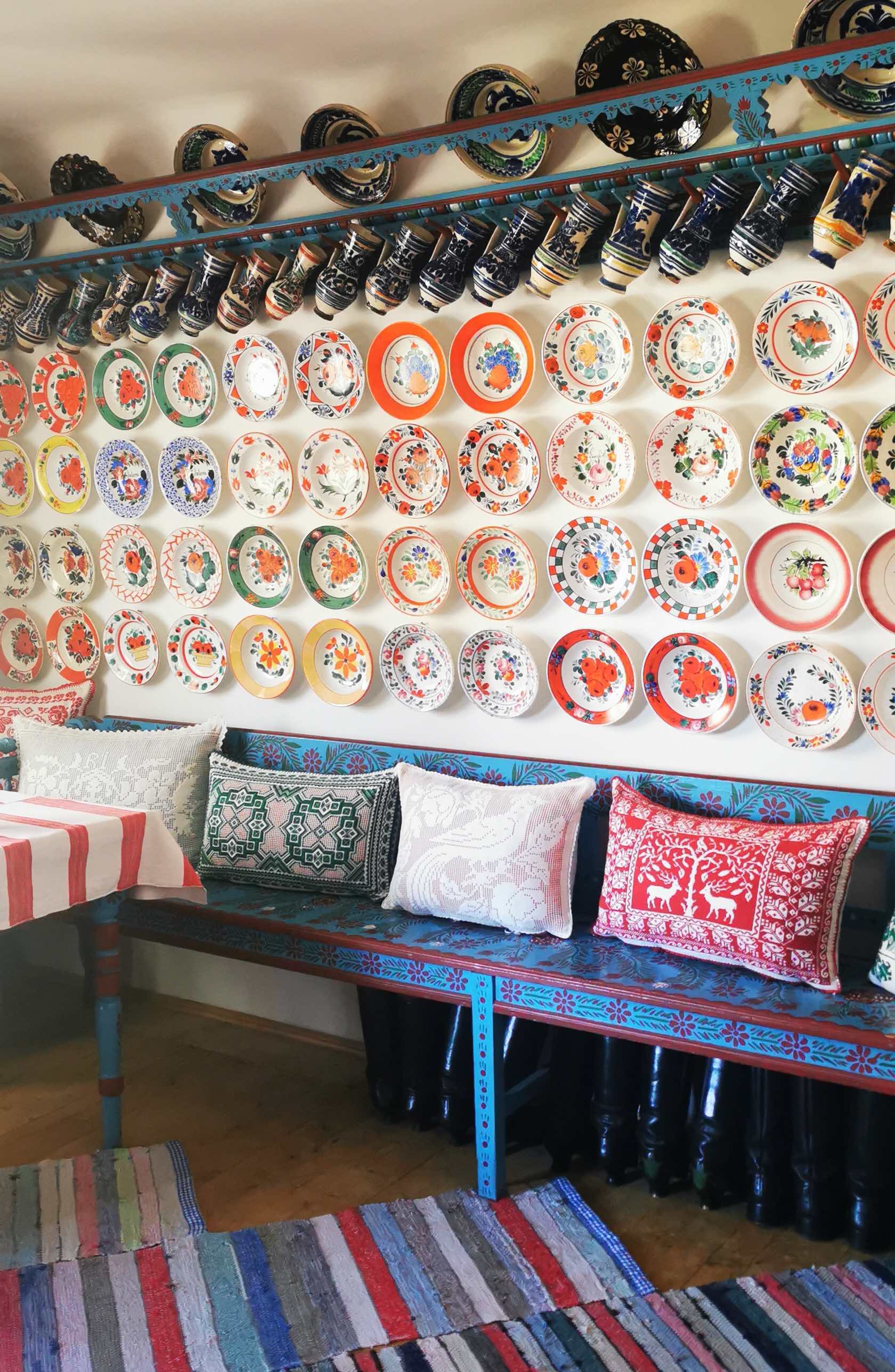 Explore More
Discover striking photography and thoughtful prose from the world's most atmospheric interiors #worldofcabana