Interview by Sophie Goodwin
Images from
Vanessa Garwood
and
Jake Gavin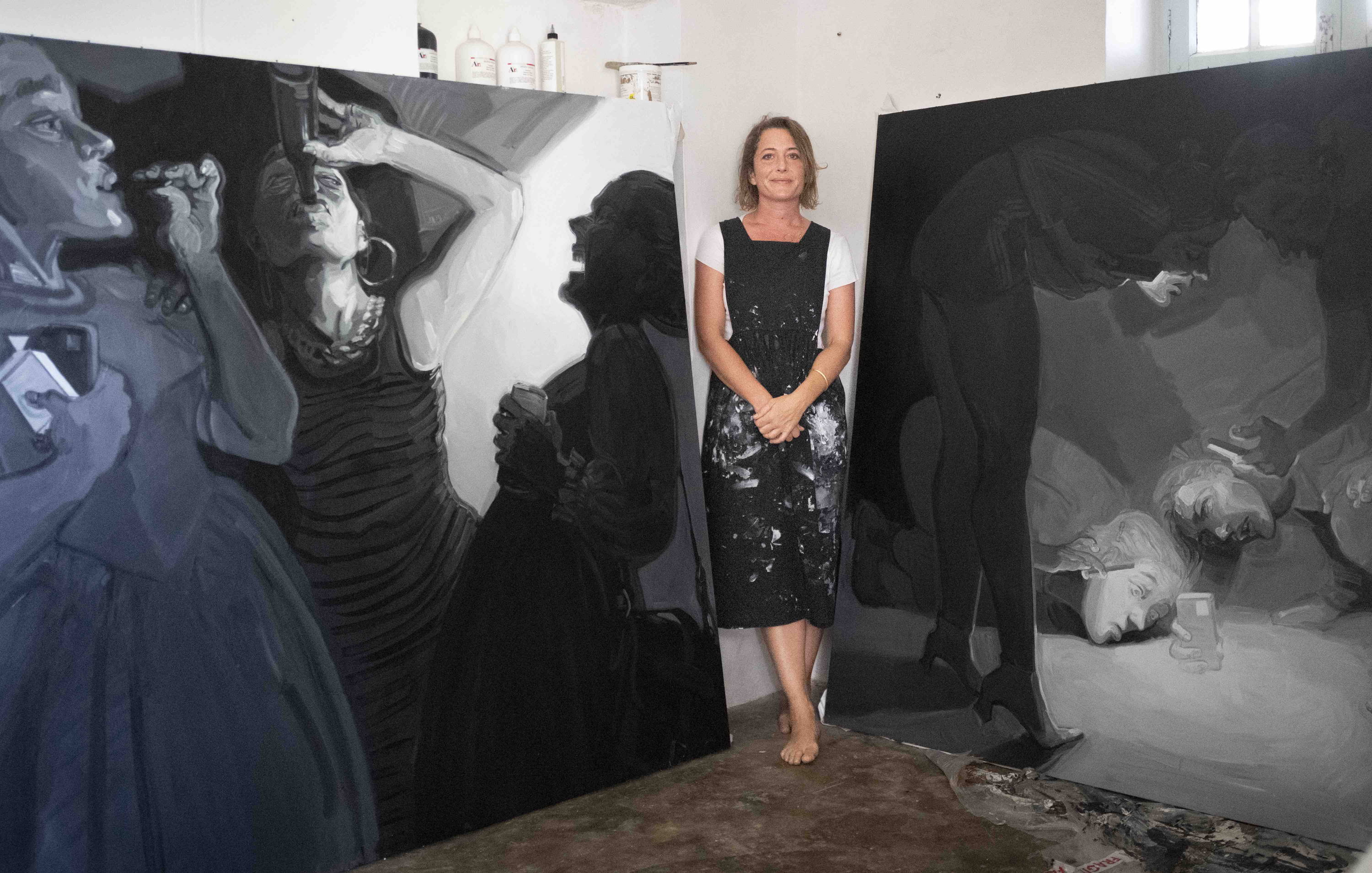 Sophie Goodwin talks to Israeli-born portrait artist, Vanessa Garwood, about being governed by wanderlust, her search for the light and moving away from traditional oil painting into social commentaries on canvas.
Who or what most inspires you?
Two main portrait subjects keep cropping up: ballet dancers and nude men. I wanted to be a dancer myself until I got an injury when I was 15; ballet and portraiture have many links in my mind. They both use classical technical history and the human body to tell stories and express feelings. Additionally, dancers have unique aesthetic qualities, so studio sittings become an exciting collaboration. The process almost makes me feel like I'm dancing too. My interest in painting nude men, by contrast, came from wanting to elicit change.
Very few of the nude male portraits that come to my mind were painted by women, and I think it's important to discuss what it feels like for a woman to look at a man. As a painter, I enjoy exploring a shift in dynamics or control between the artist and the model, and how this is reflected onto a canvas. I began solely focusing on the female gaze, but the subject developed through conversations with my models. Sittings helped me to understand how vulnerable men can feel about their bodies, so I became more aware of their feelings, and our modern flawed perception of masculinity; it makes so many of them unhappy. There is a lot of aggressive and over-sexualised nude content, which we cannot stop, but what we can do is provide alternatives. I try to make something positive and celebratory about the male body, in all its forms.
Are there any themes running through your work?
The balance between dark and light, both in metaphor and composition. Whatever the subject I find a push and pull of both these things, in terms of shape and principle.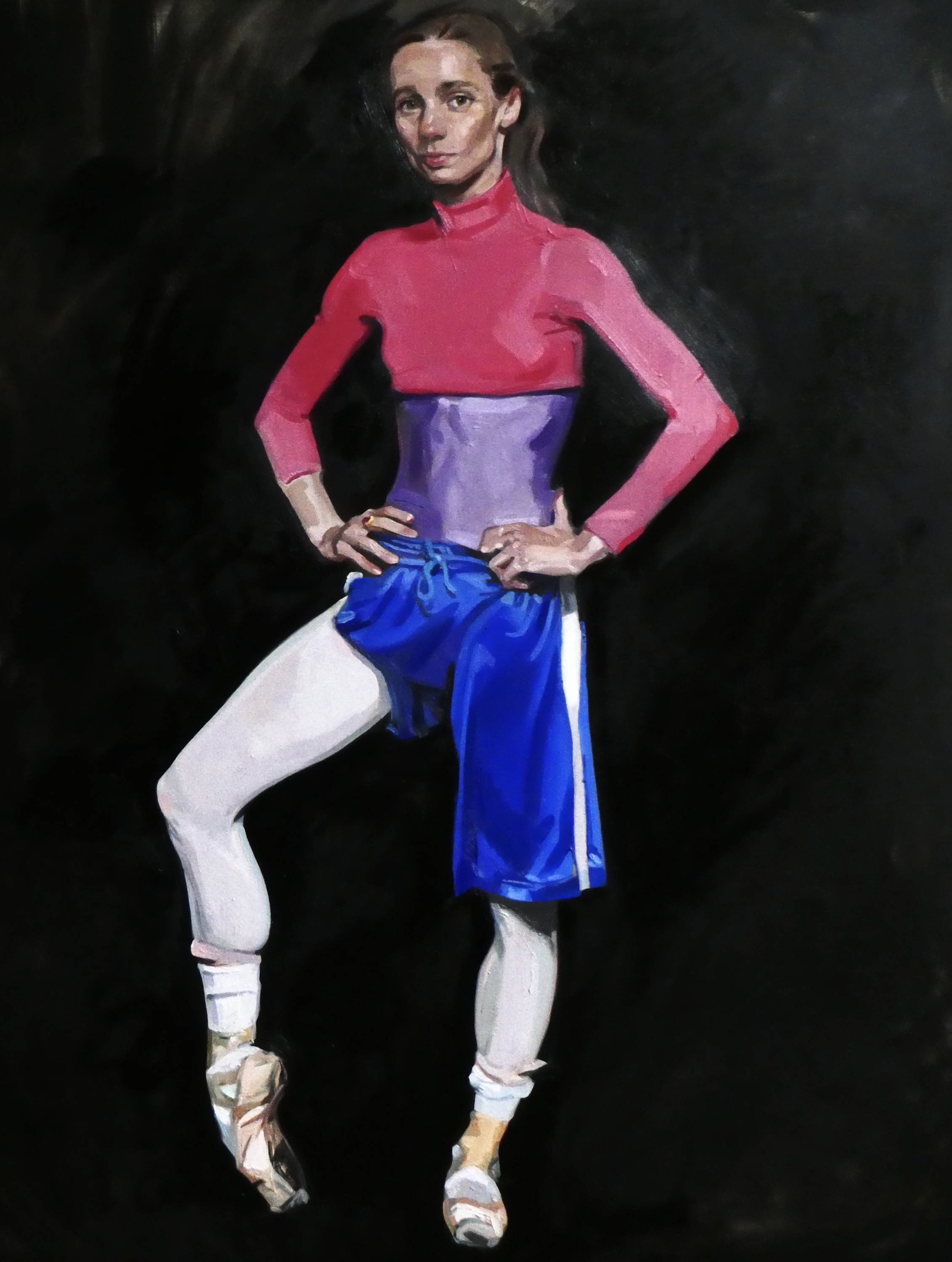 Your portraits often focus on people close to you. How do you portray relationships and emotions in your art?
I want to portray what it feels like to be around someone, rather than just copy their face. I layer moments stitched together, multiple observations and different expressions. How we envisage individuals is selective, art is about finding the difference between seeing and perceiving.  However, I do often paint people that I don't know, which is more about gut instinct.
How and where did you learn to paint?
I always drew as a child - it was made into a game by my parents - and I went to adult life classes when I was eight. I became stubbornly obsessed with portraiture at 18, attending Charles Cecil art school in Florence, one of a few old-fashioned ateliers that teach technical drawing and oil painting skills in the way one would have learnt in the Renaissance. I studied for three years, then shifted towards developing my own more personal language with paint.
What are you working on at the moment?
My recent studies are large-scale social commentary acrylics. These are much more personal than anything I have painted before, informed by fragments of my memories - part nightmare, part comedy. They illustrate what it's like for a woman to exist in a western fast-paced city. Satire is important to me in my work. I am in awe of the complexities in human existence and find navigating through it only possible with humour and compassion.
I explore a nostalgia for the sexy, fun hedonism of youth, contrasted with the horror for our modern ways. This recent series takes an unapologetic, empathetic look at the sort of contemporary women I know, and that I am myself. We are all ultimately flawed. I use black and white to continue a visual dialogue with the etchings and engravings made at the end of the 20th century. These artists often presented systems of power and money, status, human frailties and political struggle using irony, and I wanted to see my own experiences painted and reflected in this way, creating commentary on the macabre incongruity of modern life. The idea of life being 'black or white'/'good or bad' is something I struggle to grasp. I see more evidence that right and wrong is mostly subjective, instead we exist in a shifting multitude of grey.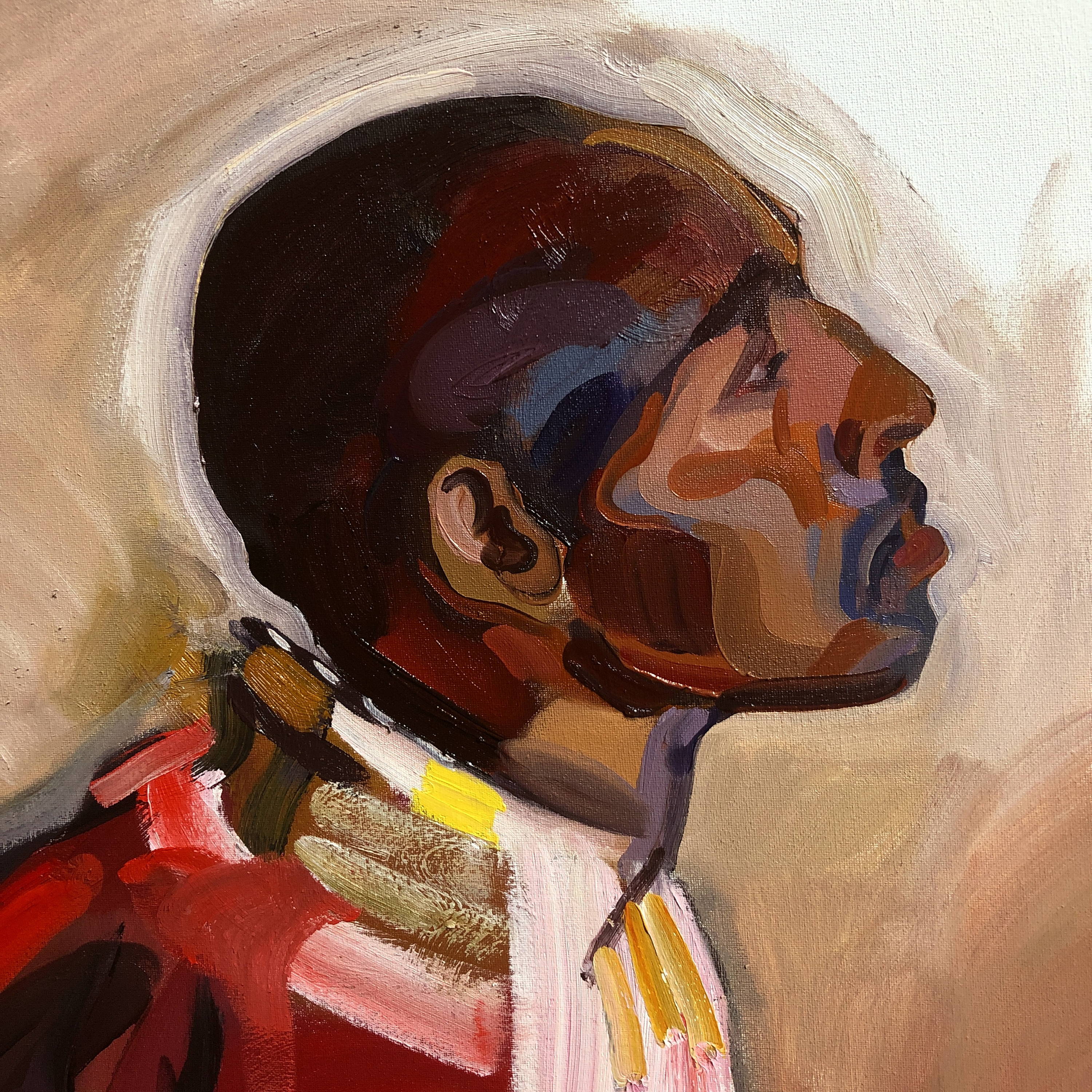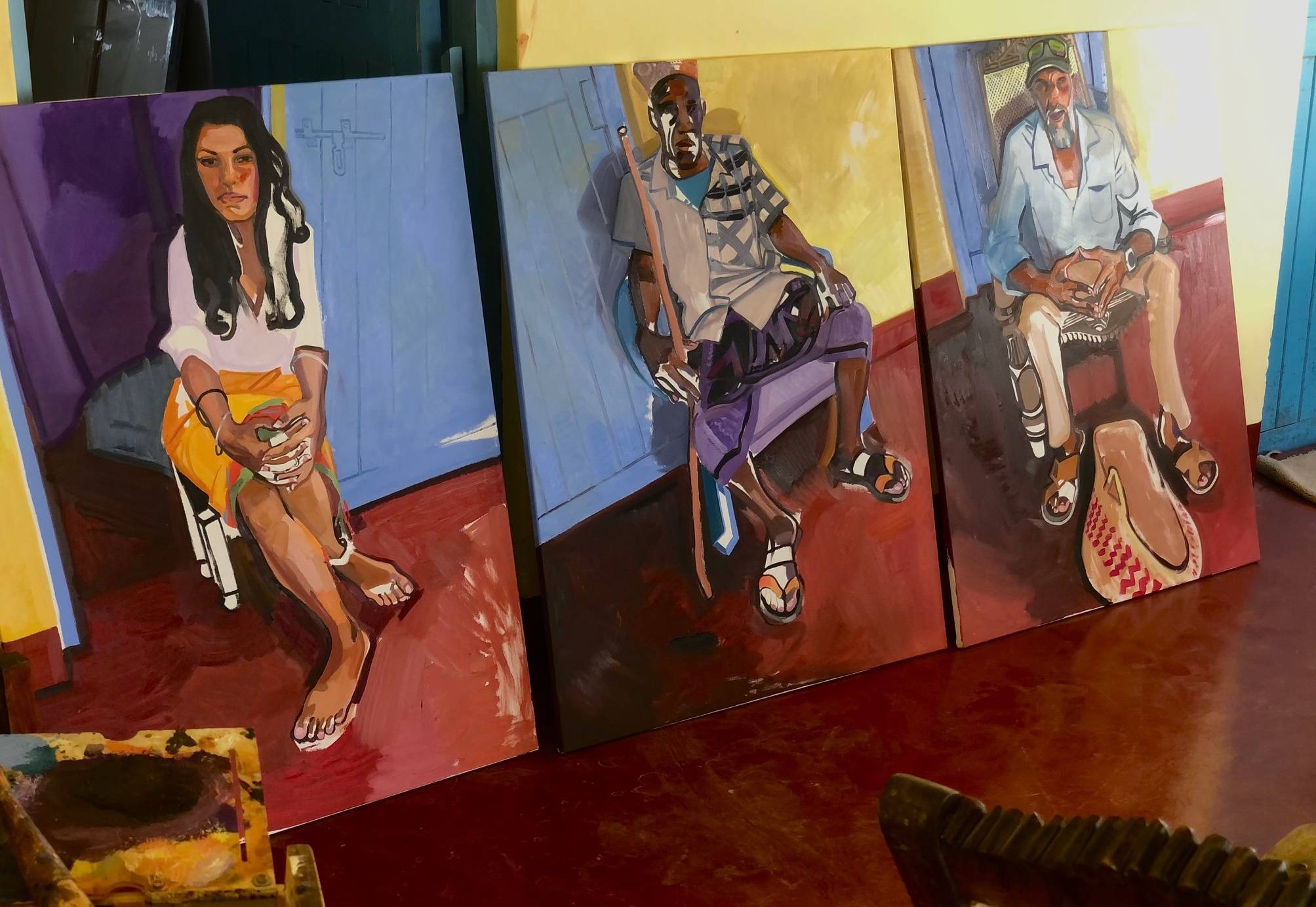 Where is your happy place?
Bar being with people I love, periods of uninterrupted creativity abroad with no other obligations.
And where is home? In your heart and in your mind?
London right now - I love the theatres, dance performances and galleries - but I'm about to shift my base to Europe. I can't seem to settle as I fall in love with everywhere I go.
You have worked all over the world, most recently based in Lamu, Kenya. How important is a sense of Wanderlust to you and your creativity?
A few years ago, I found a studio to work from during the winter, partly in a bid to search for light (London gets dark and heavy in the winter, as does my mood), but also to explore new ideas. I've been developing my painting outside of portraiture, which means that I don't have to be in one place all the time for sittings. Being in vibrant cultures and surroundings makes me much more curious. The last two winters I have been in Kenya; during the pandemic I made a series of portraits of locals working in charity or conservation exhibitions, raising awareness and funds. This year, as a result, I made most of my new social commentary paintings.
You work with oil, acrylic and many other mediums. What leads you to explore new processes and patterns?
It's like learning a language; you can find words to describe things that previously couldn't be expressed. I've been using acrylic for about a year and it has helped me to move away from the traditions of oil. Acrylic, because it's fast drying, made me connect the way I paint to the way that I draw. I basically enjoy doing things that force me to be inventive. Life is too big and too varied to stick to one thing.
Your favorite artwork or artist?
Goya's black paintings and etchings, which he did at the end of his life. Nicole Eisenman is a more recent favorite.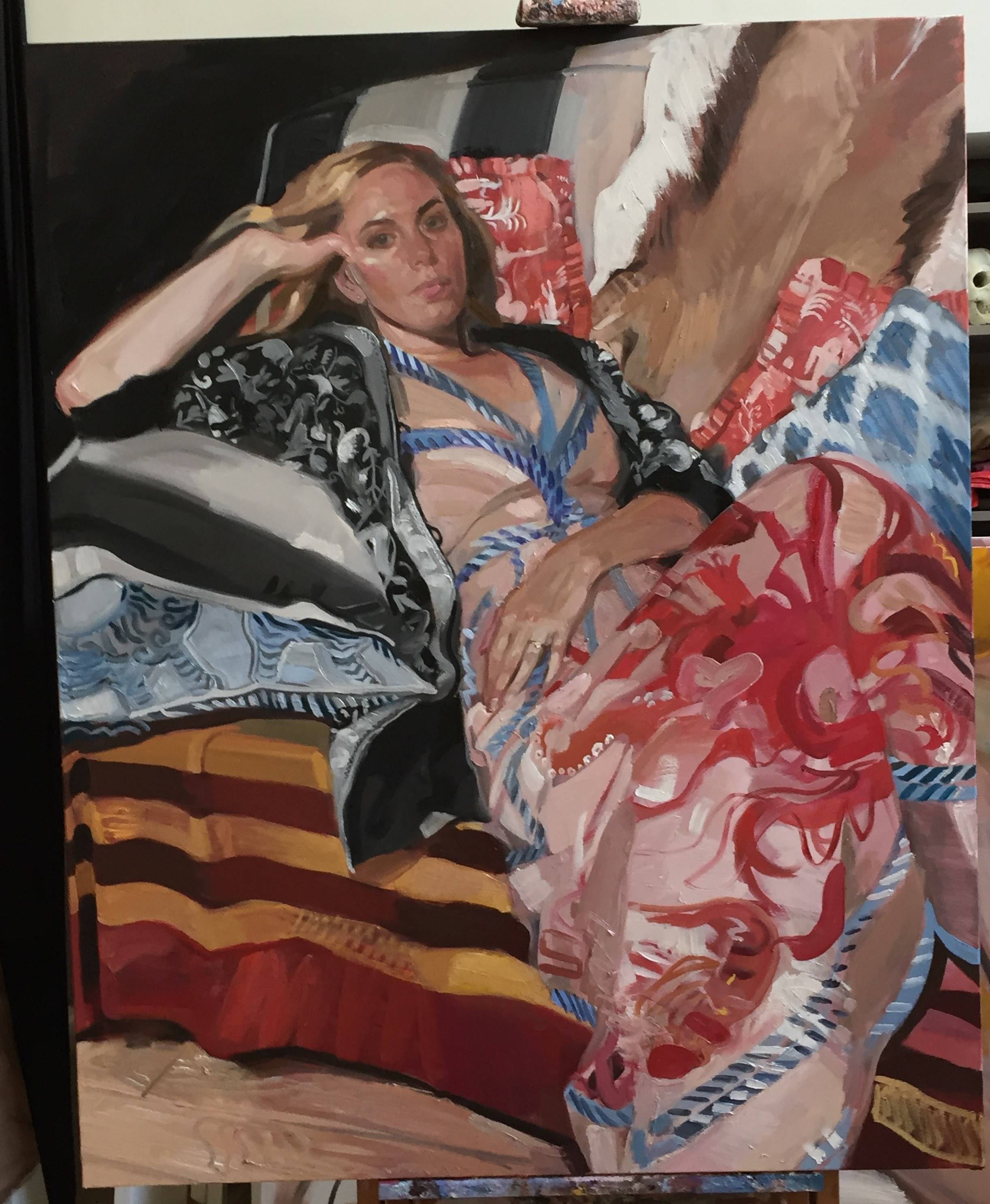 How do you research and plan your paintings?
I keep a note on my phone of random words and ideas. Sometimes one of these just sticks - so much so that the painting becomes real in my mind. I sketch first from my imagination, then position myself in strange positions in my studio to try out new light sources and compositions.  The end result might not look much like the initial idea, as creatively I'm bored by simply executing something too literally. It's ultimately about changing my mind as I go along, and the developmental process.
How would you describe your creative process?
Each work is different, but the common denominator is listening to loud music. As I always paint standing up, music makes me feel energised. I want to move and feel present in my body, plus it drowns out my internal monologue! I believe in time investment and discipline.  In life you have to access a flow state even when it's not there or feels impossible.
What are your professional and personal objectives? Both long and short term.
An exhibition. Plus, my more ambitious dream is to design and sculpt an elaborate fantasy house/ sculpture garden: a mix of Niki de San Phalles' Italian tarot garden with Edward James' Mexican Las Pozas.
And what's in store for you over the next six months?
Painting in Mexico City over the winter; I tend to divide my life in half: London for portrait commissions and abroad for creativity. I'm not sure what I'll be painting in Mexico, but I can't wait to find out.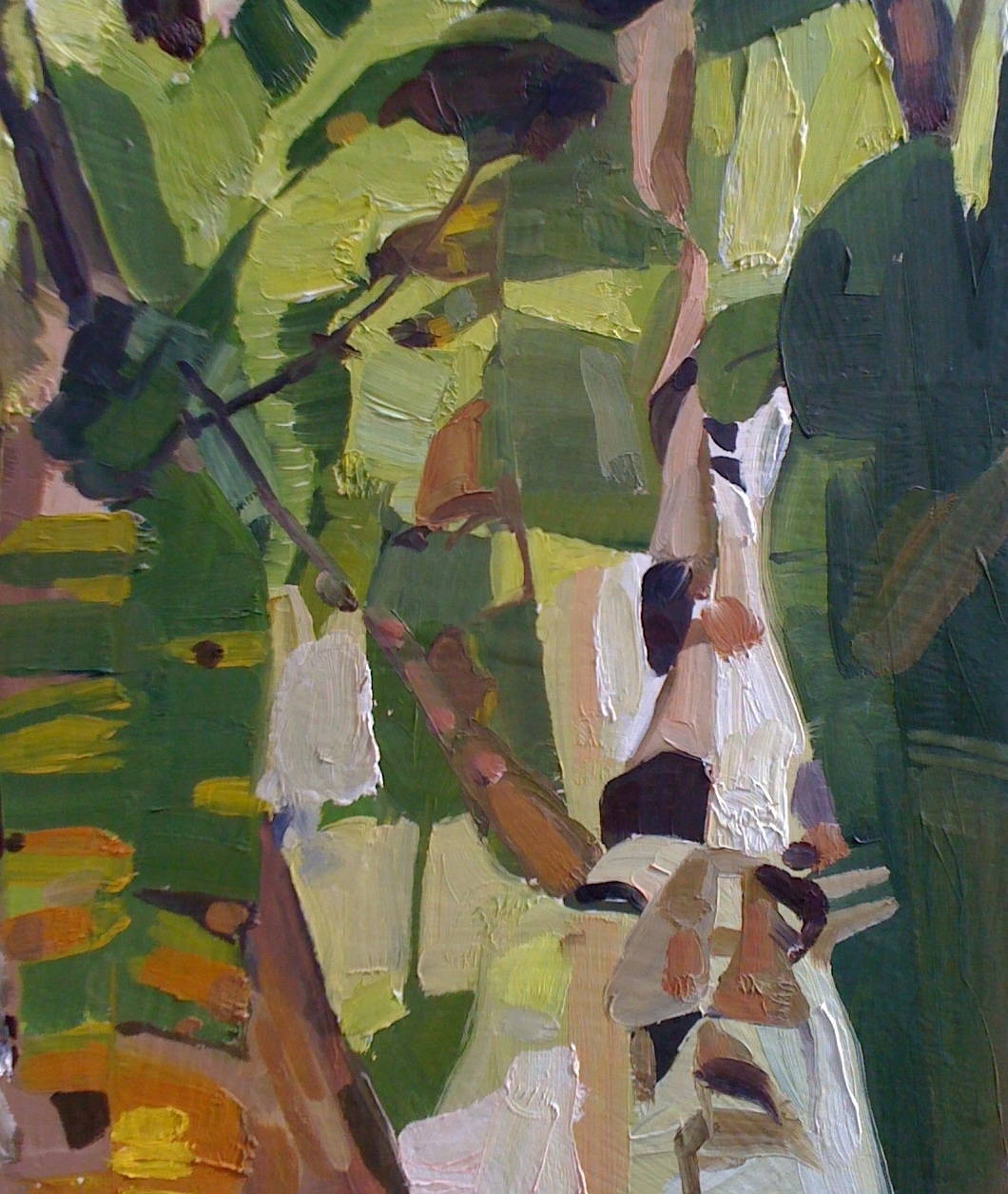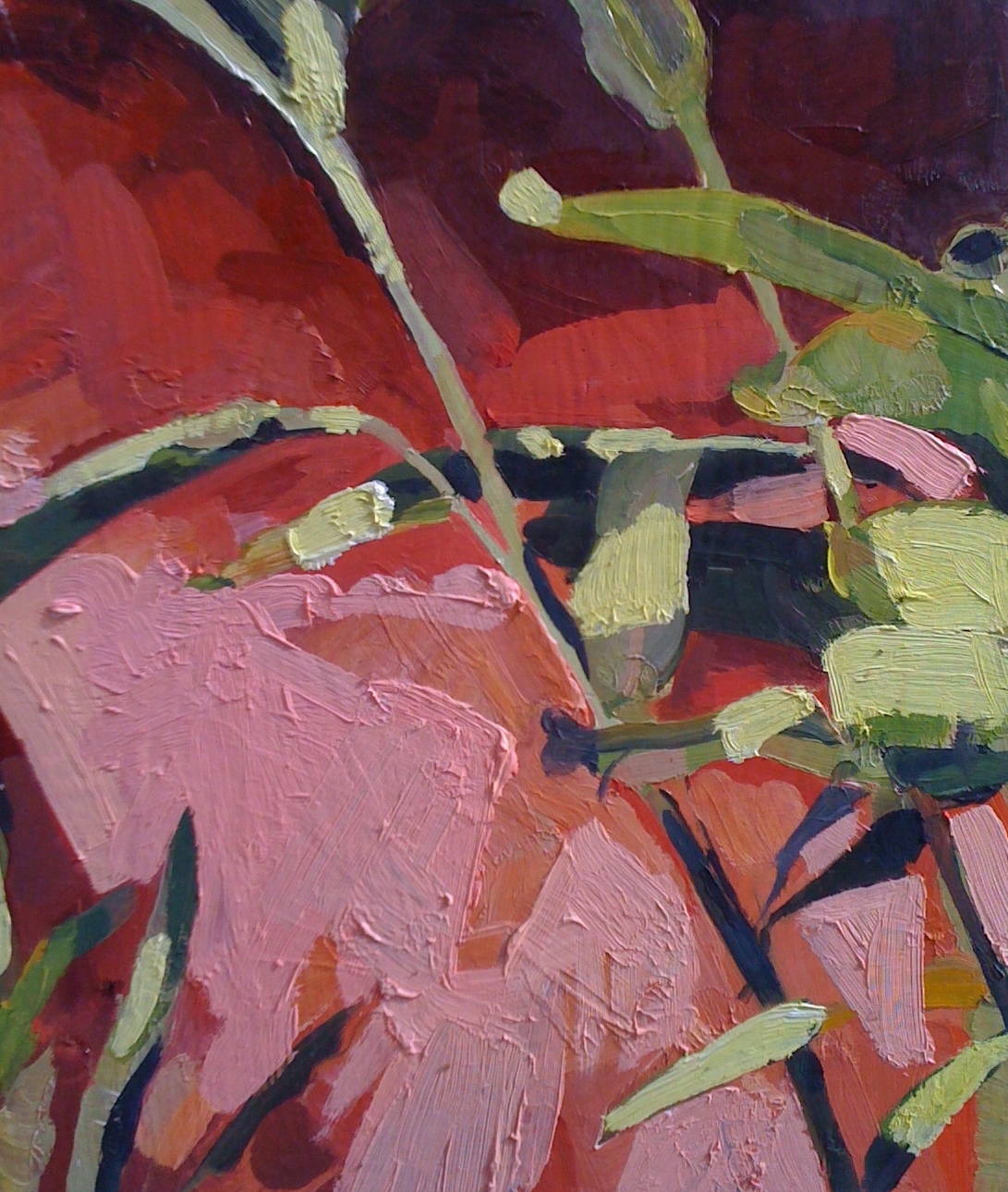 Explore More
Discover striking photography and thoughtful prose from the world's most atmospheric interiors #worldofcabana