Words by Camilla Frances
Images from Christian Kain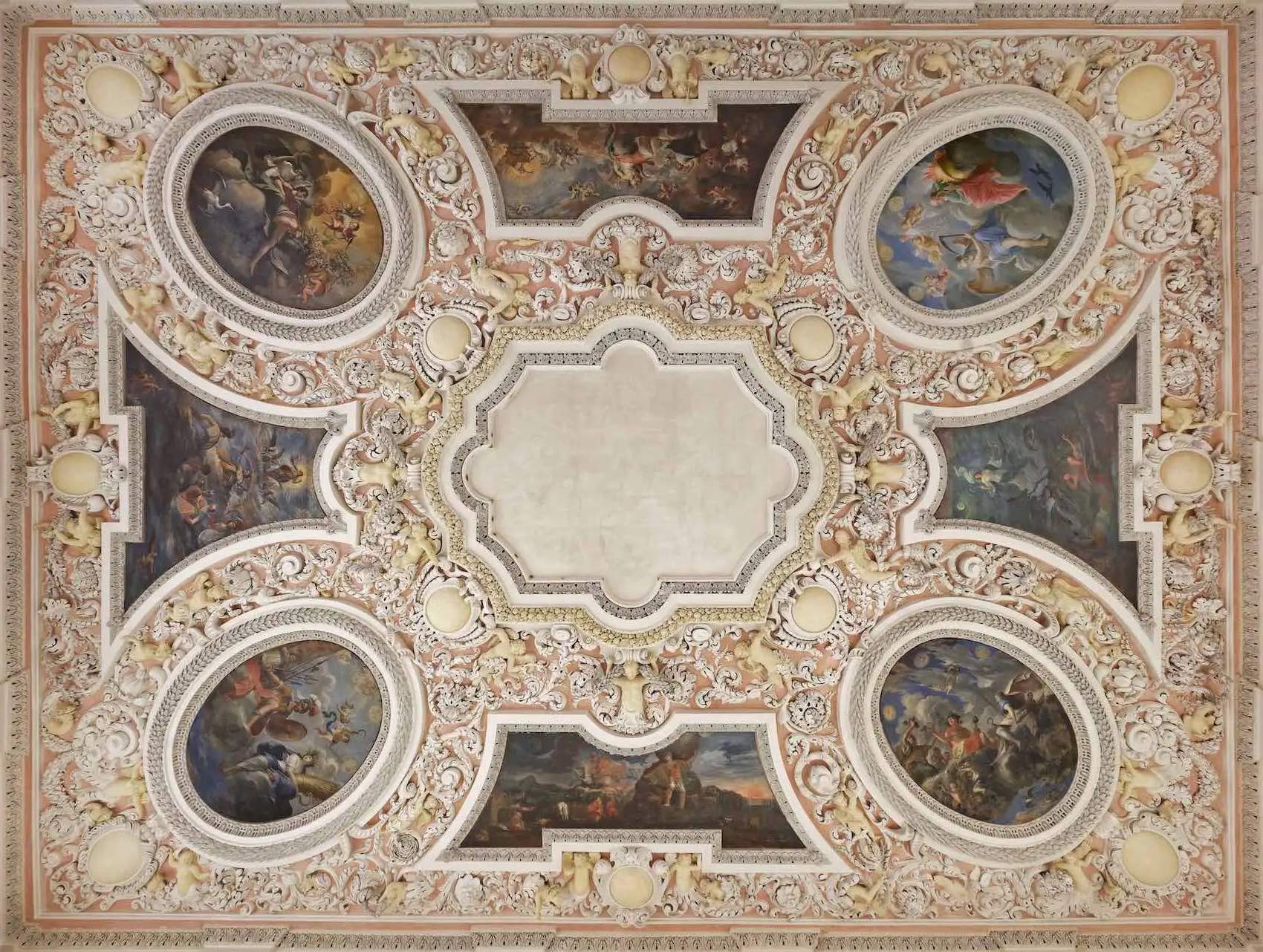 A missing masterpiece, a Bavarian castle, one of Germany's oldest noble families and an exciting British artist - Camilla Frances discovers a 100-year mystery and its highly creative resolution.

When a fire engulfed a warehouse in Munich some 100 years ago, no one could have known its flames would spark a family mystery and a century of questions. For among the items destroyed in the blaze was a vast Baroque painting that had, since the 17th century, graced the ballroom of a Bavarian Palace: Schloss Oettingen Castle in the small town of Bayern. Painted in the late 1680s by the Nuremburg artist, Johann Murrer, the gargantuan work – nearly seven meters in width – had been the centrepiece of the 50m ballroom's jaw droppingly ornate nine-meter-high ceiling, but, so family folklore relates, was stationed in Munich for restoration when the fire broke out.
Built between 1679 and 1685, the castle is the family seat of the noble German family, the House of Oettingen-Spielberg. Murrer's allegorical paintings – oils on canvas depicting the seasons and hours throughout the day – sit in a dream-like plasterwork ceiling that towers above the ballroom, decorated with stucco vines and cherubs.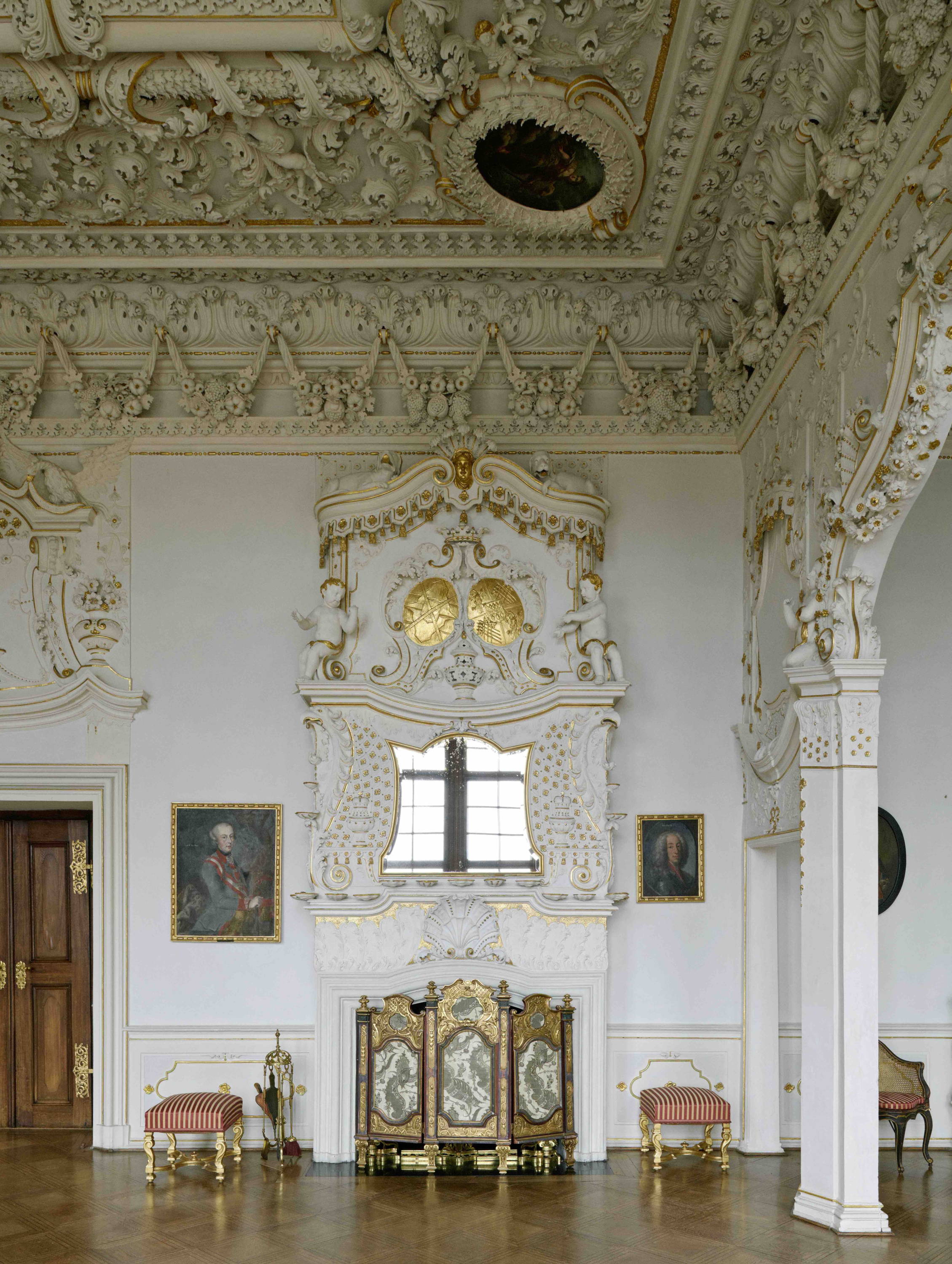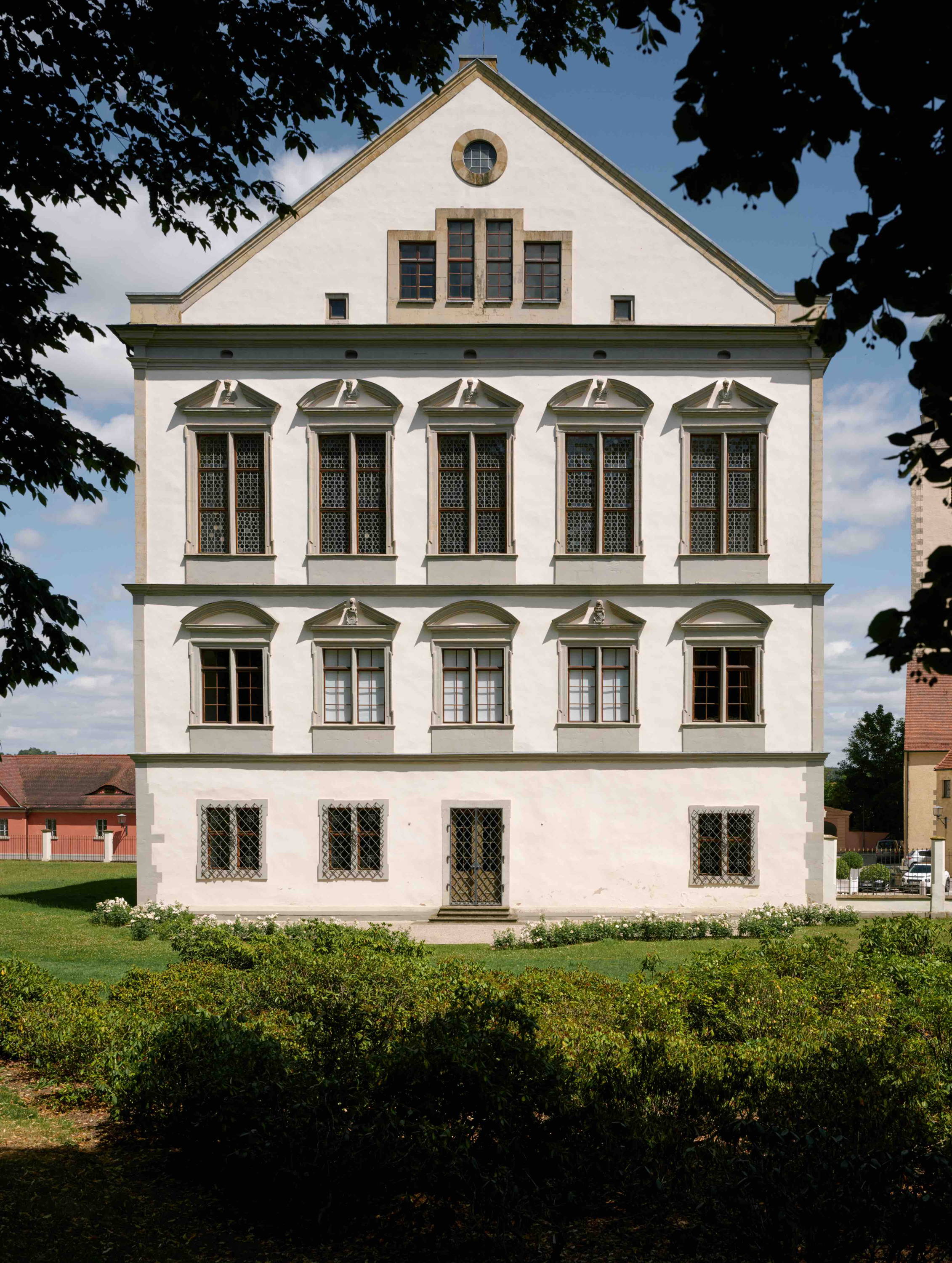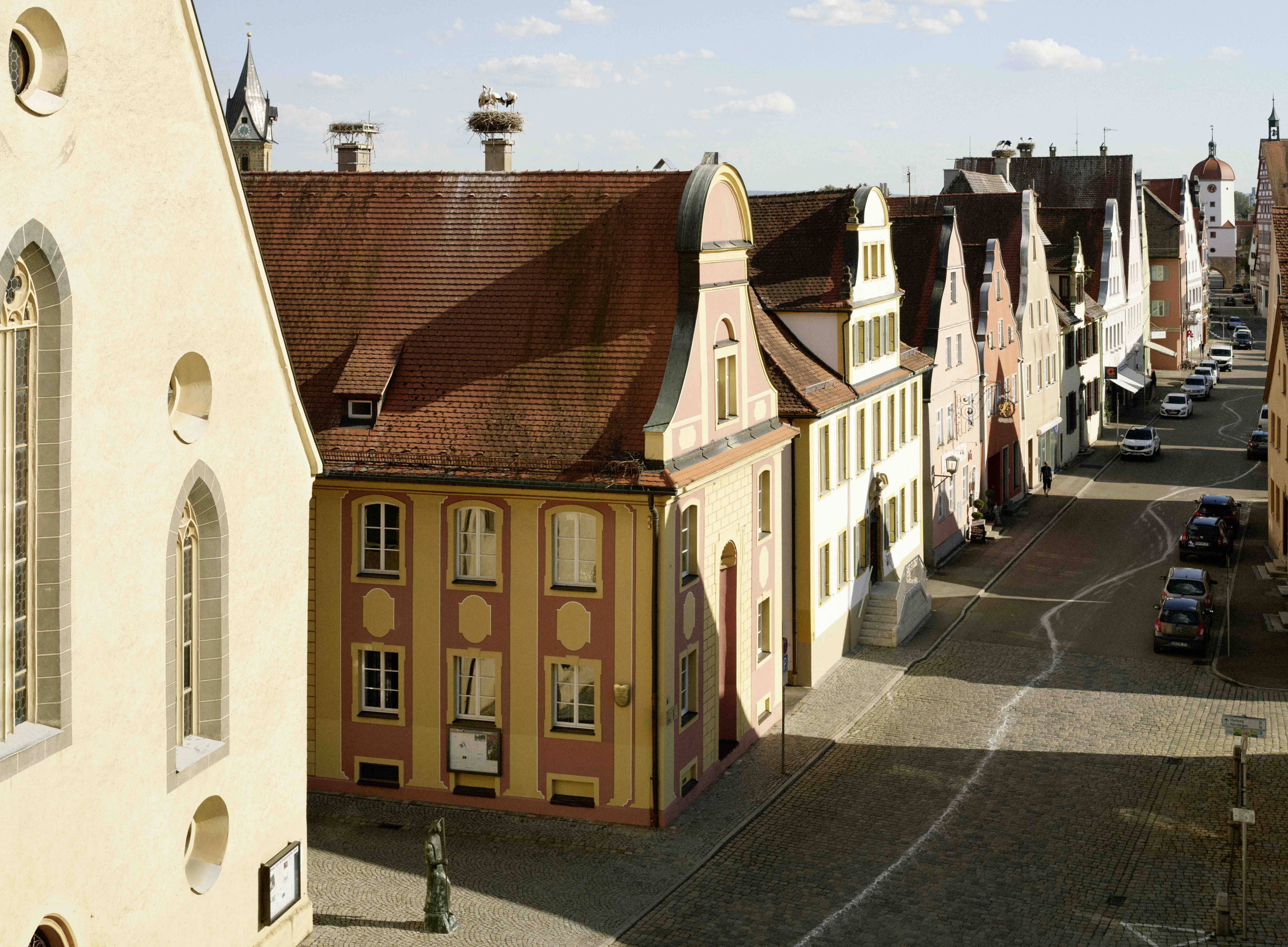 Murrer's centrepiece would have been a marvel, a feat of both artistic and architectural excellence, yet the painting's subject matter remains a total mystery; not one record of the artwork – written or photographic – is known to have survived the World Wars. Even family memories and anecdotal history were wiped out. "We have no photographs or even a good description, so neither my grandparents, nor my parents or I, have a clear idea [of the painting]," confirms Albrecht Ernst, 11th Prince of Oettingen-Spielberg.
And so it was that the ballroom's ceiling remained incomplete for many decades, its empty centre conspicuously absent, looming over proceedings like the missing piece of an enormous jigsaw puzzle. Naturally, the family discussed a replacement, but struggled to reach a consensus. Should they commission a Baroque replica, or a modern artwork? But of what and by whom? After all, to replace Murrer's centrepiece would, in effect, be repainting history – a task so daunting that it stayed on the proverbial to-do list for over a century.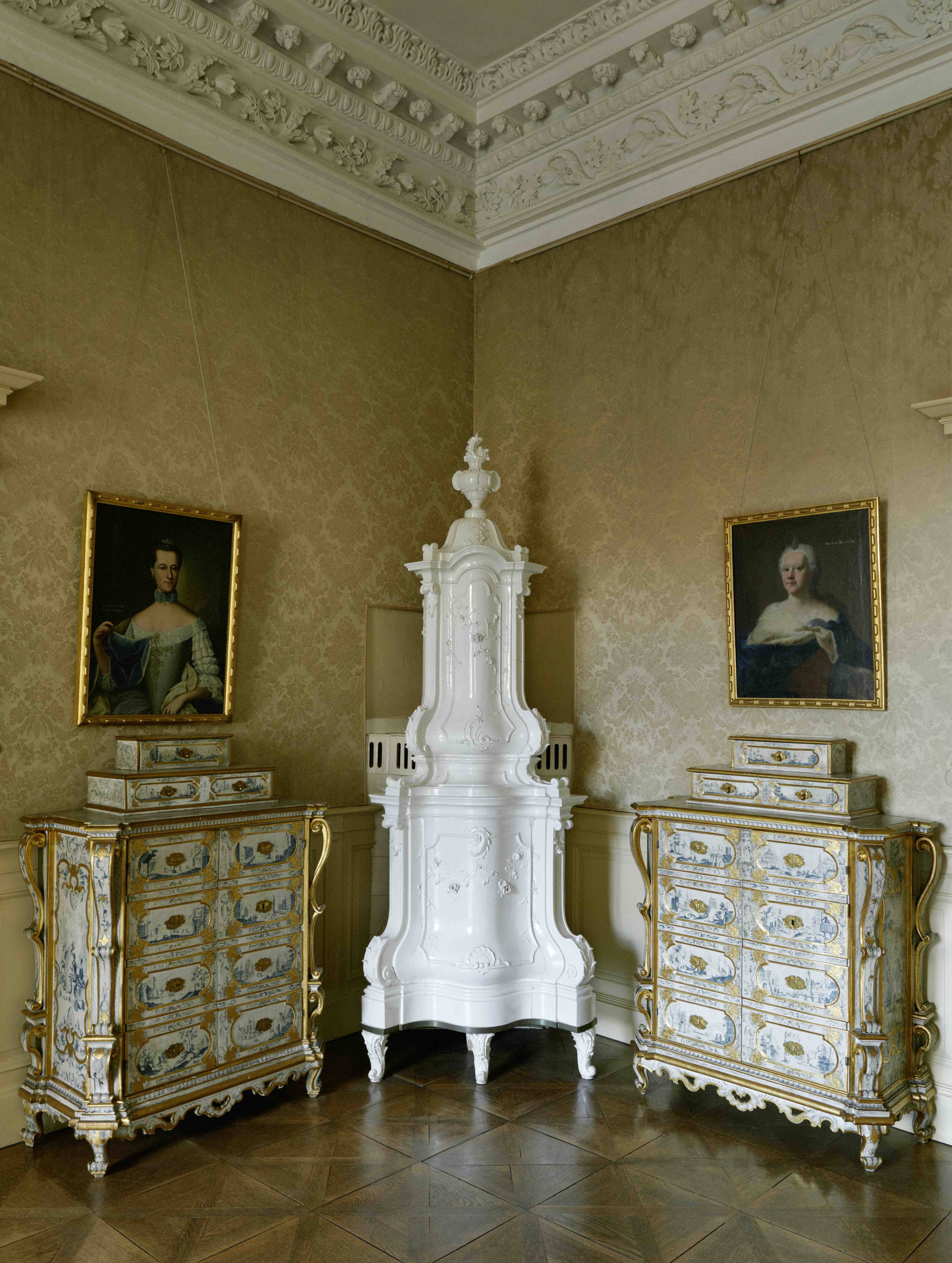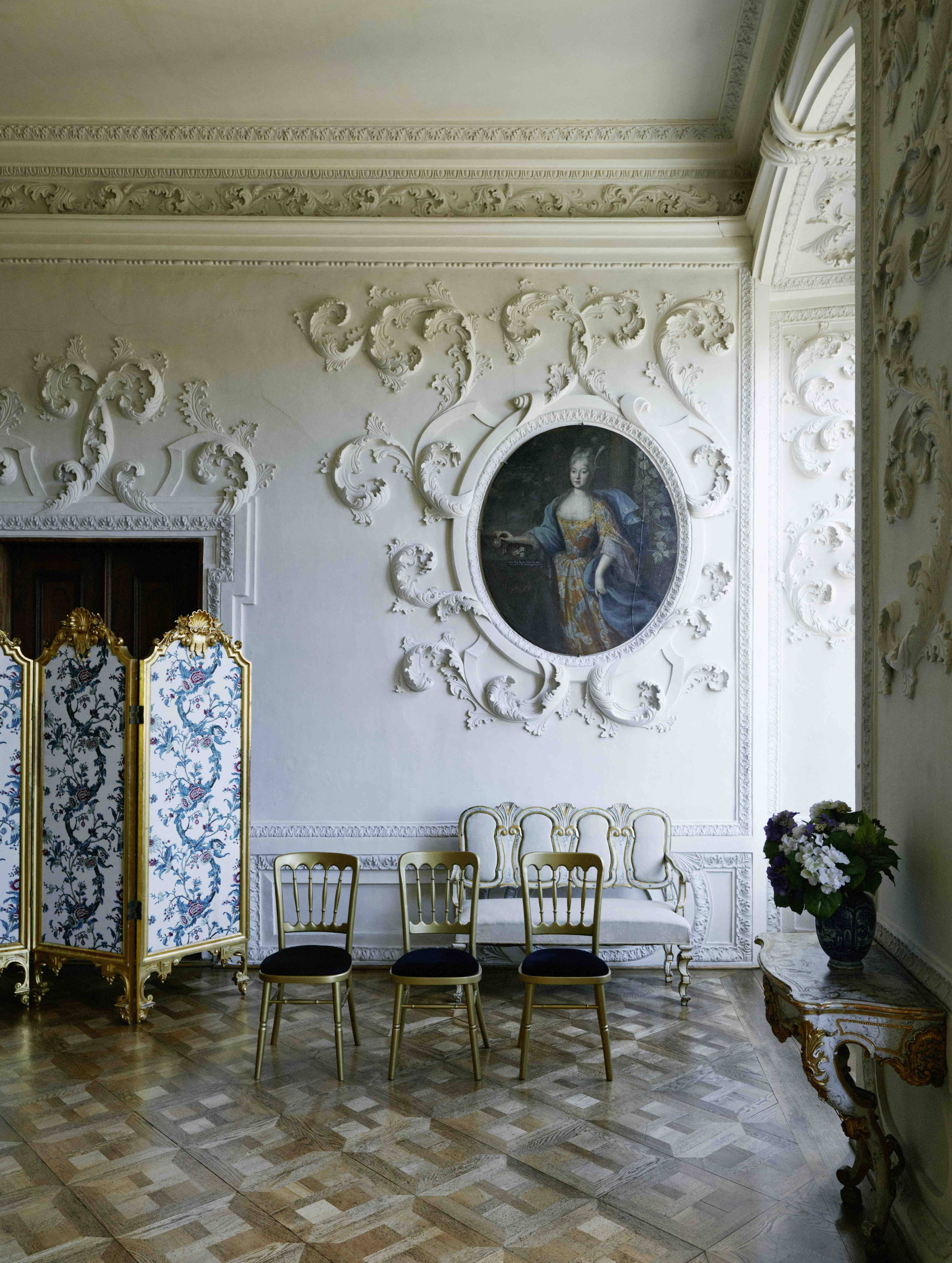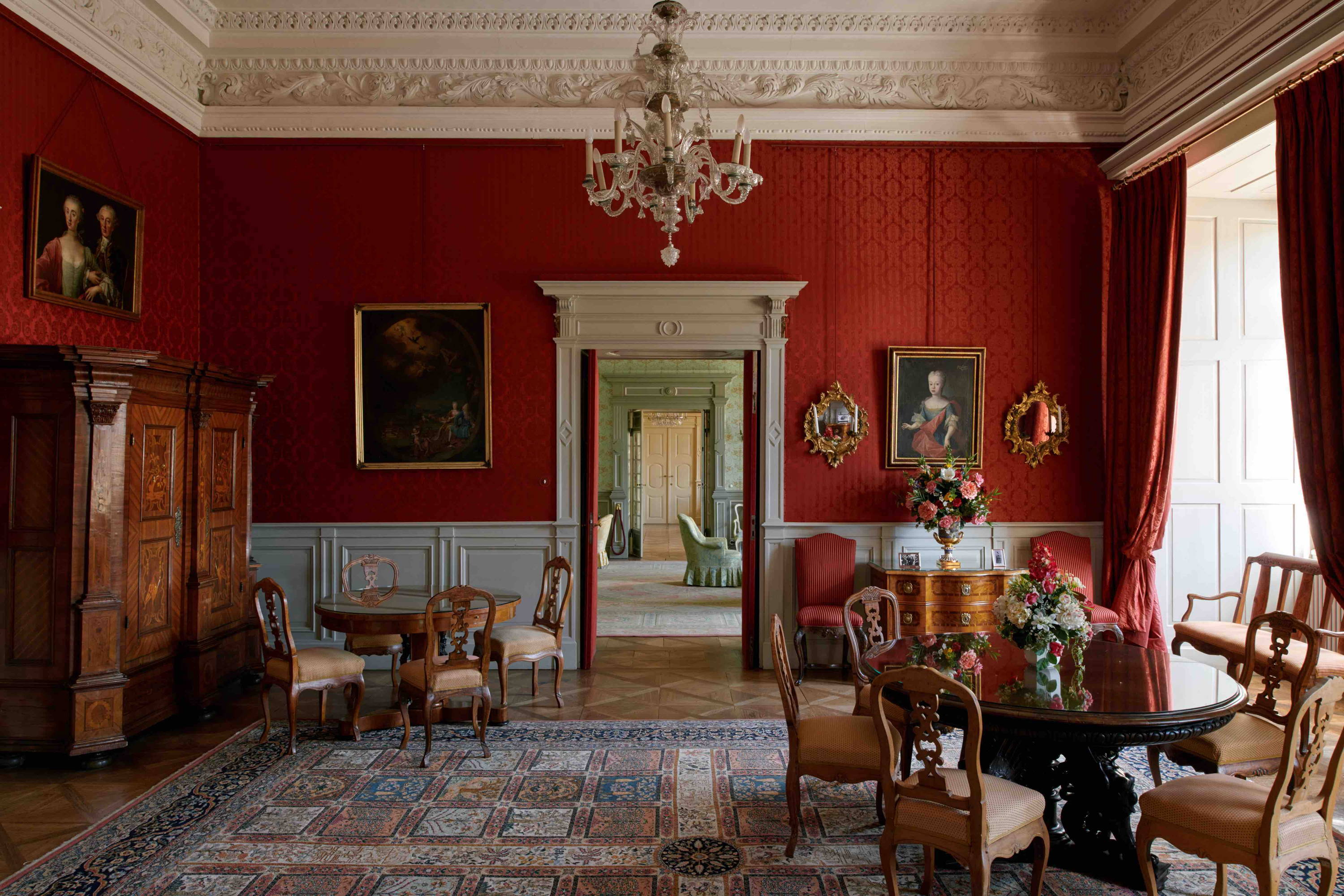 That is, until the summer of 2022, when Schloss Oettingen's brave new masterpiece was finally revealed: an extraordinary, exhilarating painting – nearly seven meters in size and many months in the making – by the British artist and sculptor, Hugo Wilson. Albrecht's son, Franz, and daughter-in-law, Cleo, had long admired Wilson's work, so, despite Albrecht's initial reservations about integrating a contemporary artwork into Murrer's 17th century world – "it was a very big step for us to try the 'modern version' [of the replacement painting]", Albrecht tells Cabana – the family invited Wilson to Oettingen, where they discussed its history and their respective visions.
Soon after, with everyone excited about the marriage of modern art and historic architecture, Wilson was handed his most ambitious commission to date and began to contemplate the daunting task ahead. "It was so nerve-wracking," he says, "I was fairly terrified, but Albrecht made me laugh. He said, "well, the painting's been missing for 100 years, and I've been thinking about it for 40, so, no rush!' I thought that was brilliant."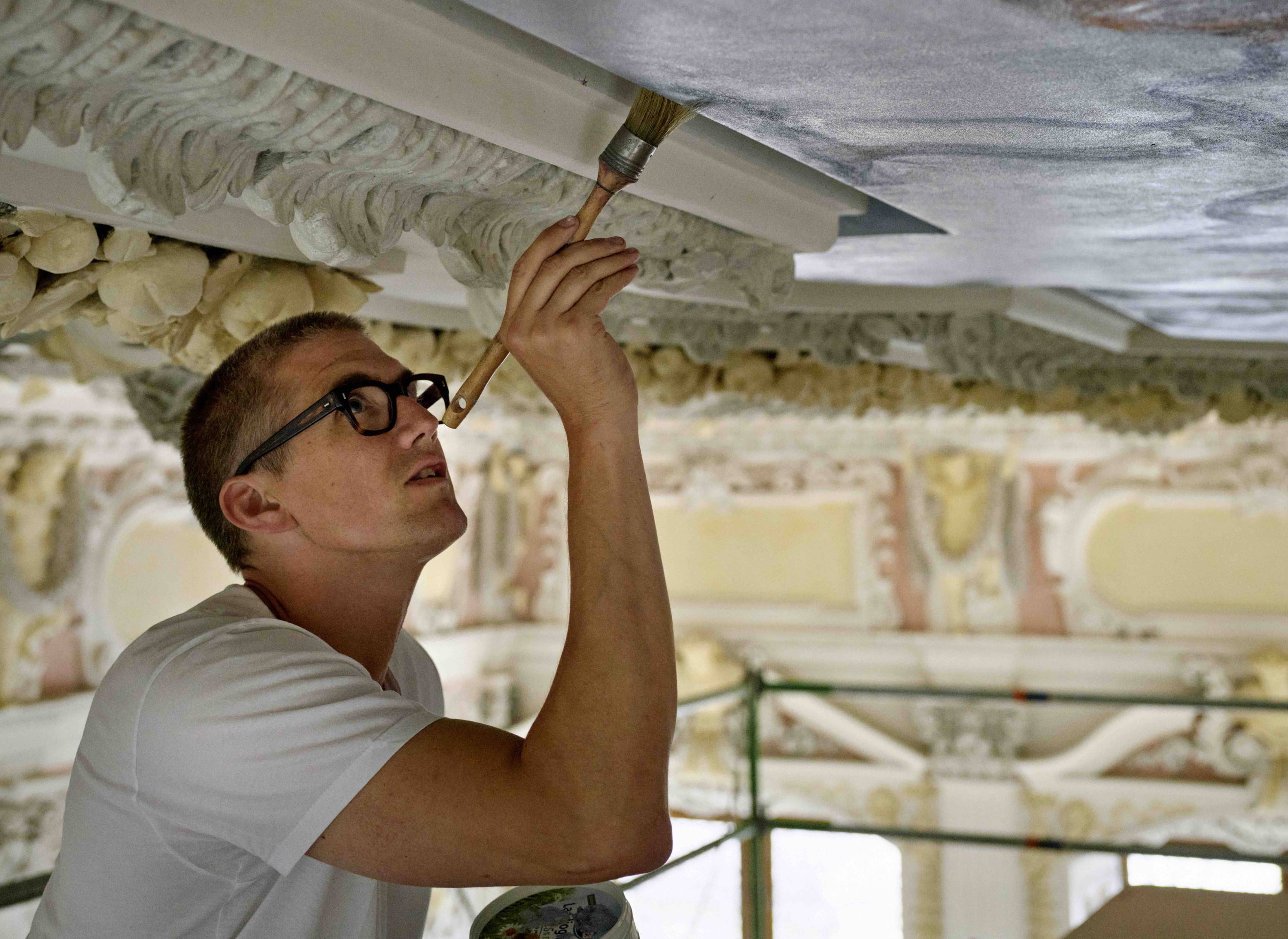 "I was fairly terrified, but Albrecht made me laugh. He said, "well, the painting's been missing for 100 years, and I've been thinking about it for 40, so, no rush!'"
Months in the making, the artwork, like most of Wilson's oeuvre, is a meditation on the human need for ideology. It features a dramatic knot of vivid, other-worldly symbols in rich colors set against a pale blue background – an undeniably brave choice for the historic space. "It's so different seeing a painting in your studio, compared with nine meters above you," he notes. "I didn't know the blue alone was going to work, or whether it would suit the ceiling. But I didn't have much time to worry about it, we just had to start."
On the first day of the installation, Wilson was met with enormous scaffolding - "the size of a three-storey townhouse" – and watched nervously as his canvas was stretched on top of the scaffolds before being drilled onto the ceiling. "The painting itself isn't too heavy. We put the stretcher bars up without the painting on it, to make sure it was in the right place, and then stretched it on. About three hours in, I started to relax," he laughs.
Nothing on the ceiling was straight, round or even, notes Wilson, who crafted his work to size using a fairly rudimentary template his team had taken of the space prior. Drawing around the ceiling on "a massive piece of paper', while standing atop nine meters of scaffolding, they created the template that was to be Wilson's main reference point when forming his canvas. By the end of the installation day – a long, exhausting, but thrilling day by all accounts – the painting was safely and securely on the ceiling, but Wilson had to endure an anxious 24-hour wait until the scaffolding was removed. "That was awful, waiting to see if it worked or not," he says.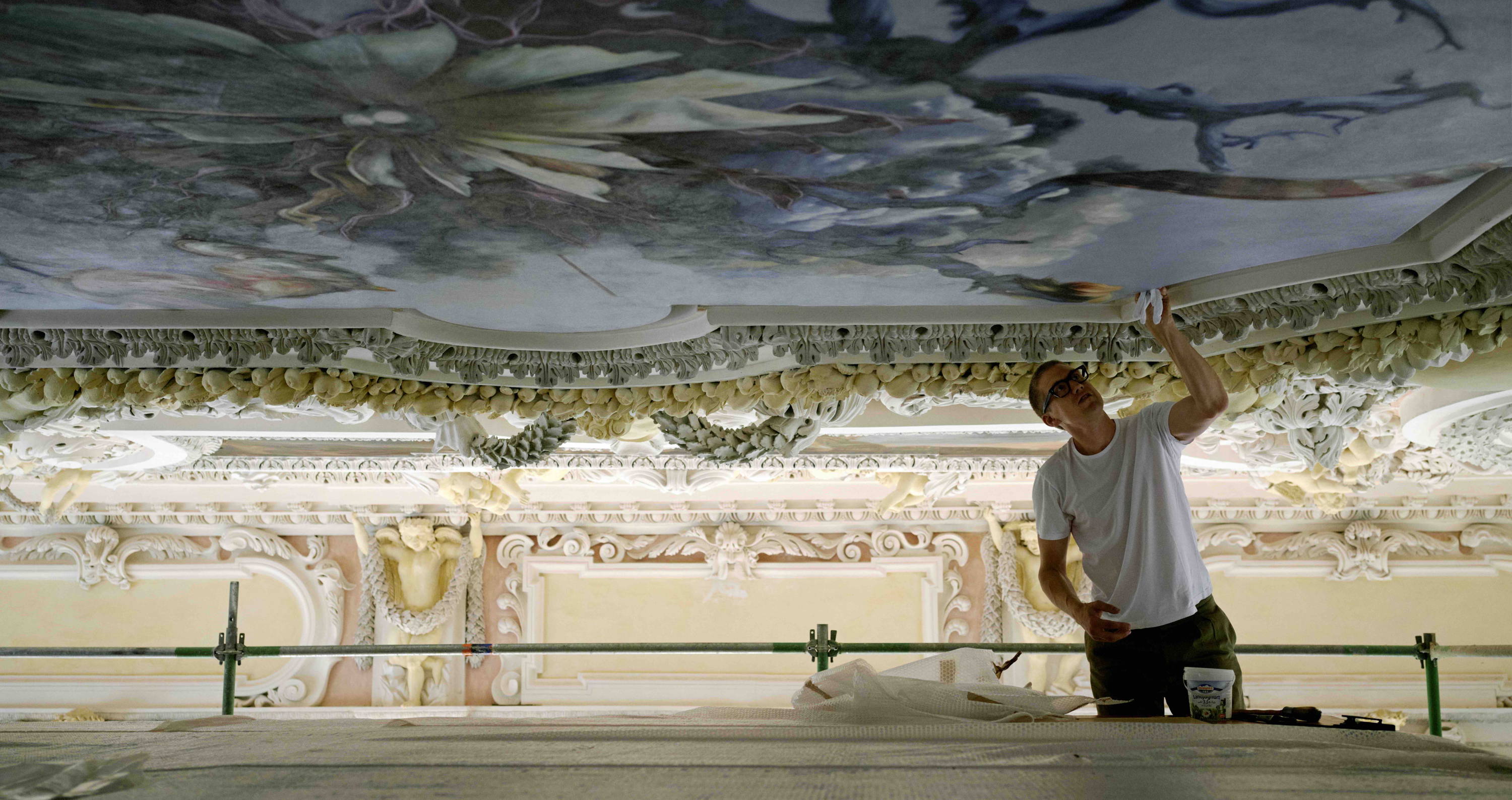 For everyone involved, the reveal brought much relief; Wilson recalls lying on the ballroom's floor while he and Albrecht took a moment to gaze up at the painting. "Albrecht punched me on the arm playfully and said, "it looks like it's always been there". A much-loved public resource, Schloss Oettingen is open to the public and the ballroom is regularly used for events, from parties to presentations of high school diplomas. "It's a working painting and there's something very satisfying about that," Wilson says. "It's become part of the fabric of the building."
For the classically-trained artist, now working on multiple new commissions, it was an extraordinary experience provided by an extraordinary family. "I couldn't have had a better setting for exploring themes of ideology, and the strata of these ideas over time," he reflects. "It's made me excited by what I do again".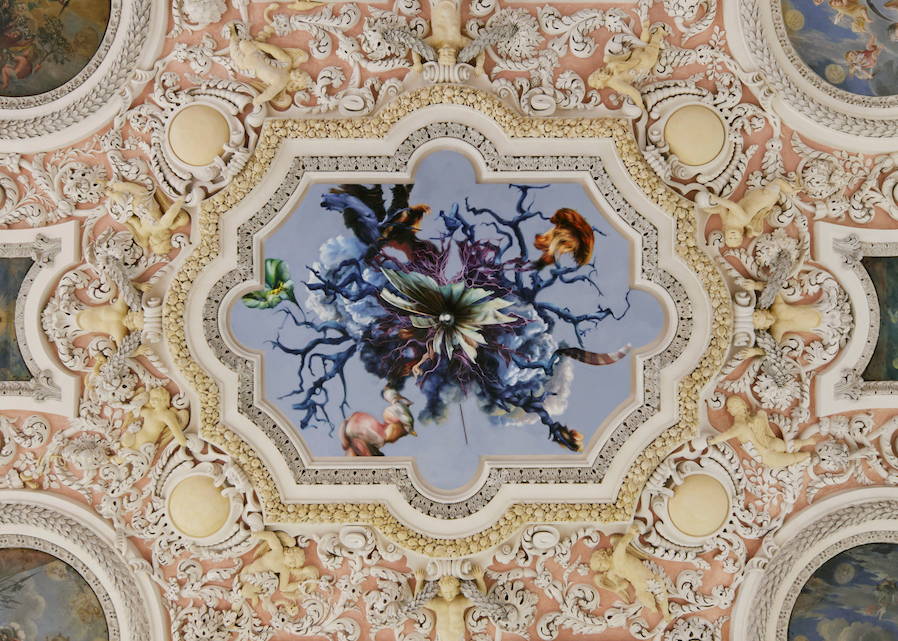 Explore More
Discover striking photography and thoughtful prose from the world's most atmospheric interiors #worldofcabana